Facebook tells me the kiddos are heading back to college this week, the Greek kiddos anyway. Oh to be young and going through recruitment again, if you don't mind I'd just like to take a minute and think back about that…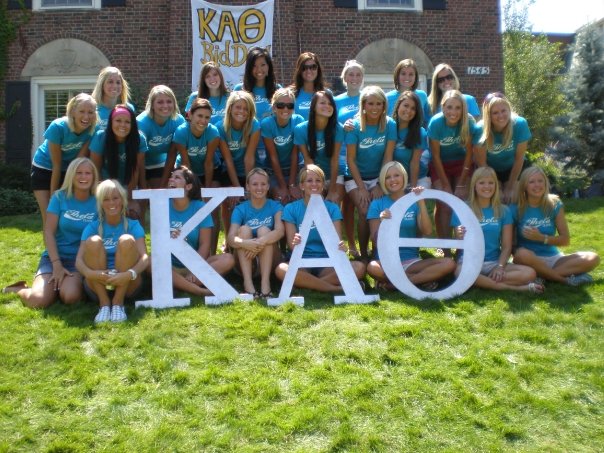 I've mentioned before that I was in a sorority. For those of you GDIs who weren't in a frat or sorority, I know what you're probably thinking. Woof. Am I right? Or am I right? To the outsider looking in, the Greek system has a pretty bad rep. And let me tell you, every single stereotype you've ever heard is absolutely true. Kidding. Or maybe I'm not, I have no idea what you've heard and to be quite honest I don't really care all that much. Because I can just speak from my experience and tell you I had one helluva time in college with my fellow KAT sisters. Sisters of love, friends of soul. The nights we spent braiding each other's hair, painting our toe nails, and wondering which boy from our brother fraternity would ask us to the social are nights I will never forget. Same goes for the ragers thrown at West O, or any party at ATO in general, or being chased by bats and snakes in Fiji. Fun times were had.
Because of my fond memories, I'd like to take this moment to offer some advice to new Greek college freshman. Although sadly I realize college freshman are way too cool to be reading blogs. But give them about five years and they'll join the online world like the rest of us losers. They always do.
1. Never trust jungle juice.
It may look like kool-aid. It may taste like kool-aid. But thirty minutes later it will bite you in the ass like the kool-aid man just broke through the brick wall and poured a gallon of Everclear down your throat.
2. Girls, resist the urge to wear a short jean shirt and tall wedges on bid day.
Because you will forever be referred to as the girl who wore a short jean skirt and tall wedges on bid day for the rest of your life. How was I supposed to know the outfit didn't look right? I wore mens XL basketball shorts all through high school.
3. You don't have to attend every theme party called "Pimps N Hos."
In fact, I recommend you don't attend any called this. It's just degrading and embarrassing. And the photos will haunt you for life.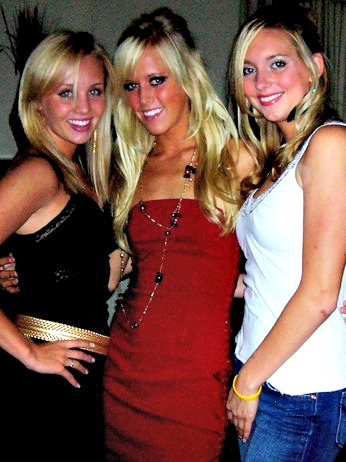 Someone was playing with eyeliner for the first time…
4. Instead, get out your old bball shorts and go to the gangsta party.
But make sure to wear a big clock around your neck just to ensure you look like a complete asshole.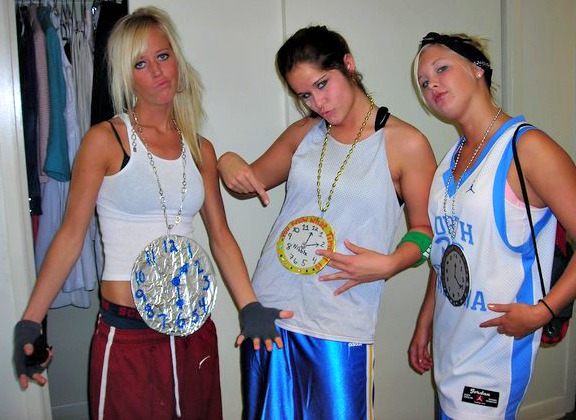 5. Try really really hard to pace yourself on game days.
"Go Big Red Morning Juice" is actually just jungle juice in disguise. Don't fall for it. It took me three years to figure this one out.
6. Don't break into the kitchen every single night.
Your house mom has eyes everywhere. Just steal a bag of turkey lunch meat and keep it in your room.
7. If your house has a "weird closet," take advantage of it.
Sometimes staying in can be just as fun as going out.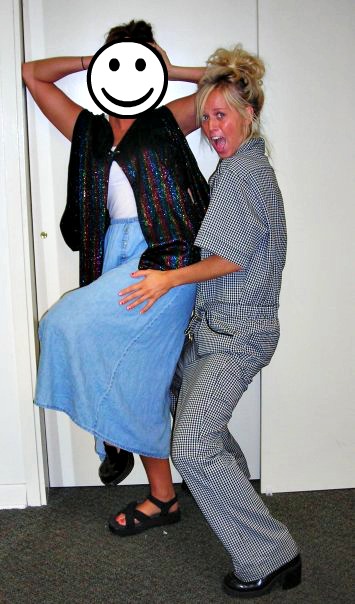 *Betty Locke didn't want her face shown.
8. Don't be the snitch of your house.
Just don't. If it doesn't concern you why bother with being the little snatch who tells on everyone?
9. Bring the fun.
People want to hang around fun people. It's common sense. So be the girl who gets on the intercom at 7:00 a.m. on game days and starts blasting the school song through the house. The grumpy girls will thank you for it five years down the road when they like to pretend they actually enjoyed it.
10. Realize that college won't last forever.
Sure you can push it to five or six years, but let me be the first to tell you it starts to change after four regardless. It just does. So enjoy your friends, enjoy the fact the hardest thing on your agenda is "class", and enjoy your student loans. Because in four years you're going to owe the government roughly $60,000. But don't think about that right now.
Just enjoy. Enjoy it for the rest of us who no longer even have college aged people on our Facebook but instead get to see on our newsfeed who got crazy last night at the baby shower.
She had two glasses of wine?! Hells.