I still can't figure out why so many of my Facebook friends are posting photos this week of their children off to their "first day of kindergarten!" Are these really their children? If so, did they have babies early? Or am I just… on the late train. Regardless, all this back-to-school talk has got me thinking. What advice would I give to my kindergarten self? Right when I was just about to start my first bit of real education? What would 26-year-old me say? The funny thing is, thinking back it kinda seems like I had it more figured out at age five than I do now. Man that's sad.
First things first, I'd say killer job on the first-day-of-school outfit.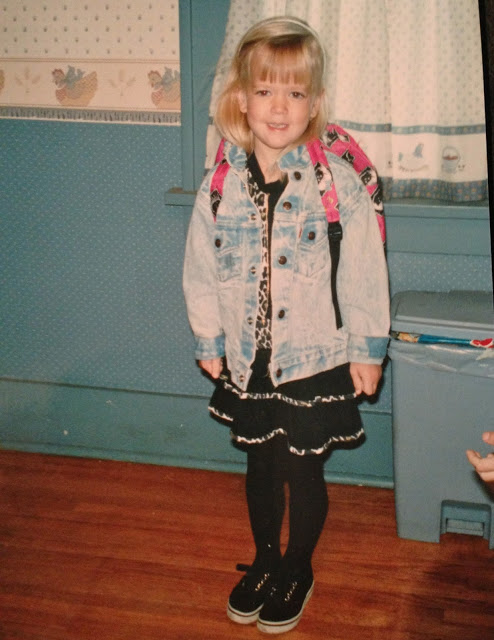 Truth be told, I'd wear this ensemble today. Black on black on black says I'm sassy and chic, yet the touch of denim on top says I'm also here to have a good time. And the animal print trim? Love it. Nice work, Tay. I'd also like to say nice decor work to my mom, I'm really feeling the blue on blue, with the nice subtle border of chickens with blue scarfs around their neck. Very country chic.
Moving right along, the next thing I'd tell myself is to actually listen during math and science and not rush right through it just so I could be the first to the dress-up trunk. There's a good chance I am legally challenged when it comes to anything related to these two subjects. And I blame it all on the fact math and science were always the last two subjects we had to focus on before play time. Naturally, I said screw it and would just scribble through everything so I could be the first to choose the sparkly hats and pretty necklaces.
I'd also suggest I re-think my picture-day hair style.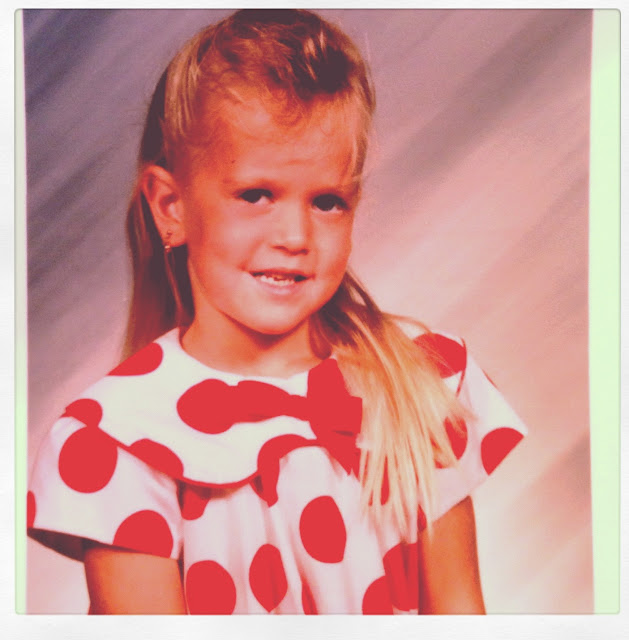 I get that I was trying to be edgy and all, but I feel like it actually just makes me look like the type of kid who might have silver caps over my front teeth if you catch my drift. And if you're offended by that it's only because you probably had silver caps over your teeth. Dental care is important, my friends. Says the girl who used to brush her teeth and then sneak gummy worms in her bed at night…
If there's one thing I'd give myself a huge kudos for it would be the time I stood up for womens rights and demanded my teacher give me a chance to audition for ring master of the 1991 Sacred Heart Kindergarten Circus (a role previously only given to boys.) But it was the biggest role, so of course I wanted it. I didn't want to be a dumb ballerina or tight rope walker, even from a young age I refused to be typecast. I made my case, was allowed to audition, and landed the coveted role of ring master! I won't mention the fact they still made me share it with Joseph Dallas Cowboy boy. I never knew Joseph's last name, I just called him this because he had a deep, somewhat unhealthy, obsession with the Dallas Cowboys.
"Ladies and gentlemen welcome to the Sacred Heart CIRCUSSSSSS!!!" I still get goosebumps when I think about this line. I don't want to boast, but I nailed it.
And lastly, I'd tell myself to enjoy this year. Because it's about to get really rough for the next few years when I would decide way too early I was ready to do my own hair, and dress myself in teal windbreaker pants every. single. day.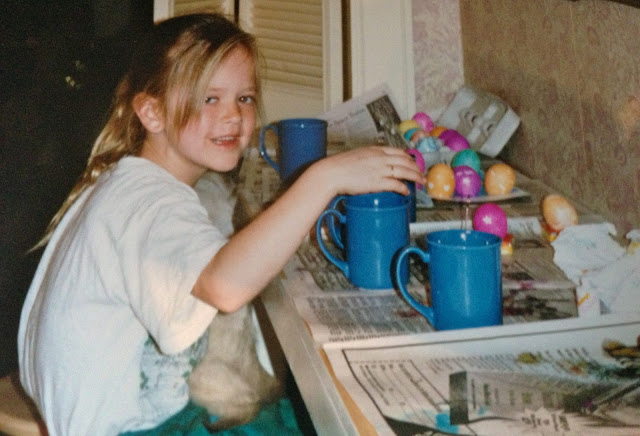 Look at the pants. And if memory serves, I'm also wearing a shirt that says "ROMA!" with an illustrated image of the city of Rome on it. I really loved vacation t-shirts. It got to be bad in the end, my parents had to stop buying them for me because it got a little out of control with my desire to wear a t-shirt advertising a different city every day. Let's just say Norfolk is a small town, people started to talk…
And just because I'm dishing out advice, I'd also like to hop back even a year further into the past and tell this little girl to stop boozing so much. She looks like a train wreck. Get your life together, four-year-old McDrunky.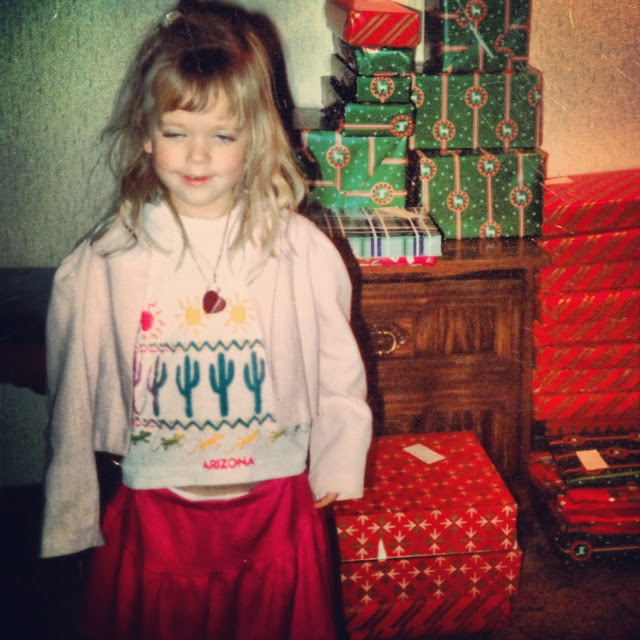 (And note the vacation top, I wasn't kidding.)
That's it for today. Happy back-to-school-week to all you parents, students, and teachers. Let's make this year a good one.