And it is finally Friday. I'm feeling less than spunky this morning because I hosted a comedy show at
Hubbarb Inn
last night and drank one too many Moscow Mules. If you're in Chicago and get the chance to go to one of the shows at Hubbard Inn I would definitely recommend it. They always have great comedians in the room, last night Amir K from Los Angeles flew in (who was so damn good it was ridiculous) and also the 3rd floor where they host the show is just such an awesome space. It's definitely a cool thing to do on a Thursday night.
Anyway… I'm excited today that I get to collaborate with one of my favorite
bloggers
. She's very funny, tells it like it is, and is just an all around great writer and blogger. And I love this link-up she co-hosted a few days ago called "
The Military Wives of Blogland
." By now you all know I'm talking about Samantha from
The Samantha Show
.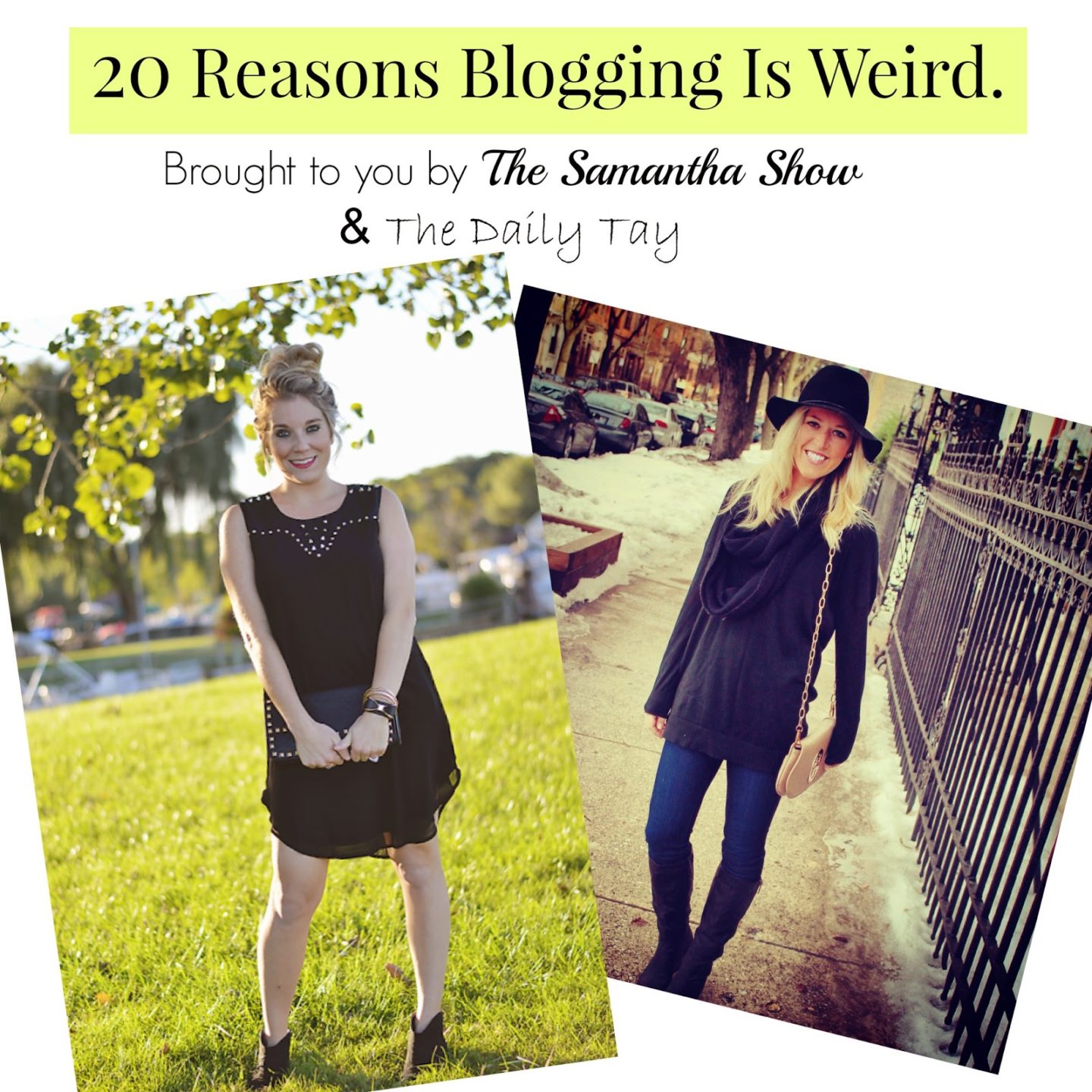 1. I talk about my blog friends as if I've met them in real life and I have known them forever.
2. I get offended when other people share posts on Facebook and have no idea who the blogger behind them is.
3. I get sent free stuff for no reason other than the fact that I wear it or use it and then talk about it.
4. I get paid to play on social media.
5. I plan on visiting bloggers I've met on the internet.. and hope I don't get catfished and shoved in a dumpster.
6. I've learned I can pretty much buy everything except food on
Instagram
. Wait, just kidding, I can do that too.
7. I'm usually blogging, thinking about blogging, getting ready to blog, or brainstorming for a blog post 24/7.
8. I have no shame in taking selfies and posing for pictures in public. Bonus weird points if I get caught.
9. We have our own special language; link-ups, buttons, sponsoring, etc. Say that to a non-blogger and they will have no idea what the hell you're talking about.
10. I identify myself as a blogger and most people have no idea what that means. And I'm totally okay with that.
11. People I've never met sometimes know more about me than I people I know in "real life."
12. I panic Monday morning if I didn't take any photos over the weekend.
13. My dog sometimes gets more packages sent to him to review than I do.
14. I regularly get asked "are you going to blog about this?"
15. I'd get way too excited if I saw one of my favorite "big bloggers" in public.
16. Wednesday morning photo shoots are just a normal thing now. Except it's still very uncomfortable for all involved…
17. I get a little bit jealous when I see a really good post I wish I would have written.
18. I sometimes complain about it like it's something I have to do…
19. I like to pretend reading other blogs is my job.
20. Because we all know way too much about each other.
​