My 10th birthday was supposed to be the best birthday of my life.
I was staying with my family at the Wilderness Lodge in Disney World and the pool had not one, but two water slides. My brand new American Doll whom I picked out to look just like me, Olivia Grace, was along for the trip. And I had a suitcase full of sweater tank tops that were to die for. Including the one you see below with a very classy white trimmed collar. Like I said, it had all the makings of the birthday of a lifetime.
But behind this smiling face lies a lot of sadness. (And two very poorly executed "french braids.") The left one is a clearly a good inch longer than the right. Nice effort, mom.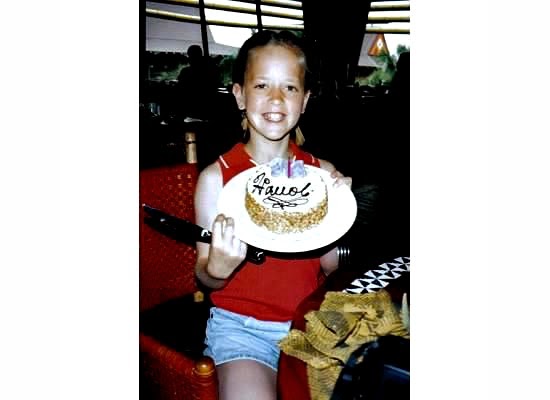 I won't even touch on the fact I've never liked coconut cake yet that's what the waitress brought me. And what that cakes even says is beyond me. I've never known.
Merely seconds after this photo was snapped I was about to burst into tears for just the first time of many that day. Because here's the thing, I wasn't supposed to be eating gross coconut cake in the hotel restaurant on my birthday in the first place. What I was supposed to be doing was having breakfast with all of the Disney princesses at Cinderella's castle but my parents' alarm didn't go off and so we all slept through it. Or so they said… If you miss breakfast with a room of princesses the rest of the day is only destined to go downhill.
Naturally I was devastated to learn that I wouldn't get the birthday breakfast with the celebrities I was promised. I'd even brought an autograph book from home hoping to snag a few signatures.
"Don't worry," my mom promised, "we'll get you some autographs soon."
Determined to follow up on her word she insisted I join the children's parade in the hotel restaurant so I could get a chance to dance with the "famous" Disney characters that were promised to come in the room at any moment. Do you know who "dances" with Disney characters? Babies and toddlers. I was neither. I was ten. Yet there I was, the only overly large child marching around a restaurant with a line full of toddlers all wobbling on their unsteady legs and bobbing their huge heads to the dumb music as the "famous characters" burst through the door.
Ten different versions of Goofy is not what I consider famous. And thus the reason for the first set of tears. I was humiliated and mortified and it's all on video tape because my mom recorded the entire thing right up until the moment I came sulking over to the table and planted my hand in front of the camera shouting "Turn it off! Turn this thing off!"
The next set of tears came just a few hours later after we got off the Disney trolley and were heading into the park and my mom discovered that her sunglasses had accidentally been left on the trolley. And whom did she blame? The birthday girl. Who else? Technically I had asked to wear them on the ride over. But how was I supposed to know that she didn't see my set them beside her leg?
It was my birthday. I didn't deserved to be yelled at.
Once inside the park things only got worse. My sister and brother were being snotty as usual and only rode rides with each other forcing me to ride alone. Then I didn't get to eat at Johnny Rockets for lunch because the line was "too long" according to my parents. And no one even cared that my feet hurt because my new Dr. Marten sandals were giving me blisters.
And it was my birthday.
Kelly didn't invent this fit. I did.
Anyway, after the terrible day at Disney World (where literally no one acknowledged it was my birthday) all I wanted to do was kick back on my hotel bunk bed and look out the window to the pond just outside the hotel so I could watch the little sea otters swim. It was really all I had left at this point. But of course my demanding family had other plans.
"I just want to watch the otters swim for a minute, is that okay?" It was my birthday. Couldn't I just do what I wanted?
"Why don't you just go live with the sea otters if you like them so much? Nobody wants you here anyway," my brother said. And then my sister joined in, and eventually so did my parents, and they all insisted I pack my bags and go spend the rest of my birthday vacation with the otters at the pond.
It was devastating. It was hurtful. It was not how you treated a birthday girl!
I wish I could say this story has a happy ending but it doesn't. It just ends with my dad yelling at my mom in the rental car for not being a good navigator because he couldn't find the restaurant where we were supposed to have dinner. We got lost and drove around for over two hours until we eventually just ended up having dinner at a Carlos O Kellys attached to a hotel right off the Florida interstate.
I don't think anyone really spoke through out the entire meal. I didn't speak much the rest of the trip.
And that was my worst birthday ever. Luckily, they've all been pretty good since.
Now to celebrate the fact it's officially my birthday on Friday I thought it would be fun to give away a few of my favorite everyday items. It isn't anything too fancy, they're just a few small things that I know I enjoy and thought you might as well.
You know the drill, one winner takes all. Enter once or a few times. It's your call.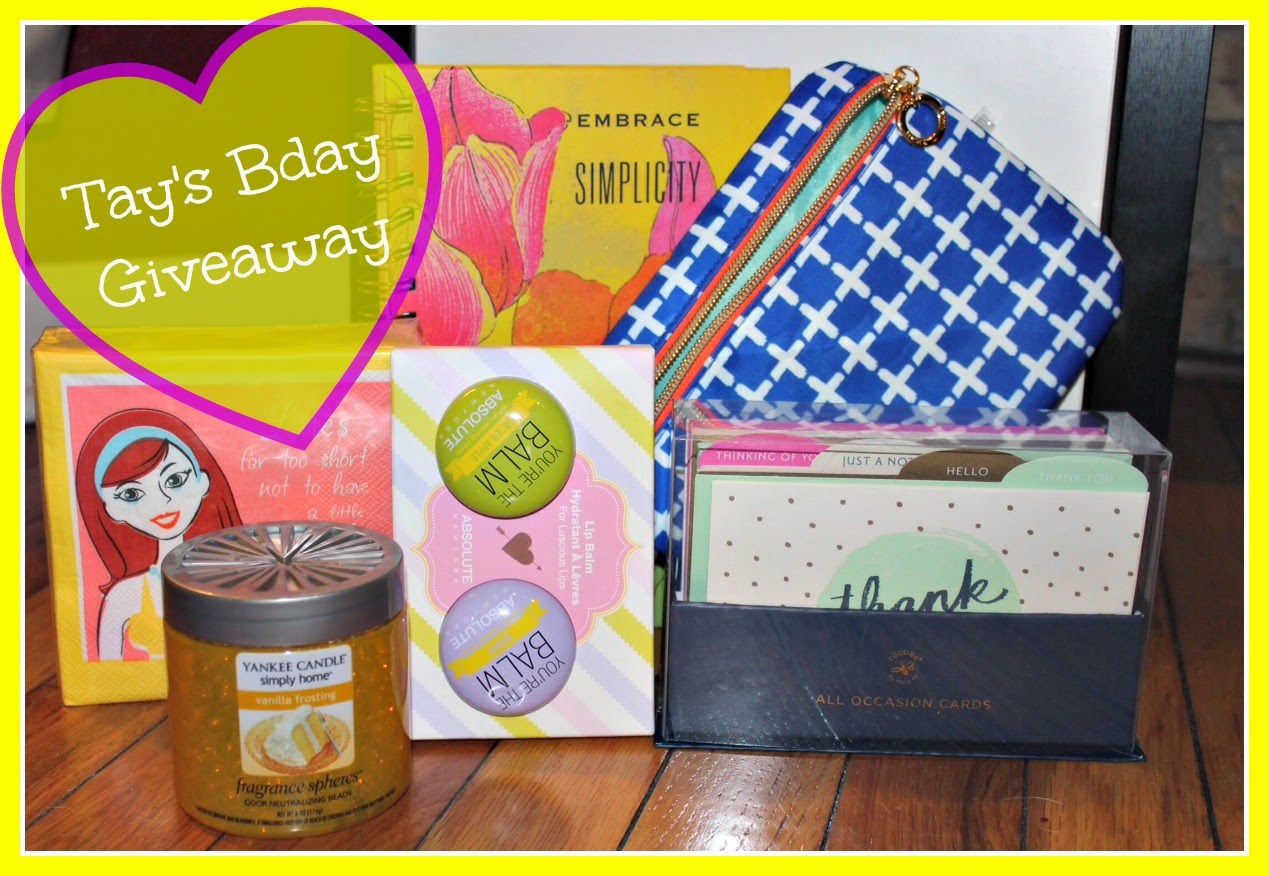 1. C.R. Gibson Journal.
2. Trina Makeup Bag.
3. Absolute New York Lip Balm.
4. Roobee Thank You Notes.
5. Yankee Candle Fragrance Sphere.
6. Silly Frilly Napkins.