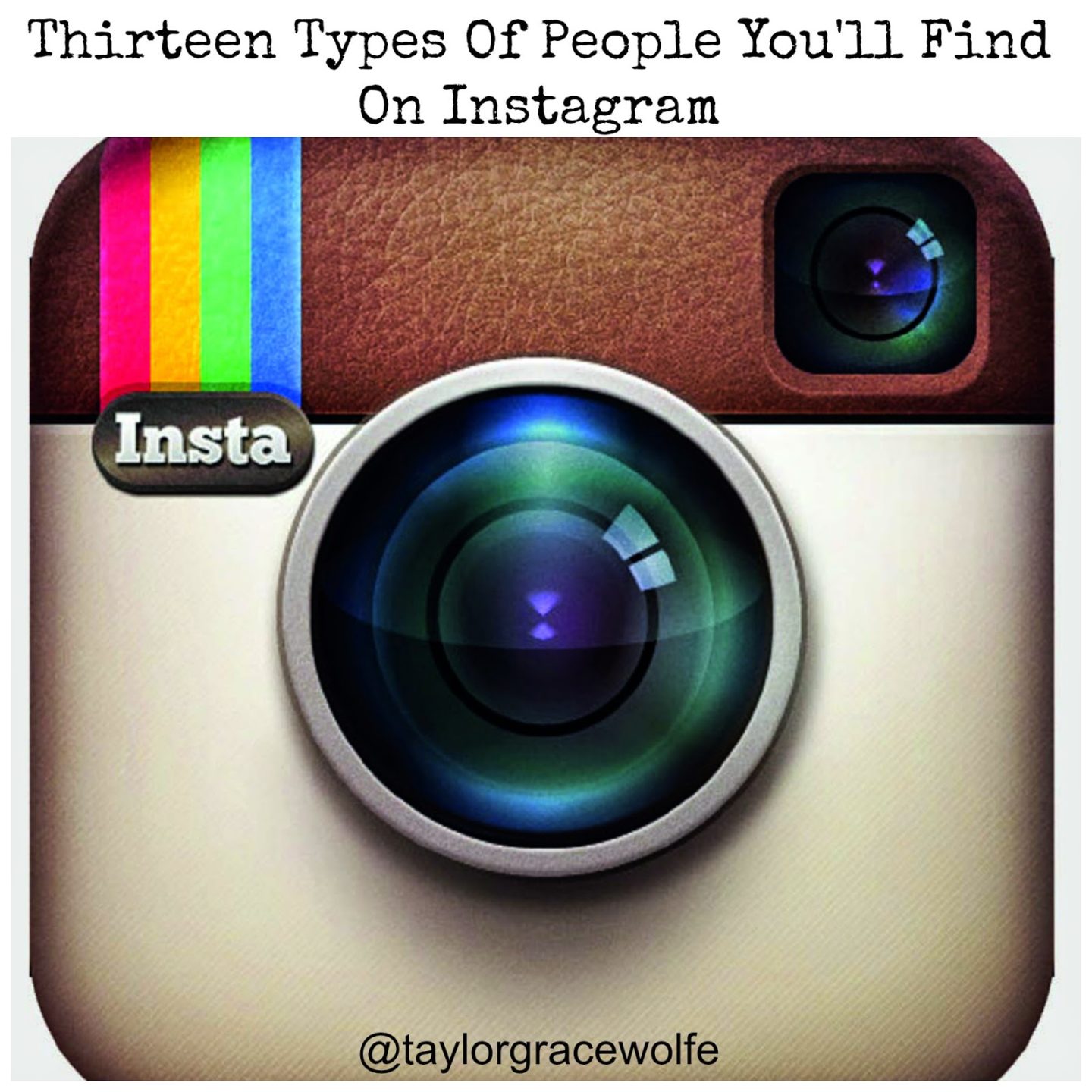 1. The hashtagger.


Did this person post a photo or just hashtags? It's hard to tell because she's got 86 lines of hashtags. #blogger #instablogger #dogs #coffee #feet #ipad #keys #remotecontrol #paws #package #tray #candle #coasters #frame #book #tv #plant #blanket #basket
And now you know what's in my living room. God love hashtaggers, they put a lot of work into it.
2. The car selfie side-mouth smile.


This girl misses Myspace. She also likes to take photos of herself while stopped at a stop light with a sly little side smile that says, "look at how cute I am but I'm pretending to be goofy, but mostly I'm just cute."
3. The humble bragger.


This person isn't taking a photo of their White Range Rover, they're taking a photo of how much gas it takes to fill their Rover, duh! "Ugh, gas is so expensive right now! Everyone look at how much it costs to fill this $90,000 car of mine. #lifeishard #wah!"
4. Don't look at my boobs but I'm showing my boobs girl.


It usually goes something like this, "I'm loving my cute fish braid today!" But all you can see is the end of her tiny little braid resting on her large exposed chest. Don't hide your love for your tots, girl! Embrace that passion and just say "I'm loving my boobies today!" That's what Instagram is for!
5. The Ground Hog Day person.


Is it ground hog day, or did they just post that same selfie in the bathroom yesterday? And the day before? And the day before? And the day before? And the day before? And the day before? i.e. teens on Instagram.
6. The "This Sure Beats The Office" person.


Literally anywhere they are (but the office) beats the office. They can often be found skipping work to drink at a bar, or on a beach, or at an airport, or at a ballpark, wherever they are, they just want to make sure you know they're not at the office.
7. The Blurry Photo Taker Person.


Remember how bad your first Insta photo was? That's kinda how all of theirs are. Bless their heart but they just can't seem to get the hang of taking a good pic so they continue to post really bad ones.
8. The Inspirational Quote Person.


Perhaps they're going through something in life? Or perhaps they just want to be a motivational Instagram speaker. Regardless, their feed is full of quotes they found on Pinterest about "The Best Is Yet To Come!" and "In order to see the rainbow one must first survive the storm!" I'm guilty of loving these because I LOVE QUOTES.
9. The Mom Who's Toddler Always Takes Photos Of The Floor.


These are my favorite. I love when I see a dark floor photo on my feed that I know was taken by a two year old. Or by #7.
10. The Food Preppers.


They prep the shit out of their food every Sunday and want to make sure everyone sees how organized and healthy they are. And how many tubberwares they own.
11. The Gym Rats.


No biggy, bro. They're just at the gym again and want to make sure everyone knows how good they look in their tight tanks. Guns? Check. Lats? Check. Locker room selfie with the caption "let's do this!" checkkkkkkkk.
12. The Artsy One.


"Check out the shadow between these two dumpsters and the way it dances like it's completely free and no one is watching. The way the light bounces is like a metaphor for life and is symbolic for what we fight for every day, you know?" Yea, totally.
13. Crazy dog people.
It's like get a life, stop living through your dog… See @taylorgracewolfe for more details….
And just for the record, I'm a little bit of all of these. Except probably the boobs girl. I wish I was, but no. Who do you love on Instagram?