It's coming, you guys. Fall, I mean. And we all know that GIRLS LOVE FALL. It could just be me, but I feel like the obsession with girls and fall has only increased over time. Or perhaps it's just that my obsession has? Because I'll admit it, I'm a sucker for this season, as well.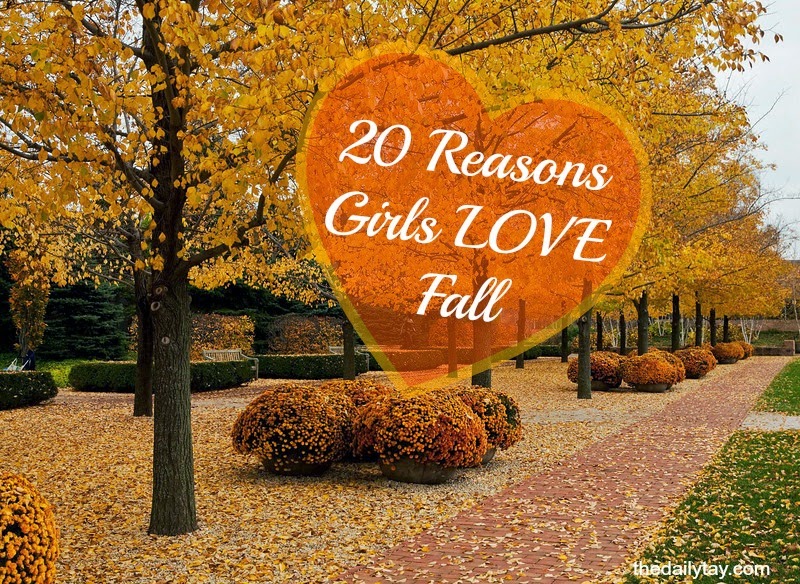 1. Fall scented candles.
You know what I'm talking about, the ones that smell like fall. Like PUMPKIN!!!!
2. Riding boots.
I can't wait to put my ugly little toes away. Bring on the boots.
3. And the Booties.
I've seen about 100 different pairs I want this season, I could live in ankle boots.
4. Chunky cable knit sweaters.
Hells yes!!! The thicker and looser fitting, the better. Bring on the winter lbs!
5. Decorating for fall.
Don't tell me I'm the only girl who has 459 light-up pumpkins around my house, because I won't believe you.
6.Chili.
CHILI. It's not really fall until I've seen at least 25 photos on Instagram marking the "first batch of chili for the season!" #chili
7.Scarves.
Upon scarves upon scarves upon scarves.
8.Blankets.
What is it with girls and blankets? Every time I go to Target I want a new one. And this "want" only doubles when fall comes around.
9. Fall TV shows!
My favorite time of year to watch pilot episodes that I'll never watch again.
10. Pumpkin Spice… Latte.
Ugh okay I said it. I know I'll get stoned for saying this, but I'm not a fan. I just threw this on here for the popular majority.
11. Hocus Pocus.
Duh.
12. Pumpkin beer for the win!
Blue Moon Pumpkin Ale makes me happy.
13-20 Pumpkin flavored anything. Girls LOVE PUMPKIN!!!
Did I miss something that has to do with pumpkin? Tell me below.