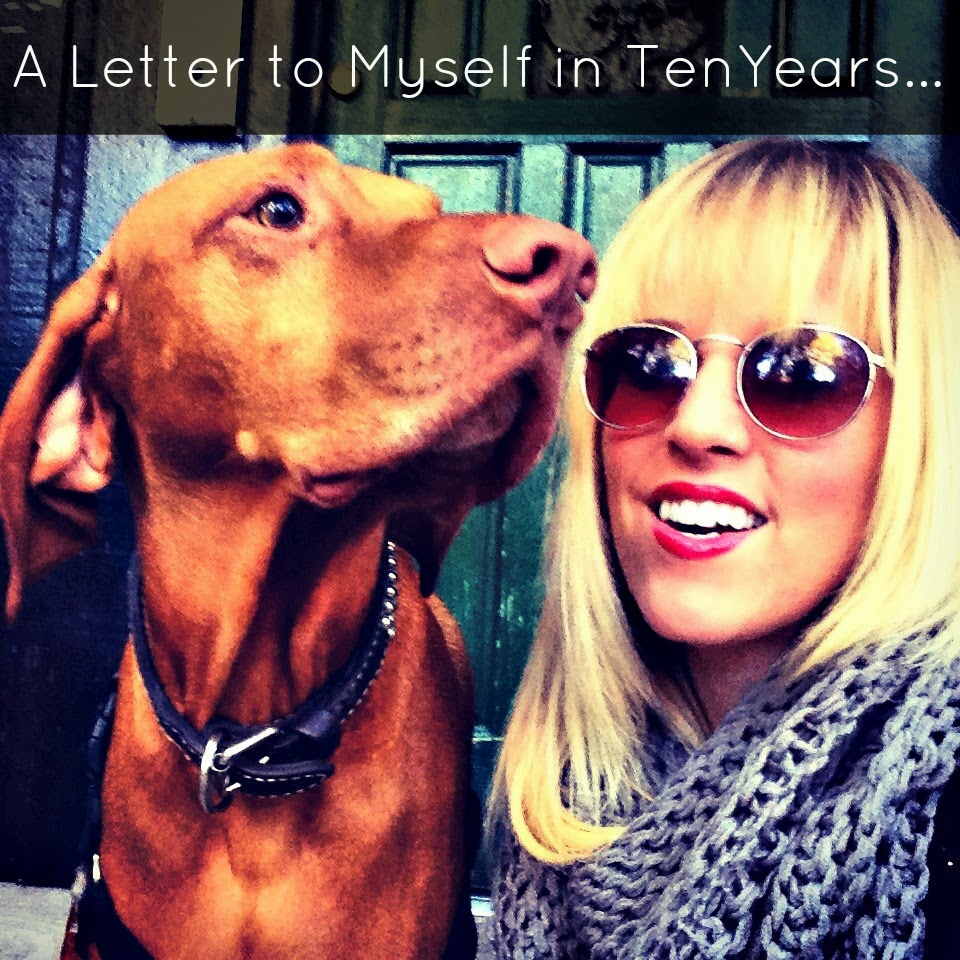 Well… I'm not quite sure where to start this fictional letter so I suppose I should just jump right in.
Dear girl in her late thirties,
I'd be lying if I didn't say I have a lot riding on you. Basically everything I'm doing right now is in an attempt to make your life easier. And better. We both know teenager Tay didn't do shit to help us so I'm trying to make up for that now.
No sense in pussyfooting around the matter so I'll just ask it. But before I do, you're still saying pussyfooting right? Don't ever let that phrase go, it's just too fun. Anyway here it is… did you make it? You know what I mean, DID YOU MAKE IT? Please tell me you did, because if you're still just some lost girl running around Chicago not sure what to do or where to go and it's still a constant battle with yourself every single morning just to get out of bed I'm not sure I can finish this.
You have to have made it. There's just no other option.
Maybe in ten years "making it" will mean something different. Right it now it means having a career doing something I really really love doing and am actually getting paid for. And not just enough to barely cover rent each month. I mean enough to live, to actually really live and enjoy.
We both know this could mean a multitude a things, I have quite a few passions. Am I writing? Acting? Joke telling? Making movies? (Like I said, I have big goals for you.) Please just tell me it's something creative. I've tried the other jobs before and they made me run for the hills.
I want you to know I'm trying, although not hard enough I know. I want to try harder but sometimes I just don't know how to, or what to do. That sounds like a typical girl in her twenties excuse, I know. But it's true. I know where I want to be, I'm just not sure how to get there so I'm trying out every route possible at this point.
And now I'm just sounding dramatic (late twenties remember, goes with the territory.) Even though I'm lost and scared and on the verge of tears at almost any minute, I'm still throughly enjoying life and this ridiculous path I've chosen to take. See what I did there? I said chosen because I'm taking full responsibility for this crazy unpredictable lifestyle I have willingly embarked on. A straight and narrow path would have been easier and more stable, and probably held less confusion and tears, but that's never been us.
Last night I performed at iO with The Pool (we got two more weeks added onto our run woo hoo) and afterward we all went out to a great restaurant off the beaten path and had good drinks and feasted on small plates of awesome food while we laughed and joked about anything and everything. It was a good night. A night that made me happy I'm doing what I'm doing.
In a couple of weeks I'm heading to New York for a comedy festival and I get to tell jokes in real-life New York comedy clubs. Just like all of my idols!!! I am probably more excited for this than I should be, the good comedians hop over to New York all the time, but I don't. So I'm relishing in it.
See, I am trying I swear. I think about you and where I'll be in ten years no less than five hundred times a day. Honestly, it's all I ever think about. It's what keeps me up at night and occasionally keeps me from getting up in the morning… No pressure or anything.
But if you haven't made it (cue stomach drop) I kinda hope you haven't given up yet either. I hope you're still hustling every single day to try to make this life of chasing your dreams last just one more day.
I hope.
Because if I don't hope, what's the point.
This might have just gotten a little dramatic again. Sorry, I'm feeling emotional today. I just found out Reverend Camden used to touch children and didn't actually live in a 7th Heaven like I thought.. My head is kind of messed up.
Keep on keeping on, Older Version of Me.
And if we ever meet Teenage Tay let's do a number on her. I'm still finding new sun spots on my face thanks to her…
Wanna get emo with your future self? Link up below!