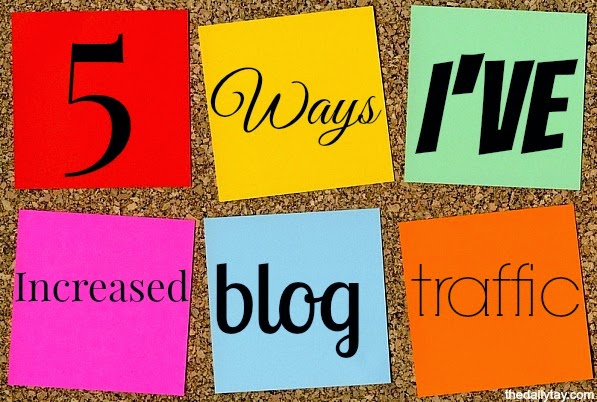 1. Utilize the power of Pinterest.
It took me too long to jump on the Pinterest bandwagon and fully understand the mass amount of traffic this platform can bring to my blog. I never thought my posts were "Pinterest worthy." And to be honest most of them aren't, but every once in awhile I force myself to write one that is. (Or one that I hope is anyway.)
Find something you can write about that others will find useful or entertaining, then create a good graphic and pin that baby on Pinterest. Even if it gets just a few pins, you will be amazed at the traffic it can bring you.
2. Take advantage of old posts.
Who says the archives have to stay in the archives? It will increase your blog's SEO (and traffic hits) every time you link to an old post in a current post.
I also suggest trying this out on Twitter. Something as simple as Tweeting out five old post links per week can increase your traffic. It has for me, anyway
3. Every once in a while write a niche post that you know will get shared.
This post received about 20k hits in a single day and about 10k every day after for the next week. I'm going to assume that if you just clicked on it chances are you couldn't care less about Norfolk, Nebraska. I knew when writing that post the majority of blogworld wouldn't like it, but I had a feeling the majority of people from Norfolk, Nebraska would.
I've written similar posts about small niche subjects that receive the same amount of traffic. Of course all 20,000 new readers never stick around, but even if I can keep a couple hundred of them it seems pretty worth it.
4. Blogger Collabs.
Find your blogger circle and help each other share posts (and traffic.) Writing co-posts is a great way to get more readers and generate new content when you feel like you're in a lull.
If you feel like your traffic is stagnant ask bloggers similar in size if you can guest post for a day. Getting in front of new eyes is always worth it.
5. Use everything you can.
This one sounds pretty vague. What I mean is that if you want to really get your blog out there, you have to use every resource you can. Tweet more on Twitter, boost more posts on Facebook, create hashtags on Instagram, pin more on Pinterest. All of those little things (as annoying as they sometimes can be)- they actually work.
Or if all else fails, just buy a bunch of fake followers from those weird "we sell followers" companies. I'm pretty sure every social media platform offers this service now. What a world we live in. Fake it til you make it, am I right?
Good luck and good night.