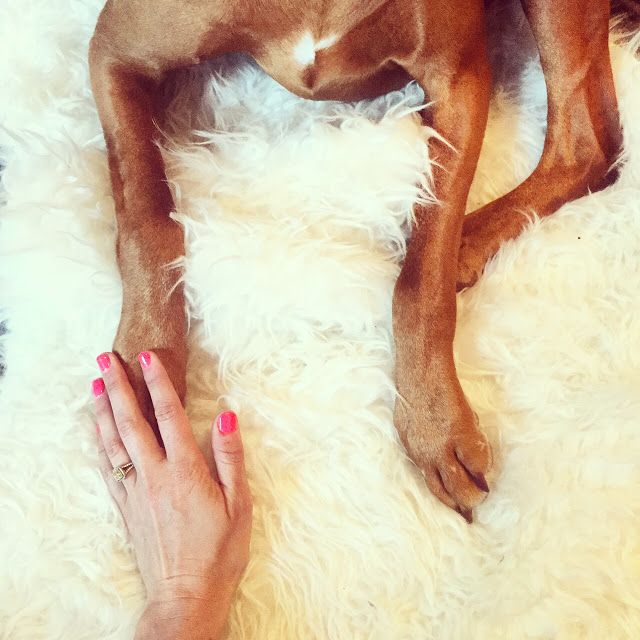 Right now I'm cruising on Interstate 80 heading back to my roots with you-know-who at my side.
So let's talk about the drive from Chicago to Nebraska. I've mentioned it quite a few times on here since I'm a semi truck driver and make the route quite frequently, but let's get down to the nitty gritty of what that drive is really all about.
For starters I drive more than I fly for one reason and one reason alone: Harlow. I can't flee to the countryside and leave him behind. It just wouldn't be right. So every once in a while when we get that urge to leave the city we pack up the car and try to skip out around 6 a.m. so we miss Chicago traffic.
I pack a container full of water for Harlow, a bag full of snacks for me, and a Kong toy filled with peanut butter for both of us and we hit the open road.
Harlow starts out riding shotgun. Then once we get out of the city he jumps into the back seat to get a different view. Then back to shotgun. Then he tests out riding on the middle console for a bit. Then back seat again. Shotgun. Console. Floor. Dashboard? Driver's lap? Driver's shoulder? He likes to test out every possible seat before he settles in.
And then we drive.
We drive through Illinois. Cross the Mississippi river. I try not to look over the edge because bridges freak me out. Enter Iowa. And make a pit stop at the Worlds Largest Truck stop so I can buy some new dream catchers and maybe some Amish cheese and sausage. This place also has showers you can use for only $2. I've never taken advantage, but it seems like a good deal.
Some say the terrain across Iowa and Nebraska is boring. But I happen to like looking at fields of windmills and soybeans. I find it oddly soothing.
From Chicago to good old Norfolk, Nebraska (home town of Johnny Carson, no big deal) it's just a little over eight hours.
The first three hours aren't bad. The next three are a little bit tedious and usually consist of me singing as loud as I can to Blank Space. And the last two hours are pure hell. I'm dirty, stinky, and every part of me is covered in dog hair. How's that for a visual?
And now I've got to jet because I'm technically writing this Monday afternoon and the Hawks are about to win the Stanley Cup in a few hours.
Please Chicago people, do not riot this time. PLEASE. Don't celebrate our city by breaking store front windows and throwing beer bottles at police men on horses. The last time we won the cup this happened. Shit got crazy. People in large crowds get scary.
Anyway, this week is going to be bananas. First the Hawks are going to win (I hope), then I'm going to pretend I'm a college kid at the CWS in Omaha for a day, and finally at the end of the week I'm going to a water park with Knox and Lola. And yes, I'm aware I'm the last person in this world who still thinks water parks are fun and not trashy. Whatever. It's summer.
I may skip a few posts while I'm having Nebraska time so follow the fun on Instagram via @thedailytay.