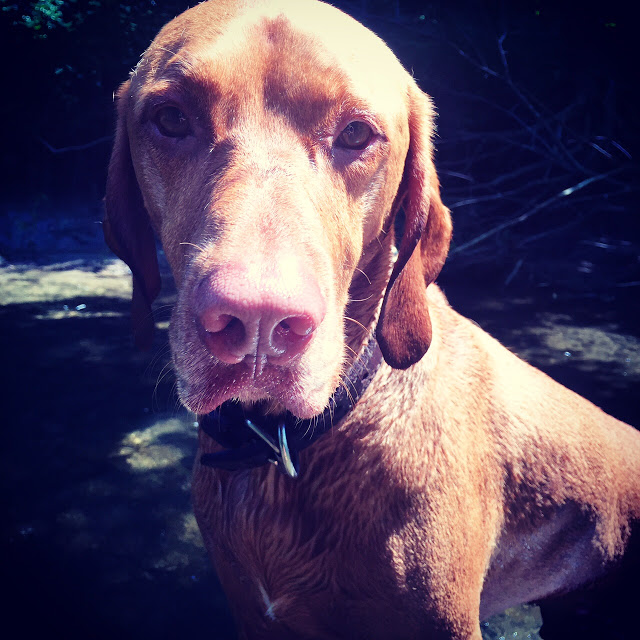 Harlow's week of camping bliss has come to a complete stop. We're working from Nebraska for the next few days so we can celebrate the 4th at Chris's cabin and unfortunately firework season is in full force here.
Striped firework tents have popped up in every parking lot turning the tiny town of Norfolk, Nebraska into a war zone. Smoke and sulfur fill the air and loud boomers exploding in the sky can be heard at any time of day.
Harlow is not a fan. Once upon a time when he was a puppy he didn't mind the firecrackers at all, but every year since it's only gotten worse. This year has been exceptionally terrible.
I attempted to take him to the vet today but once I got there I was told they only prescribe ACE for dogs with anxiety. I've read one too many articles about that drug being really bad for dogs so I got super nervous and walked out. *I clearly have issues and most likely won't ever be able to have human children since I'm this high strung just when it comes to my dog… But that's a post for another day.
Anyway… the really loud boomers started around 8 p.m. tonight sending Harlow straight to the bathtub, shaking and quivering uncontrollably. It was too much for me to bear so I cracked and gave him a Benadryl. After everything I read, this seemed to be the best and safest solution for calming a dog. However it was slightly off putting that the first thing on the back of the box reads "DO NOT GIVE TO CHILDREN TO MAKE THEM SLEEPY." Um what? It makes me wonder how many parents were guilty of this before the people at Benadryl were like, welp enough is enough we better put a disclaimer on the back of the box.
Also does that make me a terrible person for giving one to my dog to calm his nerves? Considering that as I write this he's sleeping heavily in my lap, snoring way too loud I might add (as opposed to panting and drooling like he was last night at this time) I hope I did the right thing.
I'm also hoping his new Thunder Jacket arrives in the mail tomorrow. These things are supposed to work wonders for dogs with anxiety. If it really helps him I'll probably have to borrow it and wear it on Mondays. And when I travel. And the morning of Husker football games when I'm nervous I won't get to enough tailgates/bars in time.
Dog-people I need advice. What do you do to calm your dog during the hellish week of firework season? Thunder jackets? Xanax? Beer? Does anything work?