It happens to me every year at this time.
That first night I hear the song of the cicada bugs hissing in the trees just as the summer sun starts to set, panic sets in. Because everyone knows the cicada come around to warn us that summer is more than half way over. And I'm not ready. I never am. But more so this year than ever because summer just got to Chicago! Up until last weekend I've been in jeans every single day.
Where are all of those steamy mornings that lead into even steamier afternoons? And nights spent outside drinking beer on a patio under twinkle lights surrounded by friends where everyone is complaining about how warm it still is even at 11 p.m.? I'm yet to feel the sting of the summer heat.
And then I start to remember all of the ambition I had for myself back in May and I can't help but laugh. And also feel guilty like I always do when I never meet my own expectations.
I'm going to run every single morning!


Yoga by the lake at 6 a.m.!


Green smoothies for breakfast, lunch and dinner!


I'll shop at the farmers market every day, who cares if it's almost twice as expensive? It's FUN to pretend I'm a farmer's market kind of person.


And I'm going to write 100 books.


The goals I make for myself are adorable.
That girl who lives inside my head must have no idea who lives outside of it. I am constantly disappointing her. But she means well.
Every time I step onto our little urban patio to write one of the thirty novels I'm working on I end up like this.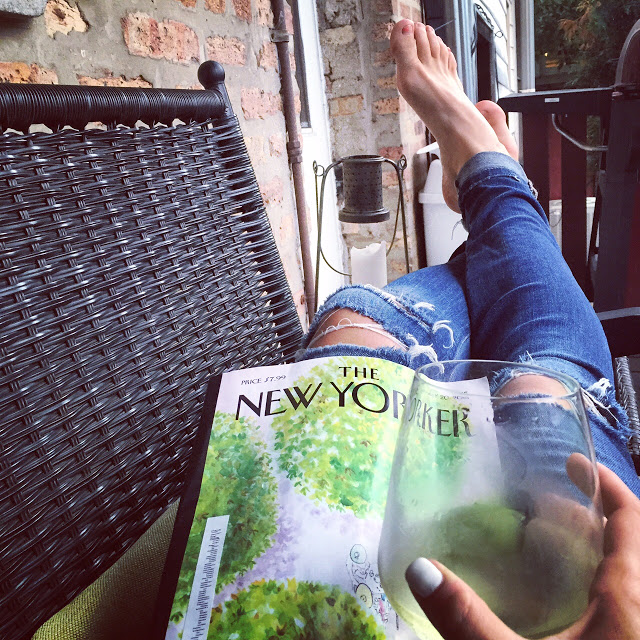 Magazine and wine. Or one of the ten books I'm currently reading. Can you tell I have trouble concentrating on one thing at a time?
So Cicada, while I love your song because you only come out during the dead of summer and you fill my ears with a gush of nostalgia; I think you're early this year. Chicago has at least two solid months left. At least. So try to be a little more quiet for the next few weeks, would you? Thanks.
The summer panic feeling is very real. Does anyone else suffer?