You guys.
Everyone asks me this, "so how's wedding planning going?" And I know how they want me to respond, with a smile and a gush and "oh my gosh, there's just so much to do. But it's like so fun, you know? But boy, it's a lot. So many decisions. And this guy isn't much help!" And then I jokingly (but lovingly) slap Chris on the back and he gives an adorable "who me?" look and then we laugh and laugh and laugh.
Oh life.
And the truth is I know most people are just asking to be nice. They're trying to be kind. Because in reality they don't really care about my wedding. They're just making conversation, as we all do.
But still, the question puzzles me. I don't get mad when people ask me, I just don't know how to answer it. Because I don't really know how it's going. Good? Bad? Annoying? Should it be going a certain way right now? It is what is it.
But if you'd like to hear a few details regarding what we have planned thus far, I'll share. Also, can I just point out that this has become my wedding planning coffee mug?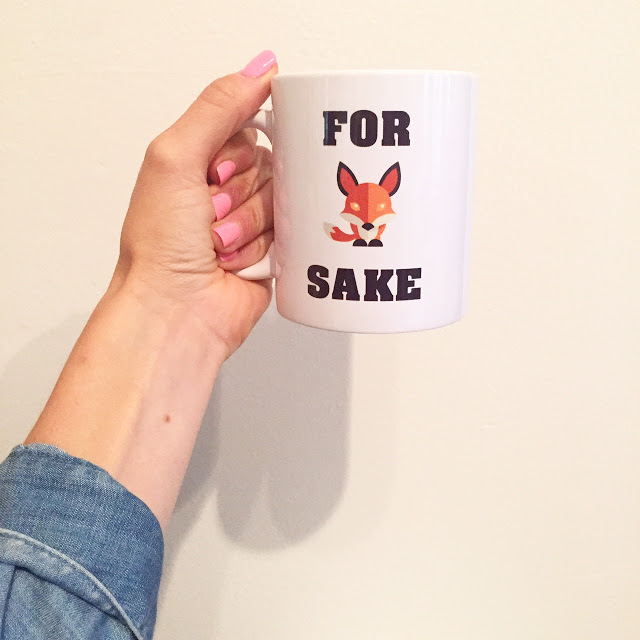 Every time something annoys me, or someone tells me it's going to cost $100,000 for something stupid I can't help but think to myself, oh for FOX sake. Really?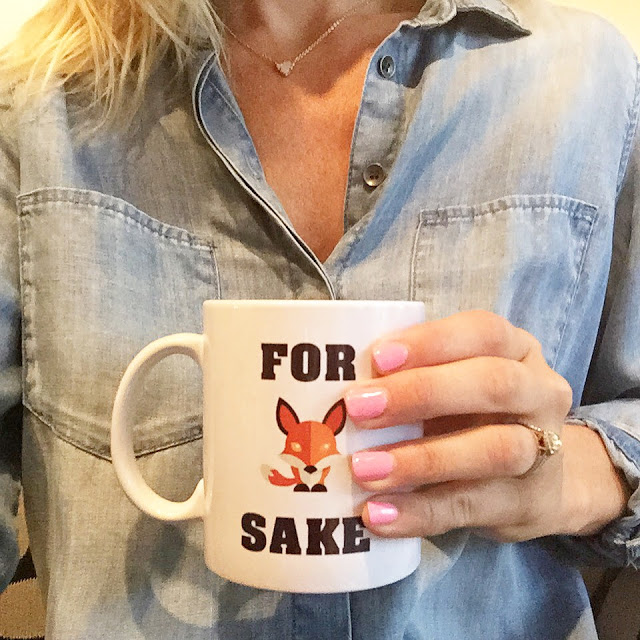 The date: 7.23.2016
Place: Steamboat Springs, Colorado.
Ceremony and Reception: Catamount Ranch.
The Dress: First fitting next week…
K, that's a good start right?
Stuff that makes me go ugh.
Music: Band vs DJ. I really want a band. But I think I might have to donate a kidney to pay for this. I've gotten some quotes and I'm like WHAT? Why? Is Taylor Swift in your group?
Transportation: Can't our friends just sleep in the tent at the reception? It could be fun.
I know I'm leaving stuff out, what else should I be booking right now?
Flowers: Ummm… I'm leaving this to my mom.
Wedding party: this one is hard. Maybe I'll let my mom do this too.
BM Dresses: Too much. Not now.
Stuff that I haven't done but I'm excited to do:
HONEYMOON: So excited to plan this.
Hotel goody bags: Maybe it's because I'm a child, but I LOVE goody bags. I once went to a birthday party where I got a Tomagatchi in my goody bag and I NEVER forgot it. So I think I might follow suit and give all of our guests their own Tomagatchi. Yay or nay? Honest feedback appreciated.
Harlow's OUTFIT: I can't even. Too excited.
Writing our own vows: I can't even. Too excited.
Bloody Mary Bar: I don't know at what point we'll have this bar set up, but it will be somewhere.
Planning fun stuff for our friends and family that come in a few days early: My favorite thing about destination(ish) weddings is getting to hang out with everyone for more than just a night. I've been in weddings where when it's over I get all sad because I feel like the bride and groom's family are my new best friends and I'm depressed I'll probably never get to see cousin Sheila again or take a shot with Uncle Steve.
Overall, being in beautiful Steamboat with so many friends and family is going to be awesome.
And now it's time for Friday stuff… Catch you later. Enjoy the last weekend in August. Fall is coming… eeek.