There's a few times in life when you just know things are bad and there's a good chance you're not going to make it.
One is when a private number calls your cell phone. When I see "blocked number" pop up on my iphone my stomach drops and I think, shit, they've found me. Who's found me? I'm not sure. And that's the scary part.
Answering this call is like going to your front door when the door bell is ringing manically at 3:00 a.m. You just know you're probably going to die.
The second time is when you're watching TV alone, it's usually dark, probably storming, and suddenly the TV goes fuzzy. This hasn't happened for a while, but being a child of the 90s, I knew the blizzard screen all too well. And every time it happened I was just waiting for the poltergeists to come out and take me.
And then there's what happened to me a few nights ago. Let me set the scene for you.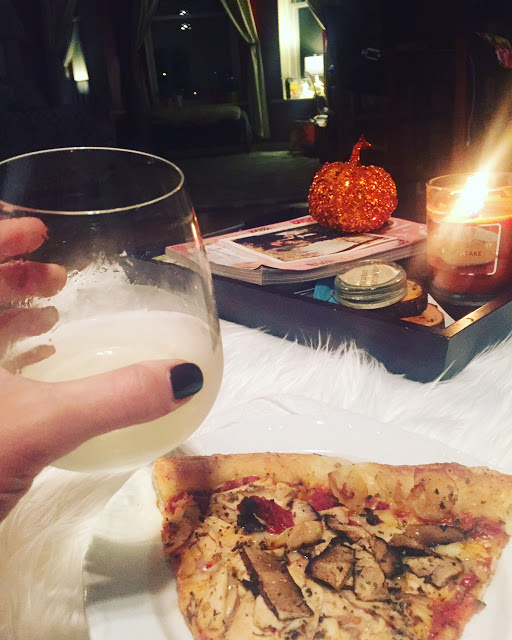 It's a nice scene, right? I was enjoying myself.
I had just dropped Chris off at the airport for a quick golf/hunt/fish/man trip. I had the night to myself and was ready to write 1000 pages on my book. Instead I binged on Netflix and pizza for five hours. Such is life.
I went to bed around midnight with a lamp on in my living room, and in my bathroom, and in the kitchen. I like to keep the house well lit when I'm alone. I turned on the fan for some white noise and settled in for a nice sleep.
And then 30 minutes later I woke up because the fan stopped. I reached down to make sure it was still plugged in, and it was. So I got up to turn on the light to see what was going on. And when I flipped the light switch nothing happened. That's when I looked into my hall and saw nothing. I saw nothing because my apartment was pitch black. Not only were my lamps off, the street lights that usually rush in through the big front windows weren't blaring off my walls like they usually do, either.
Everything was black. The electricity was out.
My first thought was logical: someone was trying to kill me. So far they were doing a good job. I could feel my blood pressure rise and knew there was a good chance I'd die of a heart attack in the next two minutes anyway.
Harlow's not a fan of the dark either. So when I crept back to bed realizing I was probably safer under my blankets, rather than anywhere else, he literally laid right on top of me. His face as close to my face as possible. A protector dog he is not.
And so I laid in bed under every blanket, with a 70 lb dog on my head, breathing right into my face. Because if there's anything I learned as a child, as long as you're under a blanket you're probably safe.
And then the ghost noises started. Without a fan to make a little background music, I heard every creak, squeak, and boo in our ancient apartment. I wanted to turn on my rain machine on my phone but my battery was at 12%. I just couldn't risk it because I knew I had to conserve battery for the moment I would have to call 911- which was obviously going to happen at some point in the night.
Long story short, I survived (barely.) The electricity popped on around 5:45 a.m. announcing its return by blasting every light I had tried to turn on during the middle of the night.
Chris is back from his man trip and all is right again.
All is right except for the fact it's Monday.