I didn't do a "year in review" post this year because I've accepted the fact that no one really gives a shit about my year in review. Am I right? We've all got better things to do, dog videos to watch.
Instead, I'm going to take the easy way out and talk about the nine things you all seemed to "like" the most, according to that silly Instagram thing we all partipated in last week.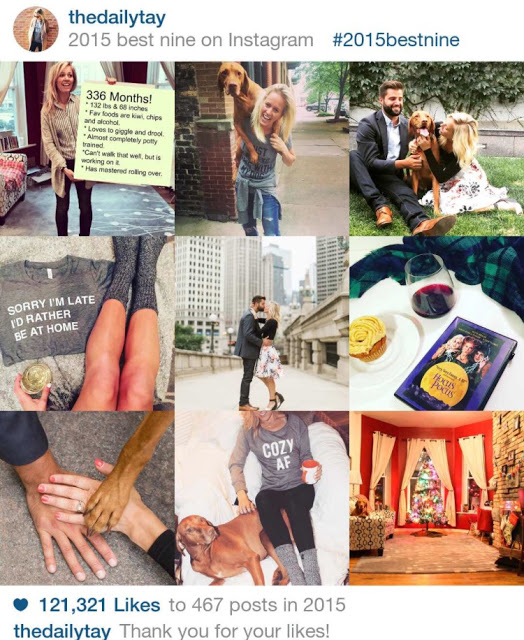 1. The 336 Month post.
Truthfully, I really liked this post too. I get jollies off of doing stupid stuff like this. I might just have to do one again, you wouldn't believe the progress I've made since May!
2 . Harlow on my back.
Really a metaphor for my life. He is always on my back making me do something, or making me feel guilty about not doing something. Oh Harlow, I think we're probably way too attached to each other.
3. Engagement photo sesh!
Can you believe Chris is still annoyed with me for making him take these photos. Get over it already!
4. The new t-shirt.
A shirt inspired by my dear WCP friends. Tomorrow, I'm expanding my line and my first coffee mug is coming in! It's also inspired by the same people… More specifically from my friend Jake and his love for calling everyone and everything "garbage." It's just so catchy. I really hope you like it…
5. More engagement pics.
The first time we've ever kissed in public. Chris and I HATE pda. Because ewww. We're probably just going to high five at our wedding when it's time to "kiss the bride."
6. Hocus Pocus.
No surprise here. Best movie ever.
7. The paw pic.
A pic I completely copied from Pinterest. No regrets. It's so damn cute.
8. Cozy AF.
2015 was the year of the shirts, wasn't it? Sometime I'm going to write a post just saying thank you over and over so all of you will know how much I truly appreciate the support you've given me in this area. THANK YOU!!!
Also, more shirts coming in tomorrow. Like the CAT shirt!!!
9. The Christmas tree.
What a way to end.
According to my filtered life on Instagram, it was a good year. Hope yours was too.
Now on to tackling 2016.