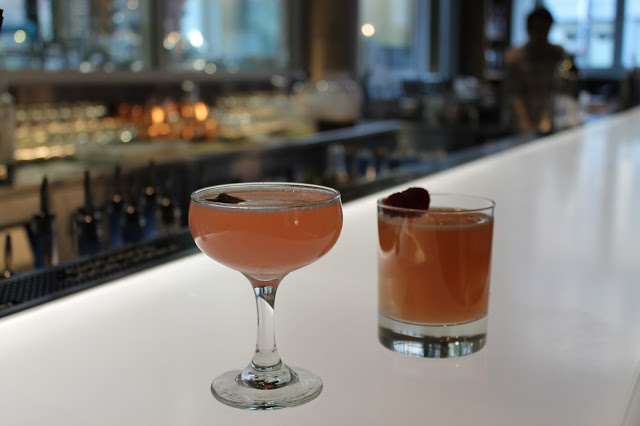 So things got a little hairy yesterday.
It all started with a vodka tour at 2:00 afternoon at CH Distillery. It was a work thing, I swear. Sometimes I really like "my work," I'll admit it. The distillery was gorgeous, the drinks were amazing, and the people were great. A good time was had by all. Local and non-locals, if you're in the area I highly suggest you take this tour.
Expect a full recap in a few days.
For now let's focus on what happened after the tour. It was 4:30, Claire and I were a little buzzed, so we figured what the hell, let's ride this out. We went to my house and grabbed Harlow and decided to have a few drinks at my neighborhood dog bar. It's a real dive. It's always dark, a little bit smelly, and the bathroom graffiti is Pulitzer worthy.
Anyway. One thing led to another and suddenly Harlow is on the bar, strutting his stuff back and forth like he's the cute Russian girl in Coyote Ugly. I think if I would have asked him for water he would have sprayed me with it and then kicked me with his jeweled cowboy boots. Harlow's antics are getting more ridiculous by the day, and I certainly don't help the cause.
At the time, it was hilarious. But looking back, I'm wondering why on earth the owner let this happen. Then again, the owner is almost always drunk. So I assure you, he didn't mind. He loves Harlow.
At this point it's 5:30 p.m., Claire and I have had one too many, and we're having in depth conversations about the indie movie we're going to film this summer in Nebraska, which will obviously get us into Sundance 2017. Maybe 2018? WHY NOT. Dreams are made at dog bars.
We parted ways around 6:00 p.m. and the first thing I did when I walked in my house was heat up a bucket of leftover super bowl dip and bathe myself in it. I can still taste the regret in my mouth today.
It was a random fun Wednesday to say the least.
But now I have to go because I have a screenplay to finish and I think my friend Jimmy John just got here. Byeeeeeeee.