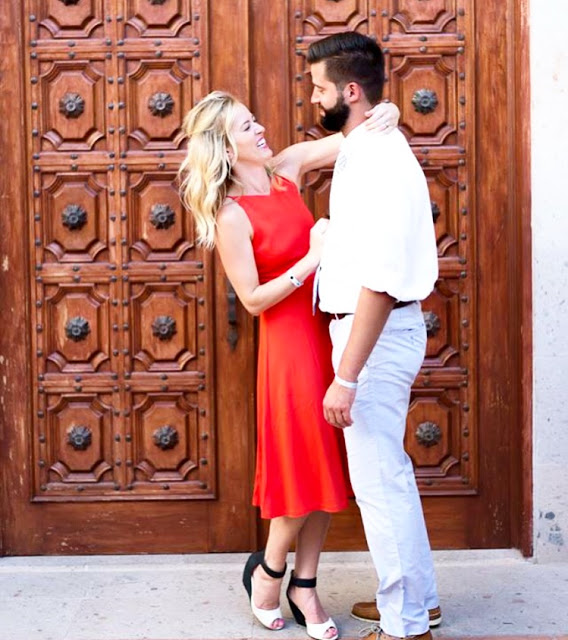 Basically this photo perfectly sums up Chris and I taking photos together. We're having fun.
Anyway, I played on the internet for three solid hours last night doing "wedding stuff."
I haven't done that since last year when we first got engaged. But there's a little voice in my head that's gradually getting louder as we get closer reminding me it's time. It's time to get shit done.
And so I looked up those wedding check lists on Pinterest everyone talks about. They were helpful, I guess. But apparently I'm lagging in a few areas. Such as choosing bridesmaid dresses. Woof.
So what kind of BM dresses do I want… I don't know. Hopefully not ugly. Or cheap. But not too pricey, either. I'd like them to be flattering. And just a little unique. Not too bridesmaidy.
In other words they don't exist. And yes, I've checked every site. At this point I'm just about over searching for these non bridesmaid- bridesmaid dresses. And now I've said that word too much (bridesmaid.) It's become funny to me in my head. What a terrible word. "Will you be my maid for a day?"
After extensive searching last night I think I've come to the conclusion that I like the non-uniform bridesmaid look the most. Let's get some honest opinions here, what do we all think about this idea? I'll obviously suggest a color palette and length, but otherwise it would be up to each bridesmaid to choose a dress they like and feel good in.
I don't know, the more I look around, the more I kind of like this idea.
The other thing Pinterest told me I need to lock down is my "overall wedding look." Hair, makeup, nails, ext….
Now before I go into this I'd like to note that I've heard the same unsolicited advice about wedding hair/makeup several times, "Just remember, you want to look like yourself!"
Um, no I don't.
What I'd like is to look like the most glam-wonderful-put-together version of myself. Like if I had an entire style team getting me ready to go to the Golden Globes or something. I want to be that person on my wedding day. There, I said it. And I don't regret it.
I'm not saying I want to have the "I just got in from a day on the slopes and have finally taken off my ski googles" look. (This is just me making fun of the non blended makeup face again I see going on right now and don't understand and/or like.)
I dream of simple things. Like having nice thick eyebrows. And pretty eyeshadow and eyeliner. Maybe some fun false eyelashes that weren't purchased at Party City. I don't know how to do any of those things and have been keeping it simple since '03. I also want to wear a pretty red lipstick. Not too red. But a little red.
Based on my dress, I have this vision of a whole vintage look going on? And I end that sentence with a question mark because I'm not even sure what that means, but I sure like the sound of it. An old fashioned hairstyle with an old fashioned lipstick to match.
Then again, when I imagine myself on my wedding day I also look like Gigi Hadid… so sometimes my expectations don't meet reality.
Opening up the table for suggestions now. Where did you get your bridesmaid dresses? What sites should I be checking?
Lastly, hope everyone has a great weekend, brunch your heart out! (shameless t-shirt plug.)