If you came here looking for my usual "where is my life going/why am I so lost/everything is garbage" Monday post I've become so fond of lately, you're not getting it!
Not today. Because today is February 1st and I'm in a good mood. We made it through another January and that feels like a victory to me.
I'm in the type of mood where I walk around with a dopey ass smile on my face while wearing a dainty little sequin heart sweater I bought in the childrens section at Target! So take that, mean preteen boys who called me pancakes and bug-bites in middle school! I still get to buy $15 sweaters made for children.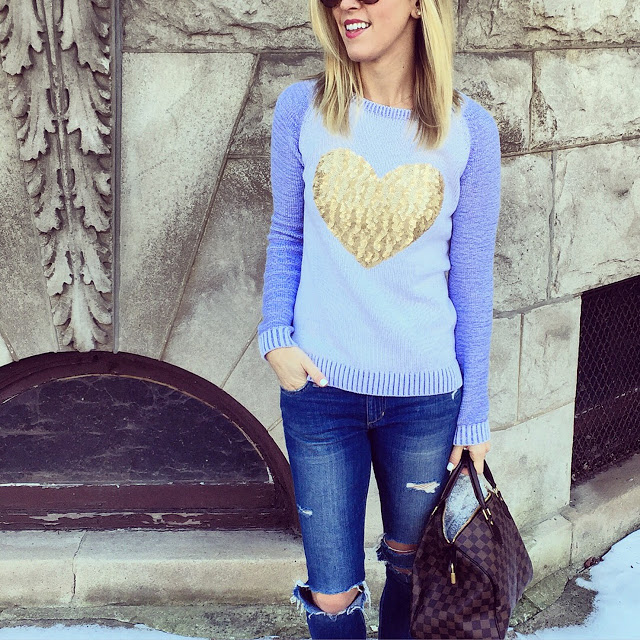 I didn't even know I was the type of person to wear a sweater with a heart on it until I did. And now I might order a few more because they make me feel jolly.
And speaking of clothing stuff, I'll go ahead and address what a few of you already mentioned last week and that's the fact that after eight years of blogging, I've finally joined my first affiliate network.
*For non-bloggers: an affiliate network means that when you click on something a blogger has linked the blogger will get a commission if you make a purchase.
Right? I think so. As most of you can probably tell I'm not extremely savvy with this type of thing, thus the reason it's taken me 100 years to finally figure it all out.
So when I link something on my Instagram and you see "@liketoknow.it #liketkit" ext ext, I'm not just doing that to make you roll your eyes. I'm doing that so if you see something you want and you "like" the photo, you'll get an email sent to you with the direct link to the product. But in order to get those emails you first have to sign up at LIKEtoKNOW.it
As it turns out, a few of you really don't like LIKEtoKNOW.it. And that's fine, I get it. When it first came out I didn't really like it either. But then I realized if I didn't sign up for the emails, it didn't matter anyway.
So I guess my thought is this, if you want the ease of getting links sent directly to you rather than searching for an item you see that you like, sign up. If you don't want the emails, then carry on as normal.
My goal for 2016 isn't to become Jenny Fashion Blogger. (Or maybe it is!) But I seemed to have found myself in the world of creating t-shirts and sweatshirts so taking more style friendly photos goes along with the territory. Also yes, I won't deny I'm getting some jollies off the stupid faces/poses/pics I've recently been taking. It's all in good fun, anyway. #bloglife.
It's good to do things that make you uncomfortable, right? So if that means standing in my alley two feet from a dumpster while Chris snaps pics and says things like, "your hands are being weird," and "you're probably not going to like this one," and "just be a person." Well than so be it.
2016 is weird and wonderful already.
What do you think of affiliate networks? More specifically RewardStyle and LIKEtoKNOW.it? All things aside, I have to say I think it's pretty cool RewardStyle was started by a woman my age. Yes to more powerful women running huge companies.