Chris is very into camping right now. And I am very into the idea of camping.
I'm into the idea until I've been outside for about ten hours and then want to go inside and lay on a couch. I'm into the idea until I look around suddenly noticing tiny spiders crawling everywhere and realize I will most likely bring a few of those spiders home with me. *I was right.
I'm into the idea until I'm not.
Don't get me wrong, I do think camping can be fun. I just think it might be more fun if it occurred in a cabin. Like with rooms and a kitchen and bathrooms. And maybe someone who brings me fresh towels and a mini tooth paste if I forgot one. So more like a resort. Yes, I'm very into camping at a resort where instead of a lake there's a "pool" and patio furniture and servers bringing you margaritas. That's the kind of camping I enjoy.
Never the less, Chris and I spent the weekend in a tent at Devils Lake, Wisconsin. The views were spectacular, the camp site was clean, and there was a little snack hut less than a mile from our tent, so all in all, it wasn't half bad. As long as I know there's a snack hut within walking distance, I'll usually be okay in life.
And then there's this guy. Harlow is a camping extraordinary. He hiked the intense climb with us like an absolute champion. The smile on his face was worth every insect bite I received on my back.
It's a funny thing when you notice you start taking vacations just because you know your dog will have a good time. Does anyone else do this? Is this normal? I get far too much joy watching Harlow have fun.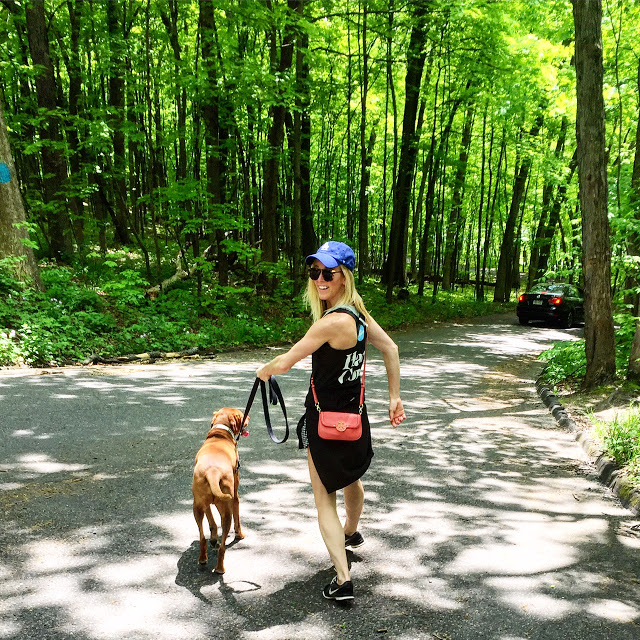 We hiked about ten miles on Saturday and were fast asleep by 9:30 p.m. that night. Which is okay when camping, because once it gets dark you kinda look around and think, okay what do we do now?


The longer we live in Chicago the more I'm starting to love Wisconsin. It's a really cool state. And it has a cheese palace. An abundance of lakes and an abundance of cheese. Is Wisco heaven on earth? I think it might be. The "oh yeah" accent is pretty fun, as well.
Anyone else going through a camping phase right now?