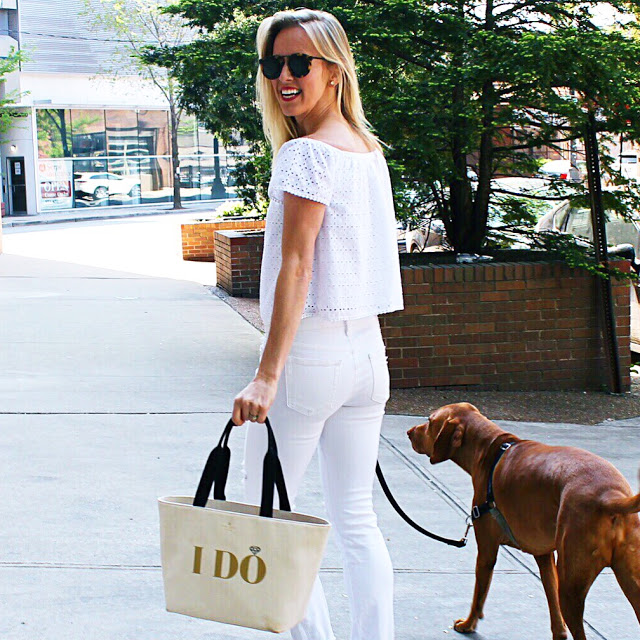 Two months from today at this very moment our ceremony will have probably just ended.
Chris and I will be walking down the aisle, hands clasped in the air, as we'll officially be "Mr. and Mrs." Mr. Hillis and Mrs. Wolfe. Same names, different titles.
The thought of it all being only two months away is a little scary to me. When I hear someone say it's only "eight weeks away," well that sounds even scarier. Eight weeks is nothing.
And so what am I doing right now at eight weeks? Oh you know, just galavanting around Chicago in my little white outfit, carrying the adorable I DO tote my sister got me, as I go on fabulous lunches and get my nails done every day and work on my wedding hair color.
Lols.
Or am I sitting in a mess of a living room right now surrounded by t-shirts and camping gear, as I eat cold baked beans, and wear a shirt that says "Thirsty Thursday." If you can't tell, why should I…
And so at this point, eight weeks out, my wedding to-do list looks like this:
1. Panic every night around 11:30 just as I lay down.
2. Wonder over and over again how it all "comes together."
3. Get nervous about talking to everyone.
4. Feel guilty about not talking to everyone.
5. Get excited when I think about all of my favorite people coming together for a few days to hang out with Chris and I.
6. Feel sad knowing it's all going to be a whirlwind and happen way too fast.
Repeat, repeat, repeat.
How does it all come together? All of the emails and meetings and internet searching to make sure everything is right. It's all just so much. When I find myself getting worked up I have to remember it's just a wedding. They happen all the time.
Eight weeks. 60 days.
I just have to connect 1000 more dots and everything will be good to go. Harlow stuff, honeymoon plans, bridesmaid deets, hair, shoes, videography, food, transportation, music ….
Okay, I'm getting worked up again. Why does society put so much pressure ON BRIDES?
I need to chill. Let's pretend this is me right now. Tootsing around sunny Chicago with Harlow and not a care in the world…
And as I said this precious little tote was a gift from my sister/MOH. Ever since I made her cry and told her she wasn't taking her MOH duties seriously enough she's really stepped up her game. Jk! You can find the white eyelet top from Alice & Wonder here.
I really went all out with the photos and this bag so here's ONE MORE in case you haven't seen enough.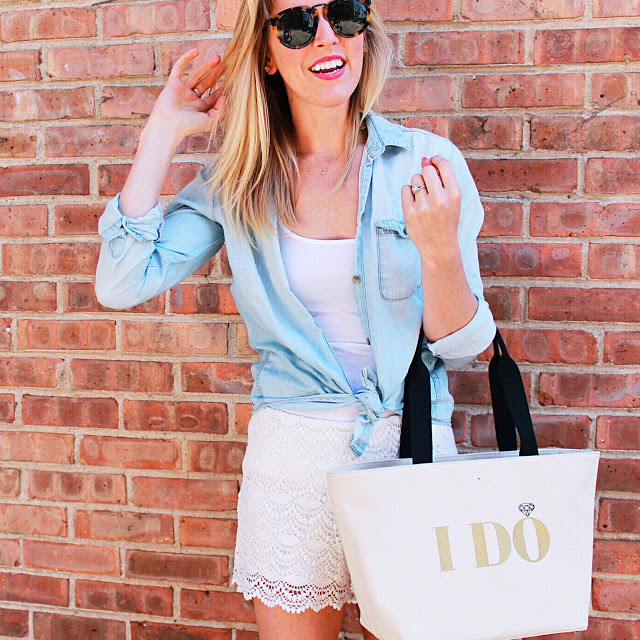 Little lace shorties are found here. I'll be ordering another pair since I got into a dog fight wearing these last week and so the ones in the photo are now ripped and destroyed… Thanks, neighbor dogs.
Anyway, I have about 14 hours of t-shirt time in front of me. I'm hoping to release a few new summer tops later this week, let's just say the line is called… Red, White & Basic. I hope you love it.