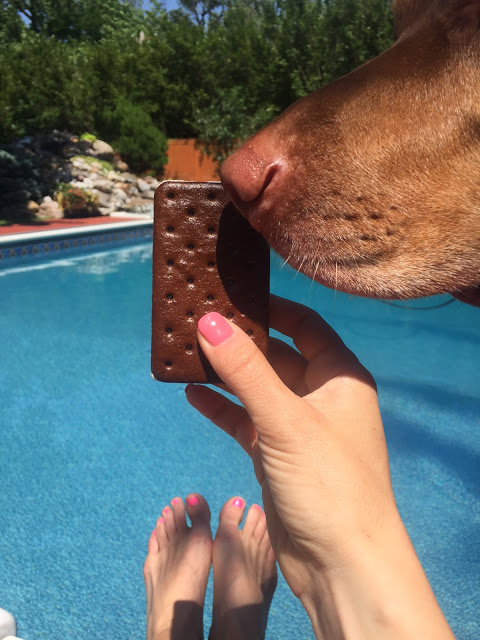 I'm in Nebraska for the weekend and it is HOT. Tomorrow is supposed to be well over 100 degrees. So expect a bunch of photos of me holding up stupid shit it up in front of my parents pool because Instagram.
I also surprised Harlow yesterday and picked him up from camp (Chris's parents house) early. Oh what a joy that was. I snuck inside and he had no idea it was me coming in. It was just an all out eruption of excited squeals and whimpers. Harlow made a few noises, too.
These last few weeks were especially hard being away from him so I'm trying my best to make up for it. Before 9 a.m. today we'd already been swimming in the pool, made a stop at the lake, chased birds in the country, rode the merry-go-round at the park, and had McDs ice-cream for breakfast. Thus the late blog post…
My mom and I left Chicago yesterday morning at 4:30 a.m. and then last night I got conned into sleeping in a tent with my niece and nephew in their living room. I got kicks to the face by Knox, Lola and Harlow several times throughout the night until I finally said I can't anymore and drove to my parents house at 5 a.m. to sleep.
I was up three hours later because my mom and dad don't really believe in air conditioning (do you know how much it costs to cool an old house? DO YOU?) so my room was a little stuffy. I learned years ago never to touch the thermostat because an alarm goes off in my dad's head and he will suddenly appear out of nowhere and shout, "Do you know how much it costs to cool an old house? DO YOU?"
So here I am at 11:30 completely exhausted and very hot. But t-shirt town is calling. I have four hours to fill orders before the post office closes at 5 p.m. and my head explodes.
Hope everyone has a good weekend! Before I go, here comes my Pet PSA:
Would you like to be left outside wearing a fur coat in 100 degree weather? No. So please don't do it to your animals. If you see an animal in distress, do something. If you're too shy, call me. I'll do something. I have no problem reporting people who leave dogs in cars, or dogs chained up outside. Wouldn't be my first time…
Now to end on a happy note here's a clip of Harlow eating ice cream for breakfast.
*Comments turned off, enjoy the weekend!!