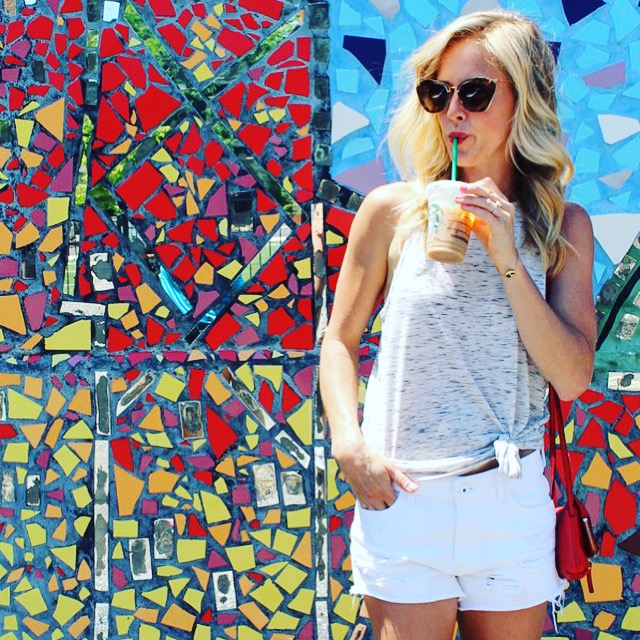 Last week I surpassed over four million views on this little blog. I celebrated in true blogger form by drinking a Starbucks in front of a brightly colored wall. With a knot in my shirt. And a smug look on my face.
I consider myself a bit of an OG blogger since I've been doing this for 7-8 years now. So really 4 mil isn't much given the fact I've been coming here since the 80s. Never the less, I took a wee bit of pride in hitting it and gave myself a few moments of self reflection to think of this site called The Daily Tay, a basic ass blog name I came up with on a whim so many years ago with two thoughts in mind: 1. I'll change it later. 2. No one will ever see it anyway.
I'm not trying to romanticize anything here, but blogging has been a game changer for me. Every morning I get to start my day with Harlow at my side and I constantly remind myself how grateful I am for this. Lunch breaks are spent at the dog park, and 3:30 breaks are spent at yet another dog park. I am so lucky I get to work from home and do my own thing. I know this whenever I think back at some of the past jobs I've had.
Of course blogging has its ups and downs, as does every job, but as long as I can keep my head on straight I get the privilege of enjoying more of the ups than the downs.
The ups include connecting with so many people online. Being able to start a t-shirt business thanks to all you that support it. Sending money to animal shelters. Having the opportunity to see and do some really cool things. Feeling like it's my job to write. And being able to pay my bills by doing something that I really enjoy. The ups go on and on.
The downs are much fewer, and are mostly all superficial and in my head. But in moments of weakness they get me. If I'm not careful, blogging can make me feel oddly insecure. It can get so competitive and it can make me feel like a loser when I see the newbies constantly "pass me" (always on Instagram) with their beautiful fashion pics and white marble kitchen pics.
The vanity of it all sometimes gets to be a little much for me. There's often this battle in my head between me feeling like a self obsessed weirdo posting 100 photos of myself every day like, everyone look at me wearing a pretty outfit! To the other voice in my head shouting back, shut up you could be sitting in a cubicle right now instead.


I don't know if there's a solution for the constant mind battle. So instead I try to take (and post) my bloggy photos with good humor in mind. It is what it is. And like I said before, I know how I privileged I am that I'm able to make a living doing what I do. Who am I to complain?
This blog is one of the few things in my life I have stuck with the longest. I've had several projects, ideas, sites, dreams, ext, come and go. But blogging has been a constant. And so I view The Daily Tay as successful simply because of that. Anything good that has come my way because of this site didn't happen for me over night. I've put in the time and in a way it makes the payout that much sweeter. When I think about what makes blogging different from the other stuff I've started and quit, the only thing I can come up with is that I started this hobby solely out of passion. I never had any inclination I would make money doing it, or that it would turn into my job someday. I did it because it's what I've always done. From my first Lisa Frank diary in preschool to my journal entries on my yellow Dell in college.
It never really bothers me when people like to say blogging is dying (which I heard seven years ago when I first started by the way) because I know I'll keep doing this regardless. The way I do it may change down the road, but I'll always keep writing. It's just what I do.
To each and every one of you, thank you for contributing to those four million views. It makes me and my ego feel especially nice today! Now if four million of you could just go like my Instagram photo I would be filled with enough self validation to last me until at least tomorrow. Thanks in advance!