Imagine going on vacation with 150 of your best friends and family members.
That's kind of what our week in Steamboat felt like. The first night it was only family who had arrived, but each night after more and more people started to trickle in.
I remember walking out to the pool Friday afternoon and seeing at least 50 people I wanted to get a pool chair by. And given the politics of choosing a pool chair, that's saying a lot. Which also brings up another point- the struggle of being on vacation with 150 people you want to be with and talk to but time simply doesn't allow it. Man, that was hard. More on that later.
So as I've mentioned, Chris and I and our friends, rented two large suites so we could all stay together. The boys in one, the girls in the other. Turns out we're all just putting on this facade that we've moved on from our college party days because shenanigans ensued every single night. As we all know I'm not a late night kinda girl, I need my solid 12 hours. But during this week in Steamboat I was running on pure adrenaline and less than four hours of sleep from Wed-Sun. I'd go to bed around 3 and pop up ready for the next day at 7. It was so unlike me. And yet I have zero regrets about it. How could I possibly regret having the fun that I did?
Will I look sleepy in my photos? Maybe. But thanks to the power of editing these days I'm not too worried. The night of our wedding I stayed up until 2 a.m. playing the Box Game in my wedding dress because I refused to take it off. *The Box Game: coming soon to a store near you.
So what does one do in a tiny mountain town in the middle of July? Everything. I'm not working for Steamboat tourism by any means, but if you're ever looking for a fun summer vacay- I suggest this place. I hope to go back every summer.
We went on morning hikes, spent afternoons at the pool, some went fly fishing (hi Nick!) others spent a night at the hot springs, we all went tubing down the Yampa (which was awesome!) and we had far too many drinks at every bar sitting right on the river. And I'm pretty sure a few guests spent some time enjoying the local plant life.
Oh yea, one day it rained so we took the party to our bathroom. This tub seemed a lot bigger before we got in…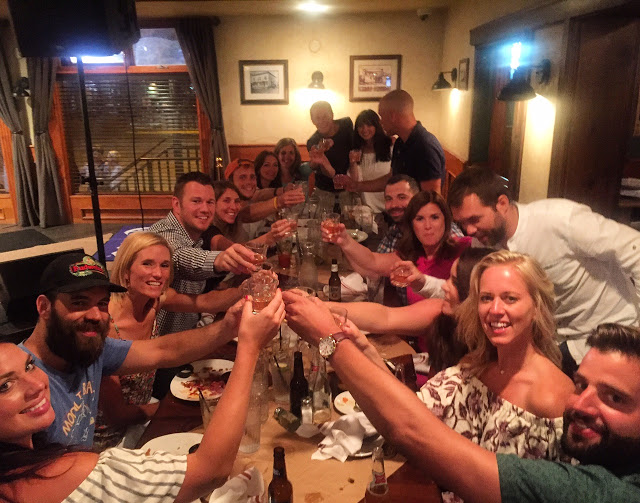 And now for a bunch of photos of Chris and I posing exactly the same, just different outfits. Me always on the left. (It's my good side.) My right side gives me Stephanie Tanner chin, trust me on this one.
The "Our first day here and we're SO EXCITED!" look.
Forever on the hunt for a good jean jacket, I found this one at Gap right before leaving and it's killer. In a jean jacket killer sort of way.
The "Our first night out and I'm wearing a tropical honeymoon skirt even though it looks really random in a mountain town" look.
And finally, we're mixing things up a bit as Chris turns slightly inward. See what I mean? Totally different pose. He's so tired of pics by now, you can see it in his eyes.
And this would be one of those river bars I mentioned. We're down home kind of folk so it just felt right. And if you're thinking I am once again very over dressed for the occasion you would be right. But I always prefer to over dress rather than under dress. And I wore this particular crop top and skirt (now 40% off) every other day on our honeymoon, btw. Wedges found here, (on sale.)
Also in looking at these photos I'd like to point out that throughout our wedding week almost everyone would talk about Chris's "great beard" and Chris's "hollywood good looks." And then they'd look at me and say, "and Taylor's so funny!" …… So, at least I've got that going for me.
If anyone needs me I'll just be hanging out on the left side of people.
Next up: The Rehearsal that almost wasn't because everyone got lost. But mostly I want you to come back so you can see my rehearsal dinner dress because I was really proud of it. So was my belly button.