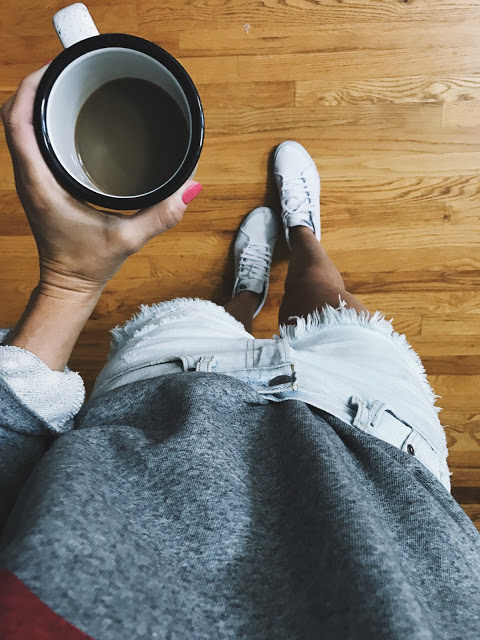 How I envisioned today's post going—
I was planning to start off with something like, "how are we already into the last week of June? I can't believe the 4th of July is next week!" And then segue into, "I say it every year, but summer goes too fast! Am I right?!"
I'd then follow it up with some fun Chicago photos from the weekend, maybe a few vague details about what we did on Saturday and Sunday, "We had wine by the river!" "Brunch outside!" "Read books on the rooftop!"
A nice little weekend recap, you know? Not life changing by any means, but just an easy little post to tide me over before I had time to write a better post.
I was hoping to get all of this done before 8 a.m. because "I'm going to have a very productive week," or at least that's what I wrote in my dream journal 25 times last night before going to bed.
Unfortunately, the productivity came to a standstill around 7:45 a.m. this morning. Instead, I'm sitting on my couch in a pile of worry and anxiety unable to focus on anything, all because of a simple email.
Typically, my work days are sporadic and all over the place. I move from one task to another, to another, at any given time. I always seems to get done what needs to be done, there's just never any set schedule or structure to my madness. One might say I have trouble focusing on one specific thing.
Unless…. unless that one specific thing is something that is making me nervous. And then it's all I can focus on. How am I supposed to write a light hearted blog post about avocado toast (which was actually edamame toast but I keep forgetting that) when there's a deep pit in my stomach causing anxiety to run up my spine and into the back of my head causing a pulsing throb just behind my temples.
All because of an email.
An email from … (ready for it?) Facebook. Facebook Ads to be exact. For reasons I don't yet know, my entire ad account has been disabled. All of my ads have been shut down.
If you don't run ads online, you probably think I'm crazy and very dramatic. (Which yes, on any given day both assumptions are usually true.) But today I'm freaking out because Facebook is basically how I've been able to grow/continue my business. It's where I spend 95% of all of my advertising money. For me personally, it's been a game changer.
So yes, I'm freaking out.
Luckily, I have friends who work at Facebook and they've been very helpful since seeing my frantic posts on (where else, but Facebook) so I'm hoping this is resolved soon. It may just be a bug? Or I used the wrong word? Or tag? I'm not really sure.
My inability to just move on to other things when something is really bothering me is a big character flaw of mine, I've been dealing with it for years so I'm well aware. Luckily, I know a few ways to ease my anxiety when I've done all I can do in a situation- and that's a long Harlow walk. He pulls me out of my head, helps me to refocus, and remind myself that it will all be okay….
So that's what I'm off to do.
But first, have you been in this situation before? Or maybe something similar? Any advice is much appreciated! Also any "chill out" vibes you'd like to send my way would be appreciated as well.
happy. monday.