"Wow, I can't believe firework tents are already popping up," I say to my dad when I'm back for Father's Day. Or my sister says to my mom. Or my mom to me.
We say it every single year, as if we're still genuinely surprised to see that blue and white striped tents are being set up in parking lots all across the small town of Norfolk, Nebraska, just as they are every year, at the exact same time.
And yet we can't help ourselves. "I was thinking the same thing," one of us responds.
And so it goes, another firework season has arrived in the Midwest, and with it, our familiar firework lingo.
"Seems like there's a lot more this year."


"Doesn't it?"


"Remember when Jordan had his own tent that one summer?"


"Oh yeah! He had to sleep in it. Doesn't he still have fireworks left over?"


"I think so. You should do a tent some year."


I don't know what it's like where you grew up, but for people in my hometown, the thought of "should we have a firework tent this year?" is something that always seems to slip its way into conversation at least once (if not several times) in someone's lifetime.
The allure of watching brightly covered tents; some yellow, some striped, pop up in every parking lot from Sonic to the high school, transforming the small metropolis of Norfolk into a circus town for ten days, simply can't be ignored.
Thus I present to you: The Midwest Firework Culture.
Part 1: The Rising of the Tents.
And Tent Owners In Patio Chairs.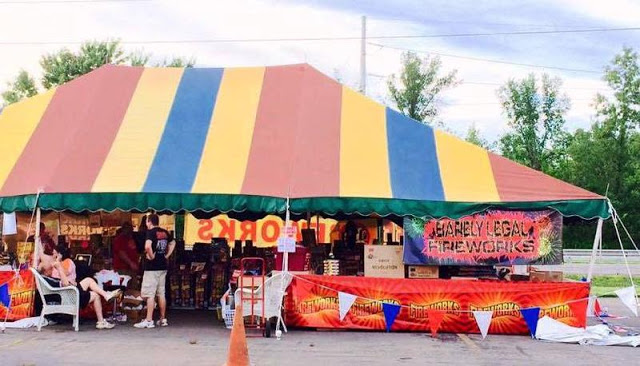 When I was a kid, spotting the first signs of a firework tent was like spotting the first deer on a road trip. It was an unspoken award you wanted to win. Thus, my brother and I were always competing to see who would be the lucky one to eagle eye it first.
"Saw the high school tent is going up today," my brother would report out of nowhere.
"No way," I'd respond, knowing it was a day or two too early.
"Yup, saw it this morning."
I knew he was lying. But I'd still have to get on my bike and see for myself, the entire ride there cursing myself for not saving up more money from Christmas or my birthday to spend on my favorite fireworks: Black Cats and Lady Fingers.
Of course he was lying. There was no tent- yet.
And when I'd get back home and question him he'd usually respond, "well they must have decided to take it back down, because it was at the high school earlier."
When you're from a small town, you can say "the high school" and everyone knows exactly what you're referring to, as there is only one "high school." Of course there's a catholic and lutheran school, but those are called the catholic and lutheran high schools, obviously.
The high school tent was ran by the high school marching band. I think. Other than spotting this tent every year, we never actually went inside when we were kids as it was rumored to be the "expensive tent" in town.
If you want to know firework prices, ask the kids.
Ask the kids you see walking in herds down gravel alleys carrying ziplock bags full of loose change. They may be in flip flops, or simply barefoot (which they'll regret as everyone knows walking down a gravel alley barefoot is the worst pain known to feet.)
They'll be in cut-off jean shirts with popsicle stained t-shirts. The corners of their mouths red and cut from said popsicles. You know the ones, the colorful sticks of frozen ice that delight and also hurt.
About twelve days before the Fourth, the tents would sprout up. Just a few at first, but soon every parking lot in town would be full. Like a little Monopoly board, but instead of plastic houses, they were tall striped tents. A simple errand couldn't be run without passing at least five.
And when the Fourth was officially ten days out, the tents would open their magical tent doors, welcoming us with open arms, it was time to buy our explosives!
****
Coming tomorrow: Part II – Opening Day and Competing Tent Families: a little firework fan fiction.
Or maybe this won't come tomorrow? I have no idea where this series came from but it was a joy to write so I went with it.
Also, I'd just like to state that I actually hate fireworks now (because Harlow) however as a child, I obviously did not. What are your thoughts on them?
Check out this post to see what I do to try to keep Harlow calm during this annoying season of loud boomers. What do you do for your dogs?