This weekend will be our one year wedding anniversary. So now you've been warned.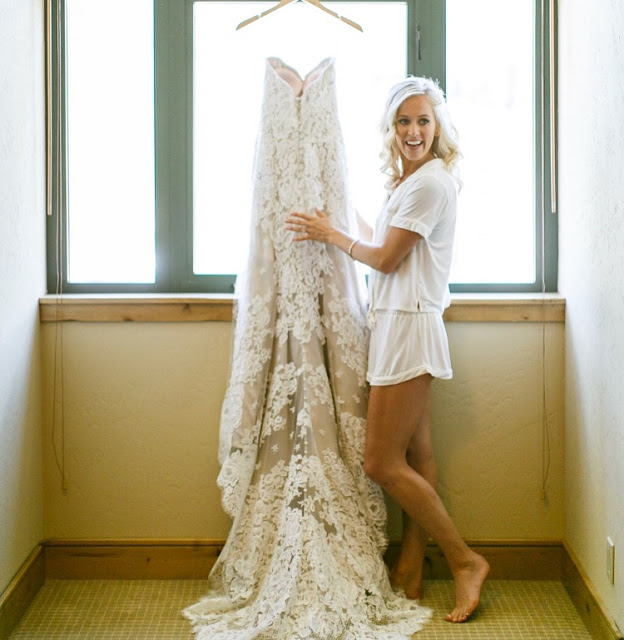 You've been warned that I may be feeling extra nostalgic about our wedding and will feel the urge to write a wedding related post every single day this week. I may force myself to dabble in other topics (but that will only be for your sake.)
I sat in bed last night and thought about what I was up to last year at this exact time. And it felt so fresh and yet so far away.
I can still feel the frenzy and butterflies as Chris and I packed up our car, ready to leave Chicago for nearly four weeks. Suitcases packed to the brim with wedding clothes, honeymoon clothes, and everything in between. We usually like to bark at each other when we pack the car for a long trip, but not this time. We were extra cute to one another.
"You want to rearrange everything I already packed? Sure, Chris. No problem."


"I mean, I think it's adorable how you just toss everything in with zero organization, but if you don't mind, I think I could make it a little better. If you don't mind."


"Not at all. And if my suitcase is too bulky I could open it and try folding my clothes rather than just wadding them in a ball like they are now, I mean, if that's what you prefer?"


"It is. You're the best."


"You are!"


Kisses. Cuddles. Hugs.
I remember driving downtown to pick up my wedding dress. Walking onto busy Oak Street carrying the biggest dress bag I'd ever held and hearing an onlooker remark, "oh look, I bet that's her wedding dress inside!"


Snarky me would want to respond, "What gave it away? Was it the bag that says, Ultimate Bride in big bold font?"
But cloud-nine-bride-me just smiled sweetly and gushed, "it is!"
And once the dress was situated just right in the car, we started the eight hour drive toward Nebraska. To-do lists flooded my head. What did I forget? What did I have to do? Hair. Nails. What else?
Chris went straight to his parents house and I drove to my parents to finish last minute things with my mom. On every errand we ran we saw someone we knew (which is common for my hometown) and they'd all stop us and say, "isn't your wedding soon?!"
"Next week!" I'd happily respond. (Or gush.) I did a lot of gushing that week. I usually like to be anonymous when I go to my parents house and rarely leave their home, but not my wedding week. I ate that shit up.
I was supposed to pick up Chris at his parents house Tuesday morning to make the eleven hour drive to Steamboat, Colorado. But instead I texted him Monday afternoon and said, "I'm too excited to wait."
"Me too, let's leave tonight." He responded.
So that's what we did. After a tearful, I repeat a VERY tearful goodbye to Harlow, we headed west toward Colorado.
My heart still hurts thinking about leaving Harlow behind, I was so full of anxiety and sadness about not having him along for such an important weekend I was certain something terrible was going to happen to him. I made Chris call his mom 100 times in those first few hours to make sure he hadn't run away, or trapped himself in a hot car, or who knows what else. I went over every possible situation in my head.
He was fine. Safe and happy playing the lake. It really was for the best.
And once I allowed myself to believe that, everything was good again.
The final road trip to our wedding in Colorado will forever be one of my all time favorite memories. We drove through awful storms, had to pull over in western Nebraska for an hour in search of a gas station, and ended up staying in a roach motel in Kimball, Nebraska. And yet, I'd do it all over again in a heartbeat.
As we finished the trek into Steamboat the next morning, driving deeper and deeper into the mountains, everything suddenly felt more real than it had before. What we had been planning for the past year and a half (okay seven months) was actually happening. And in that instant I already wished it would slow down.
Upon arriving in Steamboat, before even checking into our resort, we drove straight downtown to get our marriage license, at which point things got even more real.
Immediately after, we celebrated with Bloody Marys at a restaurant on the river, and took a long moment to take it all in, knowing it would be the last time it was just the two of us before things got crazy.
And we were right. Immediately after that lunch everything else became a whirlwind. New friends and family trickled in day after day. Dinners went from ten people to thirty, to fifty. And I was calm, cool, and collected through it all. Until I wasn't.
More to come on my scary-bride moments… Maybe?