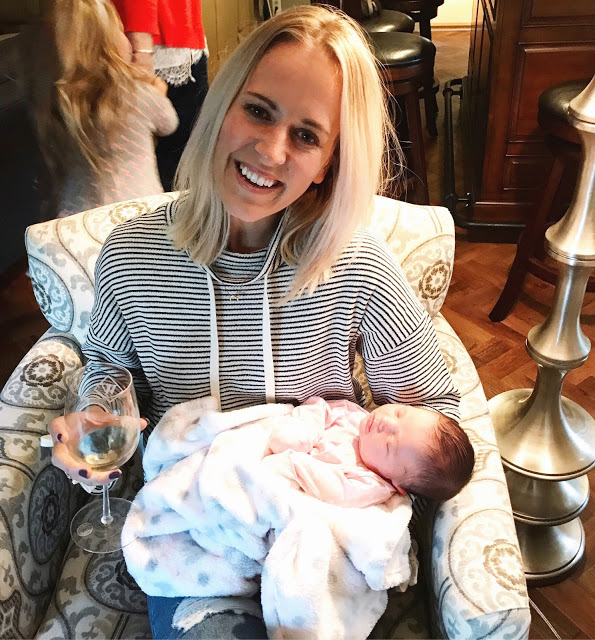 So last week I met my niece, Vivi.
And she's tiny and adorable and a very "good baby," as people say when their babies are… quiet? Right? Isn't that what make's a "good baby?" I'm not sure, but I do know my sister was asked at least 100 times by people we came across in public, "oh how precious… now is she a good baby?"
My sister, being the polite nice human/super mom that she is, would smile and respond, "yes, she really is."
And I would stand just a little more dumbfounded each time, wondering why people ask whether a week old person is "good" or not.
Well she swears a lot, and her favorite word is the C word if you catch my drift, and boy oh boy is her digestive system active, she shits like sailor after a bad week of fish and sea brew, but other than that, yeah, she's a pretty good person, I suppose. She means well.
Have I mentioned before I think people make weird comments around babies?
I learned a long time ago I have to put just the right amount of attention into meeting a new baby or it can be interpreted wrong. For example, if I'm "too into" a baby I'll receive such comments as,
Someone's a natural…
Good practice, huh?!
Makes you want one doesn't it?
And my favorite of all,
Oh…. I think someone has baby fever!


Baby fever. What a fever to have.
If people see a childless woman with that glimmer in her eye and a soft smile on her face whilst watching children play, they'll say, "I think she has baby fever!"
And if they see a man.
If they see a childless man watching children play, with a soft smile on his face, what kind of fever does he have? I'll leave that one open because I'm pretty sure we're all thinking the same thing here.
And it is fair? Probably not.
But perhaps no one should be watching children play in this day and age, a mistake I learned the hard way with Harlow this past summer when I was trying to show him the neighborhood pool by our house finally had water in it. I stood outside the gate smiling and pointing, "Har, look! It's a pool! Har!" I stood and smiled for longer than I should have, because eventually I noticed the life guards were all staring at me- an oddly dressed childless adult, gazing into a pool full of children, smiling and pointing, not walking away.
"Oh no, I'm not a creep! Just excited. To see the pool! I love pools!" I yelled as I pulled Harlow from the gate. A dead giveaway for what creeps yell.
So as I was saying, when it comes to babies, I error on the side of caution. And this is pretty easy for me because truthfully, I don't even enjoy holding small babies that much. They're wiggly and hot and that head weighs 1000 pounds and it all just makes me very nervous.
I just keep thinking about how incredibly new they are and it gets in my head. Like, one week ago they were in the Upside Down and now they're here. What a transition! Can you even imagine what that journey must have been like? Nine months of isolation in a hot tub and then BAM one day they're suddenly on land, being held by their crazy aunt who's trying to ask them through telekinesis, "what was life like on the inside?!"


Those Look Who's Talking flicks did a number on me.
Anyway, when I do actually hold a new baby, I make sure I'm sitting down in a sturdy place because that's what proper ten years do. I ask someone to place her in my arms, sit with her for a couple of minutes for photos, and then politely ask someone to remove the baby from my lap.
This post turned out a bit differently than I thought it would.
Long story short, Vivi is healthy and happy and most importantly, has a head full of hair, THANK GOD. We all know how important infant hair is, what with their constant nights on the town, prom up-dos, and everything else a two week old needs hair for.
We'll continue this series on babies on another day, for now Harlow needs to go to the park. So happy all of the kids have gone back to school so we can take our playgrounds back in the morning. When will people learn that jungle gyms are for dogs, not kids?!


said the crazy childless dog woman, as she cackled and reached into her purse for another dog poo bag….