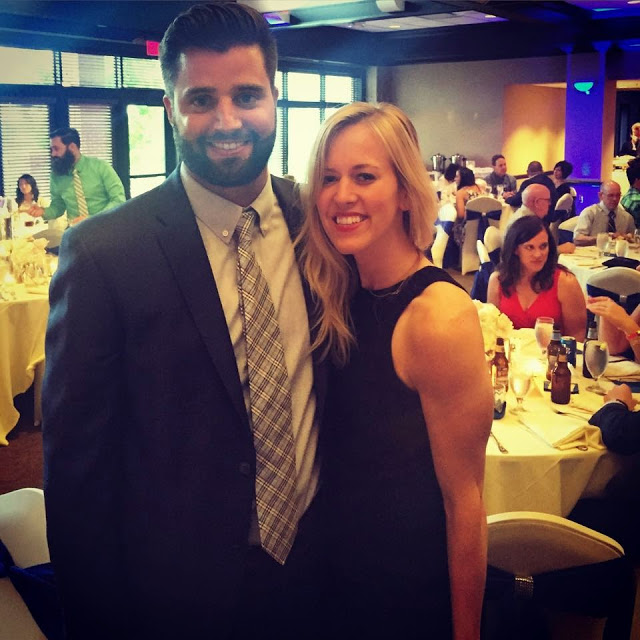 This past weekend shall be known as the weekend everyone got married. Luckily Chris and I aren't that popular so we only got invited to one, but quite a few of our friends had several to attend.
I love how people wear their wedding invites like a badge of honor. Do you want to know how you can tell if someone has a lot of weddings to go to? You know because they tell you. "Well we have 79 weddings to go to this summer. Can you believe that?" They tell you like they're mad, but really they're feeling pretty okay about it. And rightfully so, 79 is a lot.
On Saturday we went to our first wedding since we've been engaged. I paid just a little bit more attention to things than I usually do, mostly to the things that made me itchy with anxiety. Like for example…
The bride walking down the aisle.
This is a big one. This is a big one that makes my stomach queezy and my eyes watery. I fear there's no way around it. Everyone standing to look at her during this emotional private moment (but obviously not private moment) is too much for me. Would it be too much to ask if I could tell a few jokes while I walk down the aisle or purposely trip or get a pie in the face or something? I would prefer anything than to have people stare at me with that misty sentimental look in their eye.
My go-to escape during emotional moments I can't handle are awkward inappropriate jokes. And I have a feeling my wedding is going to be full of them. I'm going to be that weird uncle no one wanted to invite at my very own wedding.
And the whole "who's gives this woman away" part is not for me.
Of course my dad will walk me down the aisle, but no one is giving anyone away. I'm not going anywhere. I'd prefer "who raised this person to have such a sick sense of humor?" And then my dad can chuckle and say I did. And that will be that.
Then we've got the wedding party entrance.
Where do I even start? Is there any way to skip this? Or should I just tell my bridesmaids to ride on their groomsmen's back and call it a day? I'll get back to you on this one.
The speeches.
Wedding speeches are my absolute favorite. If they're good, I love them. If they're bad, I love them even more. My sister got married the summer The Hangover came out so I gave the Wolf Pack speech as her maid of honor. Did it hit? No, not at all. But I'll never regret it. You have to be bold with what you say.
And that's why I've proposed at our wedding we'll have a roast. Every person in our wedding party will get to say something terrible at our expense. I think this will be the most fun ever, however everyone I've told this idea to thus far seems to think it's an awful idea.
So much to decide. And as of last Friday, our wedding is only 14 months away. How will I ever get anything done in that short amount of time.