The hardest thing about being an adult is resisting the back to school aisle at Target.
It's very much there and begging me to stop by and just take a gander… Just a little browsing can't hurt, right? Everything is so fun and inviting. And new. And crisp. And clean. Maybe if I buy all the new stuff it will make me a new crisp, clean person? I will suddenly feel motivated to organize my desk/life… Maybe… That's what the promise of every new school year holds, right?
But I resist. I'm not going back to school.
I know I could still buy myself new "work" supplies, but it just seems a little unnecessary to buy a new pencil box or 100 different fruit shaped erasers, you know? Unnecessary, but still very satisfying.
My sister sent me this photo of my niece, Lola, at her first day of "school" yesterday. When you're two, school means daycare. But Lola has been begging to go to "big girl school" so there you go.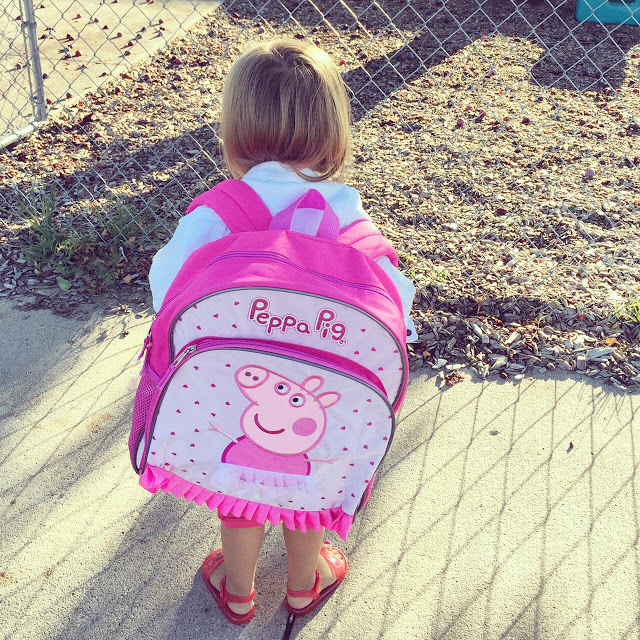 I texted back and asked if Lola was planning to hike the PCT later. I'm pretty sure she could fit a tent, a sleeping bag, 10 days worth of food, and her new big girl bed in that book bag. (That's a Wild joke by the way.)
I can't look at this photo without laughing. That bag is just so big on her tiny little body.
My first book bag was green with red hearts. I think it's still at my parents house in my closet. It probably still has candy wrappers and dirty gum stuck inside.
No matter how old I get, this time of year always gives me the back to school itch. I want someone to send me a list telling me all the supplies I need to buy right now to make it through the next eight months.
Kleenex, gel pens, trapper keeper, paper that tears perfectly on the side without all the fuzzies (NEVER FUZZIES), markers, crayons with a sharpener on the back. I want it all.
You know what else I want? Back to school clothes. More specifically, this sunflower outfit.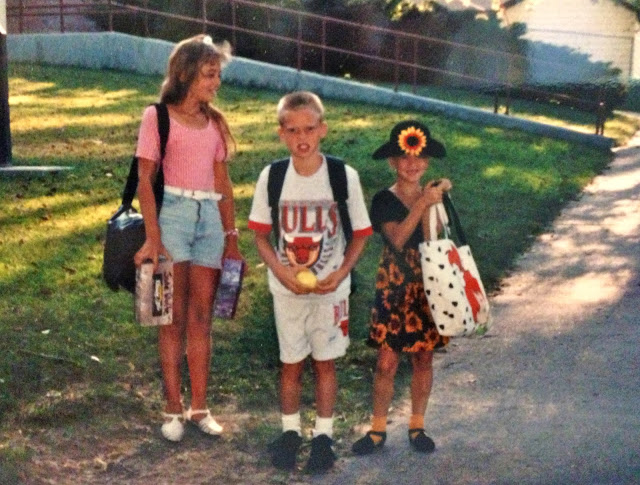 If you look close enough, there's so much 90s goodness in this old blurry pic of my sister, brother and I. Jade was going into 6th grade, Jordan into 3rd, and me into 2nd. We'd all just transferred to public school after being at the private catholic school- which was very scary… Norfolk public is a hard place, man. So many gangsters.
Clearly, I was taking full advantage of not having to wear a uniform anymore. I mistakingly thought that no uniform meant I could wear a big dumb hat. I was wrong.
My yellow socks with those sassy black shoes? Nailed it so hard. Jade's cute pink top is actually a body suit, I know because I inherited it after she grew out of it. And my brother is just trying to shit his pants I think, while randomly holding a pear? I'm not sure.
My Pebbles bag came from a garage sale. But I was confident enough in myself to wear second hand accessories so I didn't care.
That back to school itch may be creeping in, but I'm not letting go of summer just yet. I've still got another month in me. And if you tell me otherwise, I don't want to hear it. Long live summer.
Also, what was your favorite back to school outfit? You know you have one…. Let's hear it. Any other sunflower lovers in the house?