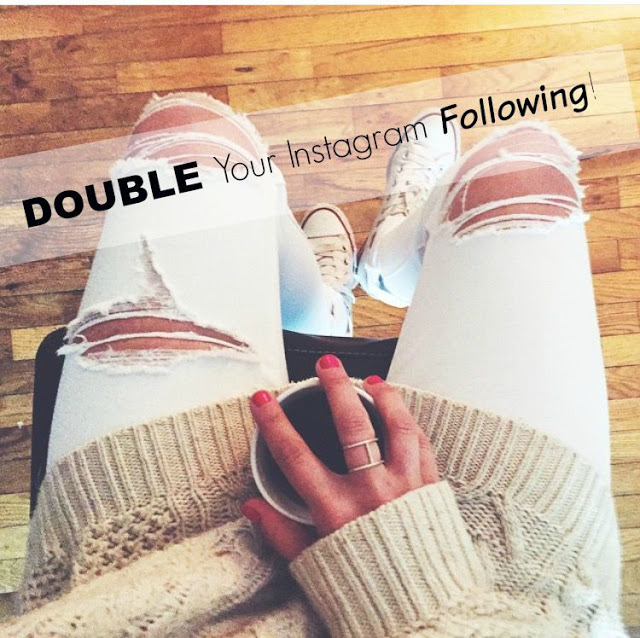 I'd like to start this post off by letting it be known I'm just here to snark today. It's going to be like the good old days of this blog, I'm not even going to try to hide it. Instead of coffee I drank nails for breakfast, so let's just have fun with it.
It all started with an ad I continued to see on my Facebook newsfeed boasting, "Double Your Instagram Following!"
Mmmmhh. I could be into that, I thought. I'm not shy about the fact it drives me just a wee bit insane to watch all these newby "bloggers" run hot laps around me in the stupid world that is Instagram, while I'm sitting on my tiny white fur rug like a baby lamb trying to take dumb photos of my feet just because I feel like I have to…
So I clicked on the ad.
This specific blogger was offering a free webinar all about using Instagram with a purpose. At this point I'm managing about six different Insta accounts, so if there's a webinar that claims it will tell me how to double all of those accounts, I'm going to sign up.
I signed up. And the webinar happened a few days ago.
So sit back and relax as I share all of the amazing secrets I learned about finding ALL OF THE FOLLOWERS on Instagram.
Let's call the "teacher" Martha, by the way. And just for the record Martha is not my pal, Helene. I sat in on Helene's webinar last week and was thoroughly impressed. You want to learn a thing or two about blogging/Instagram- then Helene has the webinar you should watch. *friendly plug over.
Anyway.
I missed the first two minutes of Martha's class because I was dicking around in the kitchen, so what she said in that intro I shall never know. I jumped on right around the time she started telling everyone that "Facebook is dead and I'm completely off of it and love being away from it #sorrynotsorry."
As soon as I heard the #sorrynotsorry actually spoken, I almost jumped off the webinar. I'm just not into people who speak hashtags. #sorrynotsorry
But I stayed on because I was interested to hear about what else was dead that I didn't realize.
I also wanted to politely tell Martha that her Facebook account must be hacked, because even though she said several times she's not on Facebook, I couldn't help but think of that ad I saw show up in my feed day after day. Martha has a hacker! But that lucky duck has a hacker who shells out a lot of money to pay for Facebook advertising. #jealous
Martha also quit Twitter.
And blogging. Martha actually gave everyone "permission" in the webinar to quit those things as well. Well thank God. I've been waiting for permission for years. Finally a stranger gave it to me. #rejoices
Now she just uses Instagram and makes millions of jillions of dollars. And we can too.
"Mirco blogging" is where it's at according to Martha.
But Martha, I like to write. How can I write via mirco blogging? I need words not photos to tell the whole story. I wanted to ask, but never got the chance. Maybe I'll send her a pic tomorrow with my question.
After Martha told us what to quit, proudly proclaiming "I'm a quitter!" she told us what to start doing. Heroine. Apparently it will give you tons of energy to take more photos, make you very skinny to look better in said photos, and give your skin that natural "amaro" glow.
I'm kidding. Like I said earlier, my snark is overflowing today. I deserve a day to let it out every once in a while I think.
Back to Martha.
Tip #1:
Be aware of the feel and overall aesthetic of your feed.
Wait, so I can't just post the most random photos of my dog, my drink, Chicago, my couch, ext whenever I want?
No, not according to Martha. Your feed needs to have a pretty organized flow to it. That makes sense, I guess. But sadly my life doesn't have a pretty organized flow to it… So… So like my life, my feed is random as hell. Sorry, Martha I'm just not catching on. Can we move on?
Tip #2:
Make a great bio! But don't make it all about you.


But but but but but but but but … but my bio is about me. No, says Martha. You have to let your readers know what they're going to get.
My current bio: "Let's just pretend we already know each other."


So that's what my readers are going to get. A best friend!!!! I actually think that's a pretty great bio. Thanks Martha, for confirming.
Tip #3
Engage your readers!!!


If someone comments for example, "an ice cream cone pic in front of a brick wall? original. thanks."
Respond! "Thank you! It was sooo yummy. #cheatday." Or something similar.
Tip #4
Stop living your real life and start living just for Instagram. Staged you > than real you.
*disclaimer: that might not have been tip #4. I jumped off the webinar so I could walk Harlow and enjoy the nice fall day in Chicago so I'm not sure what tip #4 actually was.
Truthfully, the reason for this self indulgent snarky post today is simply because Martha made me mad. So I fired back because I'm a mature adult.
She told me my hobby was dead. And Martha doesn't have the right to tell me that. Blogging is my hobby, my job, my thing. It might not always be, but for now it is and I enjoy it. So when someone cuts it down it bugs me. No one likes to be told their job isn't important anymore.
Martha, Martha, Martha. Know your audience.
Sadly, I didn't double my following. After the webinar I think I probably lost followers. Such is life online.
Because I'm only human, I won't deny I still want to grow my followers on Instagram and be like the "big blogger gals" and occasionally post photos that make me cringe. However I keep thinking about a quote from the Hipster Barbie article about Instagram today that rings true to me, "it's so overdone that it's becoming boring."
It is, isn't it?
#dontfeedthelambs