And just like that today is already December 1st. Thus I present, 14 Things I Do Every December.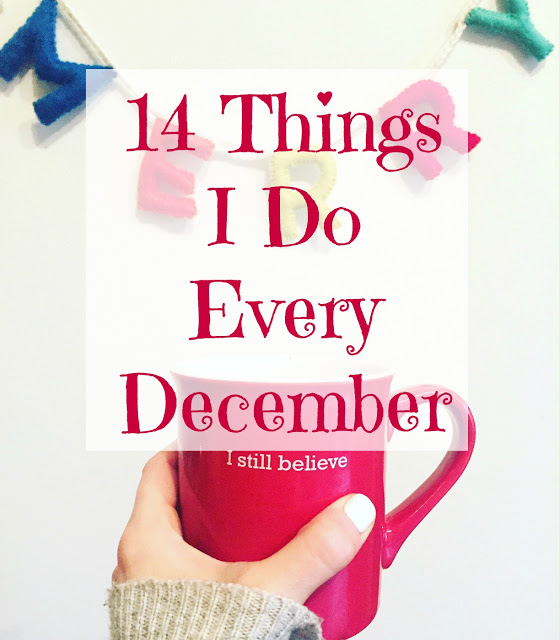 I start to panic that Christmas is already here, which means it's pretty much already over.
This might have something to do with the holiday hysteria my mom instilled in me from a very young age. Basically my mom's motto is this: you must go over the top ape shit crazy about the holidays or you will die.
And I mean that in the very best way. You don't simply endure the holiday season, you enjoy the hell out of it, whether you like it or not. And I think I just found a new post idea for later this week…"Inside Every Mom's Head During The Holidays…" or something like that.
I feel the need to watch every Christmas movie ever made. Like a few of these.
Just last weekend I watched Home Alone 1 & 2, Christmas Vacation, The Holiday, and A Christmas Story. So I'm doing pretty good. Also if you haven't read this post about Home Alone, stop what you're doing and read it now.
*Fun fact: I auditioned for Home Alone 3. They held an open call at the Sioux City mall in Iowa and damn it I went to it! Boy did I miss a bullet by not getting cast in that garbage movie. I sure feel bad for the dumb blonde they cast as the sister instead of me! Fun Fact #2: it was Scarlett Johansson…


I get excited to move the small Santa Claus in my Christmas countdown calendar because I'm a child.
My brother and I used to fight like hell over this same thing when we were little, even when he'd move it before me I would still sometimes move it back, just to move it forward again. Guess you just can't let go of some things.
I remember why I loathe Elf on the Shelf. Really Facebook Mom I don't know, you hand sewn an entire pilot outfit and made an actual replica of a Southwest Plane just for your child's elf to sit in for ONE day? That's a little aggressive.
Don't worry, Nag in the Bag will be back this year…
From now until December 25th it's only Christmas tunes. All day, every day! Sometimes I don't even want to listen to them, but I force myself.
I want peppermint everything. But most specifically, peppermint ice cream.
This is the only time of year I'm okay with snow falling. After December, the snow has got to go.
I get choked up when I watch the scene with Clark Griswold in the attic watching home videos. Does this make anyone else sad? Just that song makes the tears flow.
I continue to buy Christmas junk from Tj Maxx until the very last day. This includes but isn't limited to: decorative napkins, cinnamon candles, holiday coffee mugs, holiday socks, reindeer pillows, snowflake blankets, and a bunch of other stupid shit.
I'm a huge Peeping Tom this time of year and love to walk Harlow at night so I can look in everyone's windows at their big gorgeous trees.
I stay up late every night just to stare at the glow of my Christmas tree. And then I let this warm weird feeling of nostalgia wipe over me and I can't tell if I'm sad or happy. Or just tired.
There's just something about the Christmas Tree glow when I'm the only one awake in the house that really gets me. I think it gets Harlow too.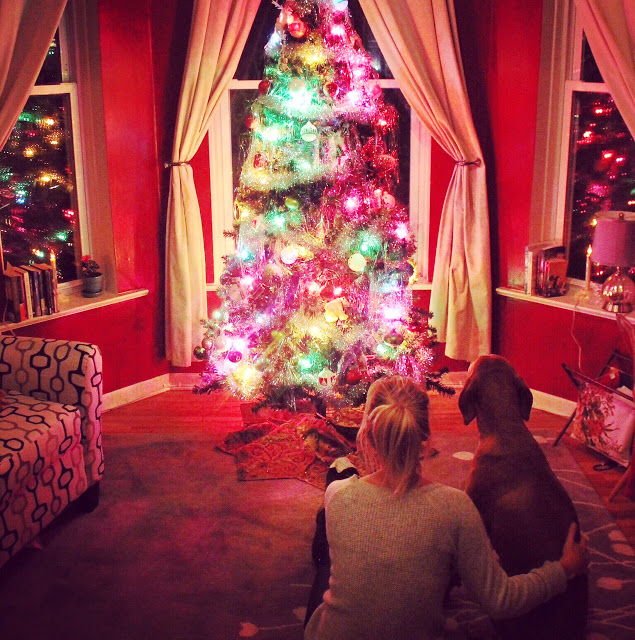 We're a bunch of hams, I know.
Each and every year, I'm determined to make it the BEST CHRISTMAS EVER. *see mom's holiday hysteria above.
What do you have to do every December?
PS: #MyHolidaySpark is killing it on Instagram. So many jollies when I scroll that feed. I'll be posting my favs later this week.