A holiday hello from me to you.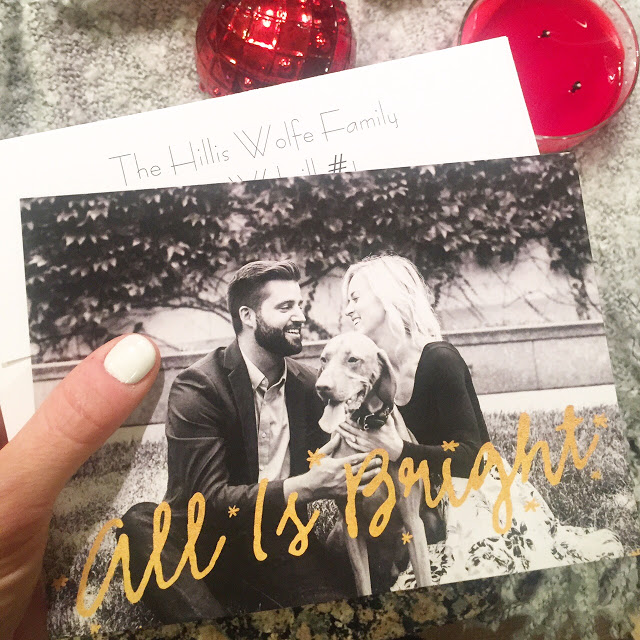 I really hope you like my card. The theme I was going for is, "look how incredibly happy we are!" I think we nailed it.
But if you look really close you can actually see me telling Chris to just "Chill out! Only ten more minutes. Stop being a child." All while I keep a happy smile on my face, no less!
And Chris is responding through gritted teeth, "You promised NO ENGAGEMENT photos. Yet here we are. Typical, Tay!" All is bright indeed. A picture really does tell 1,000 words.
Truthfully, I chose this photo because Harlow looks so damn good. That's normal, right? To choose a Christmas card photo based on your dog's smile.
And now to share my annual Christmas letter written by a random narrator in which I humbly brag about how much better my family is than yours. Tis the season!
****
My Dear Friends and Family,
Where or where did 2015 go? I say this every year, but it feels like just yesterday we were ringing in the New Year and here we are already preparing for 2016. Time truly does fly when you're having fun.
2015 was a big year for everyone! Just a few highlights include:
*Harlow filmed a commercial for Volvo.
*Chris took a promotion at work.
*And Taylor finally learned how to fill in her eyebrows! After years of shaving them in middle school, she's truly understanding what it feels like to have a face.
Like I said, a big year for everyone! How blessed we are.
Harlow's career has really taken off. Not only did he film a few promotional videos for several ad agencies in Chicago, he is also highly sought after for product reviews. In his own words, "I won't even get out of bed for less than ten jerky sticks and a new squeaky toy."
He's just such a special, talented dog. He almost always sits on command and hasn't been kicked out of the dog park in nearly six days. I have a good feeling 2016 is the year he stops sucking on his foot and eating random trash he finds in dirty Chicago alleys.
As mentioned, Chris took a promotion at work. He gets in on time every day now, as long as Taylor gives him a ride. Sometimes they even talk on the morning drive, permitted Chris doesn't tell her when to speed up, or to take a right turn in front of the bus.
Chris has really taken to his new role nicely and is so good at his job. If Taylor didn't have such a problem with authority and being told what to do, she'd even go so far as to say he's exactly the type of person she'd like to work for.
In October, Chris and Taylor announced they were both going to run the Chicago Marathon in 2016. They're very excited about this and trained quite intensely for one day in preparation. They haven't gone on a run since that one day, but they are still telling everyone who will listen that they are going to run a marathon next year.
As for Taylor, well 2015 went exactly as she hoped it would! She is finally the t-shirt lady she's always dreamed of becoming and can't get enough of that online retail life! It's as if she's finally found her calling in life.
As for her art, after being cut from every comedy institution in Chicago she decided to go off on her own and produce her own comedy videos. Her vids are growing quite popular and as one critic said, "I don't get this, is this on the youtube? Why did you do this?" -her mom. Her outlet of choice is snapchat because she just can't get enough of that instant gratification.
For the time being, she's put aside writing that book she spent so much time on this past summer in lieu of concentrating on more meaningful work- like posing photos of all of her things on a white background to post on Instagram. She almost always gets 200 likes now and feels so validated!
Most importantly, after ten short years of dating, Chris and Taylor will be tying the knot in Steamboat, Colorado this summer. They've been engaged for twelve short months now are finally starting to get the hang of wedding planning. July 23rd can't come soon enough when Chris, Taylor and Harlow get to walk down the aisle and exchange vows with each other.
What a blessed year it has been. Wishing you nothing but a wonderful Christmas and Hanukkah season and so much love in the future!
Warm Holiday Wishes,
The Hillis Wolfe Family