July 23rd, 2016. Lake Catamount, Steamboat, Colorado.
That time Chris and I got married.
So a bride walks into a wedding ceremony. And yes, that was the first line of my vows… The vows I wrote on a tiny scrap of paper I kept tucked in the top of my dress. I wanted to write bullet points on my hand like I do for any important standup set, but Kim politely told me no.
And now some photos from the day that took months to plan and was over in just the blink of an eye.
Ooof. Sorry, didn't mean to get negative. Let's carry on with the good stuff. Like the adorable flower girls, Finley and Lola.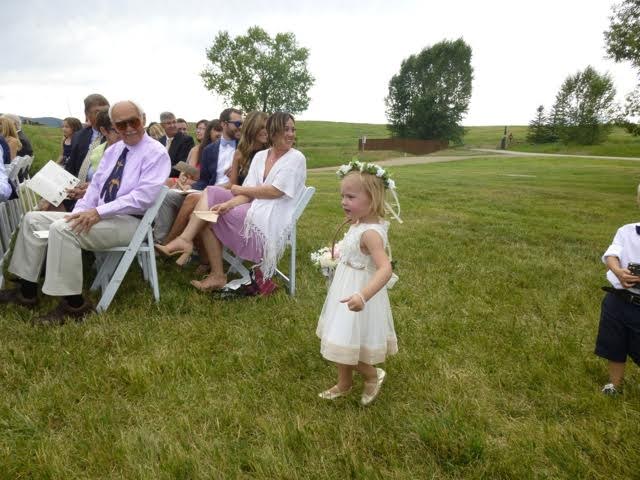 But it all worked out.
The wedding party and the wedding kids walked down the aisle to the song Married Life from Up, which is a personal favorite of mine. Followed by the Winner Is, from Little Miss Sunshine. Can you tell I'm a fan of movie scores?
Things I need to remember:
Walking down the aisle.
It's a surreal moment and I almost missed it because my mind was going a million miles an hour with 100 different thoughts. Were we walking too fast? Or too slow? Did we miss our music cue? But luckily half way down I told all of my annoying inner-dialogue to shut up and pay attention to what was happening.
Not just pay attention, but live in it. Don't think about it, just enjoy it.
So as my uncle played the Forrest Gump feather theme song on the piano, I smiled and laughed and enjoyed every second I could soak up walking down the aisle.
The vows.
We wrote our own and didn't tell each other what we were writing. This was my favorite part because it just felt like us. It was weird how we surrounded by 170 family members and friends and yet for the three minutes we made life promises to each other it felt like we were alone. If it hadn't felt that way, we both would have probably gotten shy and not said half the things we did.
We covered all topics from deep dish pizza, to keeping the tupper-ware drawer organized, and the highs and lows of T-Shirt Town. And of course Harlow. Even though Harlow wasn't physically there, he was there in spirit. I can't tell you how many times he was brought up. And not just by us, almost every guest asked about him at least once, which MADE MY DAY.
Why yes, here he is on the back of our program even.
The feeling of it all.
The ceremony right by the lake, the tent off to the side, the mountains in the background, and all of our favorite people in one place. Man, it was just so good.
Ahhhh. I could think about it forever.
And then we were pronounced "husband and wife" and walked back down the aisle to Home by Edward Sharpe (the piano version as played my uncle who killed it.) I don't mean to brag, but my uncle is the number one pageant talent coach in THE WORLD. He's basically coached every Miss America ever. Nbd. So he knows his way around a keyboard.
And now for a few more photos.
Coming tomorrow: Part III: The reception.
Exactly one month ago today, we had the best party ever. And ended the night smashing cake in each other's face on the shuttle home. *I was the only one smashing cake.
Sadly our cake didn't make it to Sunday. Which means we don't get to eat year-old frozen cake on our anniversary next July. But I'm pretty okay with that, frozen cake is gross. We can go to Dairy Queen or something.