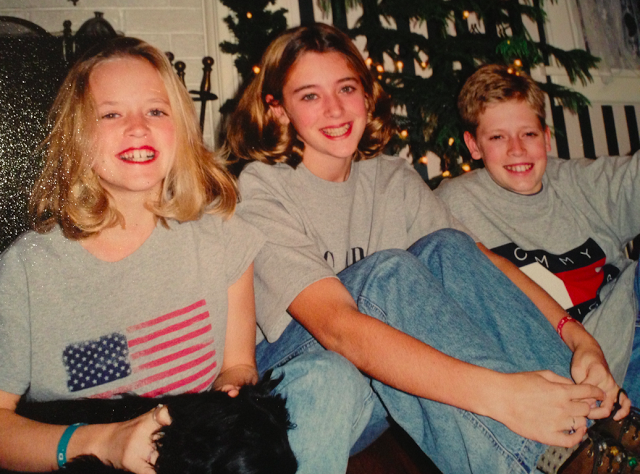 Dear Diary,
Mom made us take Christmas card photos last night.
We're really into brands right now so we thought it would be neat if we all wore our favorite over-sized grey t-shirts with the brand name smacked across the front. Cool, huh?
I'm wearing Limited Too, DUH. Jade's wearing Gap, and Jordan is in Tommy Hilfiger. Did I mention we're really into name brands? Also you can't see them, but I'm totally wearing Dr. Martens.
All of our shirts have red, white, and blue on them so mom said it counted as "matching tops." Last year mom sent a photo from our Carnival Cruise vacation, so I think she knows there's just no point in even trying to top that, you know?
Come to think of it, I'm pretty sure that's the only reason we went on a vacation last year- to get our Christmas card photo. I think she just needed to wash herself clean from the disaster that was the '96 Christmas Card. Also known as the year of pink eye.
And did you notice I'm wearing lipstick? Mom said I could. It draws attention to my beautiful teeth, I think. I might get braces next year, but I'm not sure I really need them.
These cards are really important to mom. She gets a little scary when it's time to take them and makes us pose all around the house like this is something we do normally. The stairs, the fireplace, the living room, we try everything. I'm really hoping there's at least one good pic in the bunch, but we won't know for another hour or so until she goes to pick them up at Wal Mart.
This year she settled on the pose in front of the "pencil tree." I'm not sure what a pencil tree is exactly, but mom just got it and is really excited about it.
Mom puts all of the Christmas cards she gets up on our giant chalkboard in the kitchen, out on display for everyone to see. I catch her staring at them a lot. She likes to say things like, "you remember the Pearsons, right? I went to college with Donna. Her daughter is your age, she was at your first birthday."


I never remember the Pearsons until I see their Christmas card photo every year. I've watched this stranger family get older year by year and have no idea who they are. But I know they have red hair and like to pose by haystacks.
Nobody wants to have the ugly photo on the board (not that the Pearsons do) but I guess that's why these are so important to mom, maybe? She wants to make sure our family can compete with the family photo we're taped up next to. Luckily, I'm feeling really good about our coordinating grey t-shirts.
Well I g2g now because I'm going to put stars beads on my shoelaces like my older sister. Pretty rad, huh?
LYLAS!
Tay #22