We made it.
We made it to Friday! Has this been an exhausting week for anyone else? December has only been here for two days and it already feels like a whirlwind.
December's like that trainwreck college friend who comes to stay with you for a weekend. You're excited but also nervous because you just know it's going to be a shit show. Sure, it will be fun. But you're also going to spend a lot of money, eat too much, go out more than normal, sleep less than normal, and when it's all said and done you're left a little bloated and hungover, wondering how it all went by so fast?
Oh, how I love December.
There's just a fun festive energy in the air everywhere you go. My favorite thing to do is hit up Chicago's best hole-in-the-wall holiday bars. Someday when I'm feeling more ambitious I'll write a post about the most festive bars in the city. Or I guess I could just link this post…
My plan today was to do a "holiday home tour" but I quickly got tired of taking photos/putting up holiday decor so I pretty much only have one room to write about. So instead I'll show you that one room from a bunch of different angles, sound cool? Cool.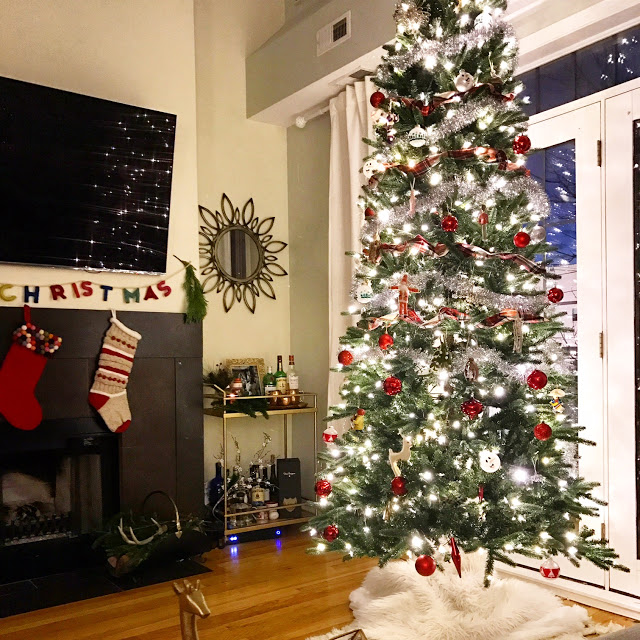 I'm feeling very smug about my work space right now. I told Chris I was saving us money by keeping the heat off and only keeping the fire on. But then he reminded me I'm using the gas option for the fire so our gas bill will probably be a little steep…
The Peace Wreath is by far my new favorite decoration. Although, I'll say right now it's staying up all year round. And my "tree skirt" is the product of me wrapping a bunch of ratty old white "blogger rugs" around each other. I think I pulled it off! What about you?
The theme this year was: minimal. Or lazy. Whatever you prefer.
How to achieve this look: buy live greenery from Trader Joes and string lights from amazon, put them together and there you have it! Done and done!
And that's a wrap on today's post. Have a great weekend! Do all the holiday things. It will be January before you know it…