The year was 1995 and my ego was through the roof. More so than usual. I had been cast as the LEAD in a Norfolk Community Theatre production and all of the fame had gone to my head. For the entirety of the show's running time (three weekends in December) I was a nightmare to be around, both at home and school. I'd carry my playbill with me everywhere and shout things like, "DO YOU KNOW WHO I AM?" And "I CAN'T HELP WITH DISHES TONIGHT, MY VOICE NEEDS TO LIE DOWN."


How am I supposed to practice cursive when I have a performance to think about?!?! Your cursive can go to hell, Mrs. Johnson!!!
It was a holiday production; I'm sure you're familiar as it was a pretty popular show making the rounds that year, the critically acclaimed "Super Gift From Heaven." I was cast as Amanda, the LEAD doll. Did I already mention that?
The auditions were held in October and I'm quite sure I won the judges over with my rendition of "Consider Yourself," from the musical "Oliver Twist." I used all of my greatest dance moves; the box step, the two step, and some maxi-fords, all whilst singing in my best British accent. I tear up just thinking about it.
When I got the call that I'd been cast I was over-joyed, but also couldn't help but feel just a little bad given that my sister was going for the same role. But mostly I was excited. There was no denying the role was written for me.
The costume budget was low so it was up to my mom and I to pick out my dress. My mother, being the wonderful stage mom that she is, allowed me to pick out the fanciest, prettiest, most expensive dress JC Penny had to offer and I had never known such luxury. It had a beautiful flap of lace set over a bold holiday floral print that cinched at the waist.
Looking back, I think it might have been the dress that set the alarms off in my head. The alarms that said, YOU ARE A BIG DEAL. LISTEN TO NO ONE.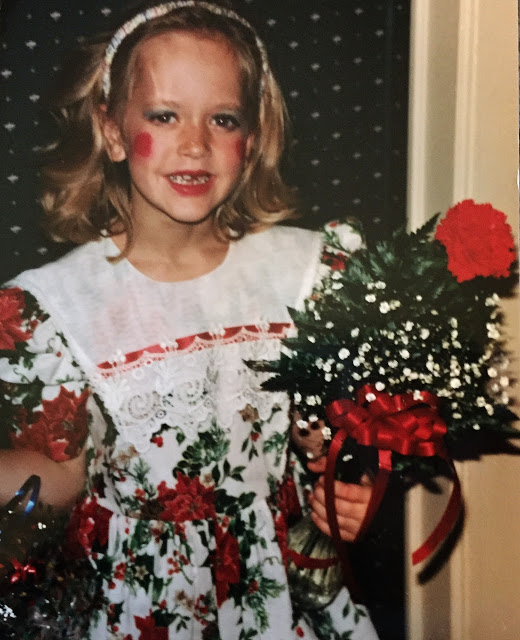 *Makeup budget was low as well.
Never mind that I was missing a front tooth, and had a bottom tooth that was dark and grey and actually called "dead tooth" by my dentist, when I looked in the mirror during this time in my life I saw nothing but a Goddess. You can see it in my cold dark eyes.
Don't believe me? The proof is in a diary entry from '95. When asked who I would change places with, it only felt right to be honest and say "Julia Roberts" or "Kathy Ireland." Naturally.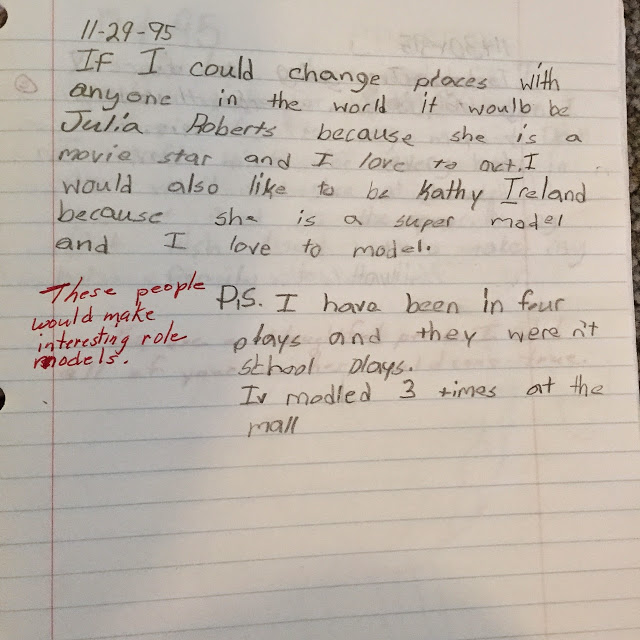 *PS : I have been in four plays and they weren't school plays. I've modeled 3 times at the mall.


School plays were so beneath me.
Where was I?
Oh yes, for three weekends straight I stole the show. Singing my solo "What Is A Gift?" out of tune and with lisp so heavy my teachers occasionally referred to it as a "speech impediment." It didn't matter. The critics called it "endearing."
The show wrapped five days before Christmas and it wasn't until my last performance, when I was posing in my doll box waiting for the clowns to finish their number while also trying to subtly scratch myself because I've always had an issue with itchy tights, when it hit me: tonight was my last night as Amanda.
I wasn't sure how to go on as NOT Amanda. I'm sure anyone who has ever had a life changing role can relate. It's simply hard to go back to being a … common folk.
One day I was ringing a bell outside the Sunset Plaza dressed as Amanda (the Mayor asked me to do it, it's NOT a big deal.) And the next day I was ringing a bell outside of a bank dressed as just me because my mom made me do it. And I was not happy about it.
It's true what they say, the fall from the top is lonely. Most of my family wasn't speaking to me that Christmas due to my "attitude." Or was it because of jealousy? I guess we'll never know.
I spent the majority of that Christmas Eve alone in my room, watching the VHS tape of my performance. Over and over. And over. While wearing my Amanda dress, drinking a dirty martini, extra dirty, like the true Hollywood starlet I was.
I was certain I'd never get over the pain of that show ending, my future as an actress so unknown.
But the next day Santa brought me a black farm cat named Snickers and I was happy again.
And that was the Christmas of 1995. What was yours like?