Last year at this time I was making daily trips to BHLDN in an effort to find last minute wedding accessories.
Jewelry, shoes, cards, gifts, what else did I need? I didn't know and that was the problem. But there was always something I came home with, swearing to myself, "this is the final wedding thing I'm buying…" (It never was.) Up until the day of our ceremony I had packages being delivered to the resort where we were staying in Steamboat.
I've stopped thinking about our wedding as much as I used to, which I'm pretty sure is a good thing. It was getting kind of unhealthy there for awhile.
The post wedding blues hit me harder than expected. I'm not sure what this says about me about as a person, probably nothing that great… I just wasn't given much warning about the come-down after it's all over, so Brides-To-Be, here I am giving you a heads up, the days, weeks, even a few months after the "best day of your life" will be kinda hard. If you're like me, you may feel a little blue and sad and you're not sure why. It's like you're homesick, or missing an old friend.
I think it's because you put so much time and effort and emotion (and daydreaming) into this one day and then boom it's over.
Almost every night last year, I would go to bed fantasizing about how great our wedding week in Steamboat would be. That's weird, yes? Probably something I shouldn't admit in public like this. But it's the truth. I just couldn't wait to have all of family and friends in the same place.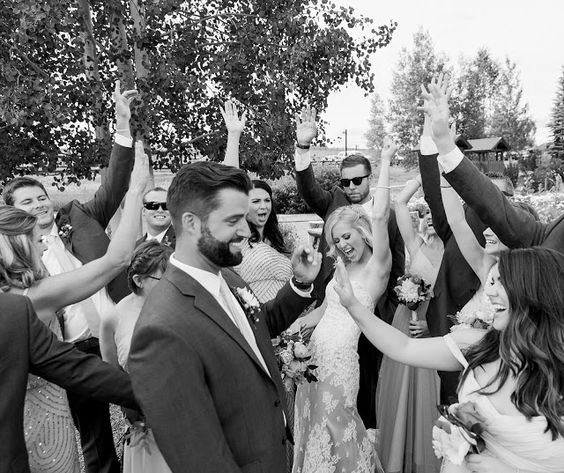 And it lived up to it.
But before I fall down the rabbit hole, my intention for this post today was to give you a quick list of Do's and Don'ts for your wedding day. Things I'm glad I did, things I wish I didn't do.
Do: get a videographer.
We went back and forth on this. Does it really matter? Is it worth? Should we just skip it…
I'm so happy we didn't skip it. The day goes by too damn fast and you'll wish you had more than just photos and memories. You can see our highlight reel here. Ross Wooten, the videographer we went with, was amazing and affordable (and he travels!)
Don't: Wait until the last minute to write your cards and wrap your gifts.
I did this and it was so annoying. It was the last thing I wanted to do which was unfortunate because I usually love writing cards. But I was so busy and overwhelmed, I didn't care as much as I wished I did. My suggestion- take care of all this 1-2 weeks before.
Do: give your phone to one of your bridesmaids and have her handle all incoming texts and calls the day of. Give it to someone authoritative. I've read it's poor etiquette to text a bride on her wedding day with anything other than well wishes (and I completely agree, it may sound diva like, but it's true) and yet people will still do it.
what time does this start? how do we get there? where should we park? can I get a ride? can I bring my horse? can I wear a clown outfit? I don't like chicken. is it open bar? what is a wedding?
*wedding guests, DON'T TEXT THE BRIDE on her wedding day. see how heated I get about this one? Even a year later…*
Do: plan for plenty of photo time. Plan extra, in fact. We did not and we felt rushed and this is another thing that still kinda irritates me looking back.
Don't: wear your hair down if your ceremony and reception are outdoors in the middle of the summer. But if you insist on it like I did, just don't look in a mirror… I had no idea I looked like a hot mess one hour in.
*edit: do whatever the hell you want regarding hair and makeup. only you know what makes you feel like a knockout- whatever that is, do that!
Do: take photos with your bridesmaids on a bed drinking champagne. Why? Because it was FUN. Shorty sets from Love Ophelia and I still wear mine to this day.
In fact, make a list of the exact photos you want. Scan pinterest for your favs and send them to your photographer. (I did this.) Sound crazy? Maybe a little. But I got the shots I wanted.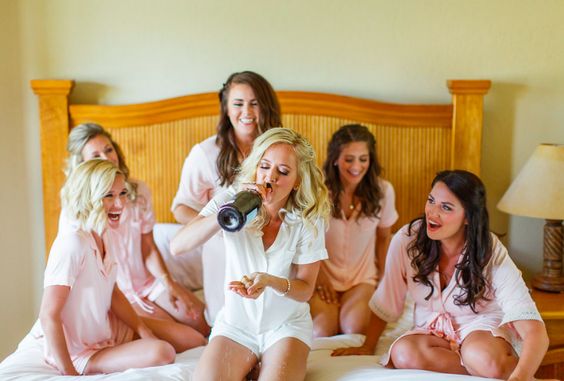 Don't: restrict yourself on having fun because you don't want to look tired in your pics. Guys, that's why we have photoshop. The week leading up to our wedding I got about three hours of sleep every night because my adrenaline was pumping all day, every day. I don't regret a thing (as far as fun goes.) It was the best week of my life.
Do: mental present checks with yourself. As in, "Taylor, are you 100% present right now? If not, float back to earth, please." Sounds weird, but I did this with myself the entire week of my wedding. It forced me to be 100% in the moment. It didn't make time slow down (which I hoped it might) but it allowed me to really live in it and soak up as much as I could.
And that's about enough for today. With our one year anniversary approaching I'll probably slip back into wedding mode and write 100 more posts about it. Are we all cool with this? Great! In the meantime, if you want more wedding posts just look below!