I typically try to stay away from controversial posts, however today I can't help myself. I'm about to tackle a subject that seems to have a lot of people completely divided.
So here it is.
On Sunday, November 12th,  nearly two weeks before Thanksgiving, I decorated my house for Christmas. And I don't care what you think (MOM) I'm feeling pretty okay about it!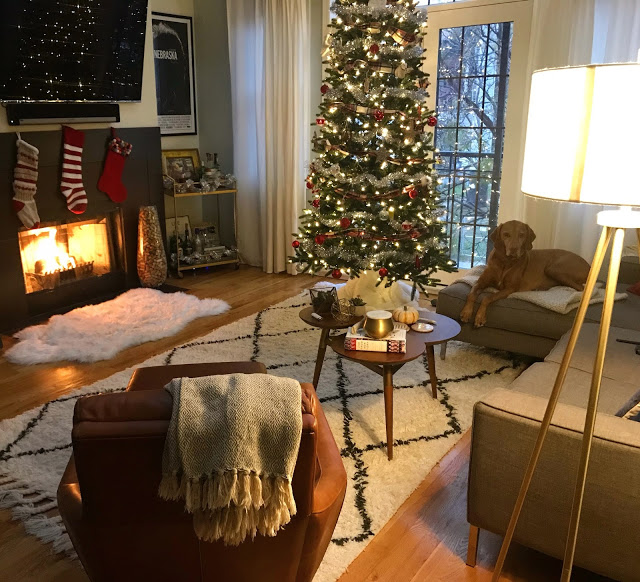 I can only assume you're probably thinking one of three things right now:
1. "TOO EARLY. You can't have Thanksgiving with Christmas up!"
2. "I love it! I decorated too!"
3. "I couldn't care less, please get a life."
As for person number three, just know that I would if I could! Trust me, I've tried.
As for person number two, I KNOW, RIGHT? It feels good!
And for person number one… well let me explain myself.
This is the earliest I have ever decorated before. I've always been a "not until after Thanksgiving kinda gal." But this year we're having a holiday party this weekend and we wanted it to look extra festive, then we're out of town the following weekend, and the next weekend it's already December, so it just made sense.
And so last Sunday while Chris was out running errands, I tip-toed down to the scary basement of our building like the scary little elf that I am, found our ten foot tall tree buried in the corner, strapped in on my back, and hauled that shit up four flights of stairs.
I have a surprising amount of strength when it comes to home decor.
Chris finds it "humorous" I'll leave a UPS box downstairs for him to bring up that might weigh five pounds, yet I managed to carry our oddly proportioned, hard to grab, Christmas tree all by myself.
Mind over matter.
Once I got the tree inside our condo, I blasted the Christmas music, burnt the cinnamon candles,  and decorated with complete ease and zero lack of urgency and it felt wonderful.


*sidenote: the fact I ever feel "urgency," to put up stockings or garland around my home is quite silly, I'm aware. But it's a trait my mom passed on that I just can't seem to shake.


I took a stupid amount of time putting up each ornament, getting all misty-eyed at my favorite "Harlow's First Christmas," paw print, and his second Christmas photo, and his third, and fourth, ext ext.  (Just kidding that would be weird.) We all know I'm not kidding…
I just felt like I had so much more time to enjoy the process. But keep in mind I pretty much only decorate one room, so it's not like this an all-day kinda thing. It's more like a four hour kinda thing.
Long story short, I like having our tree up this early. I feel like I get two additional weeks to be a sentimental weirdo like I am, where I just like to sit in the glow of our lights at night and let that warm holiday feeling wash over me. If decorating early brings me just a little more joy, why wouldn't I embrace it?
So no, I don't really care if the calendar says I'm jumping the gun by two weeks. And let's not forget what an odd tradition all of this is anyway- everyone bringing in a tree from the outside (or buying a fake one at Lowes) and then decorating it with a bunch of random stuff and then displaying it in our front window to "show off" to all of our neighbors as if we're the first to do such a thing. (Yes, I can be sentimental whilst also being very self aware.)
All that said, here's a photo of my hutch "all decorated."  I really went for it, can you tell?
And the table is a work in progress. I shouldn't share this messy photo, but I'm going to anyway! #risktaker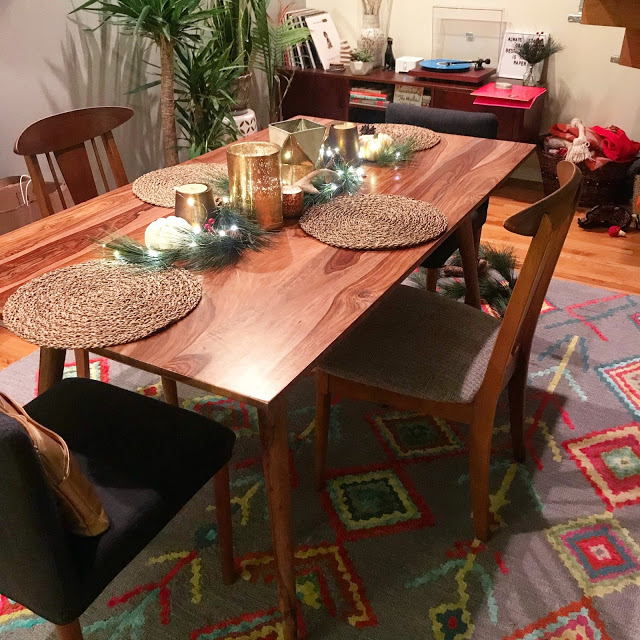 Use the code DAILYTAY15 to get 15% off your entire order at CompassModern (where we got our table!)
All that said, which type of person are you when it comes to holiday decor? Early? Late? Or not at all?
PS- I'm hosting a ten hour FLASH SALE on my site. Take 20% off your ENTIRE ORDER- but only until 11 p.m. tonight! Stock up on those holiday goodies!