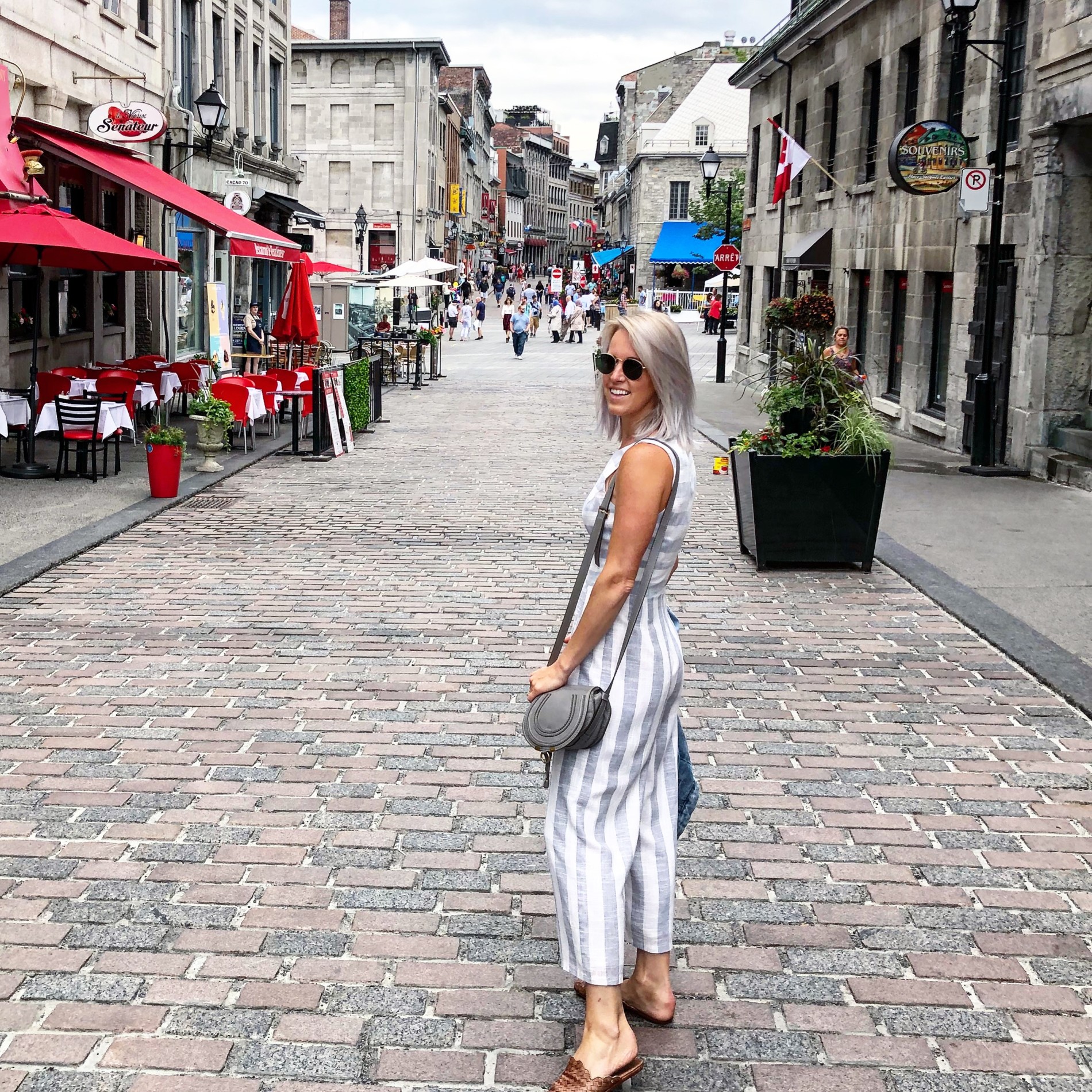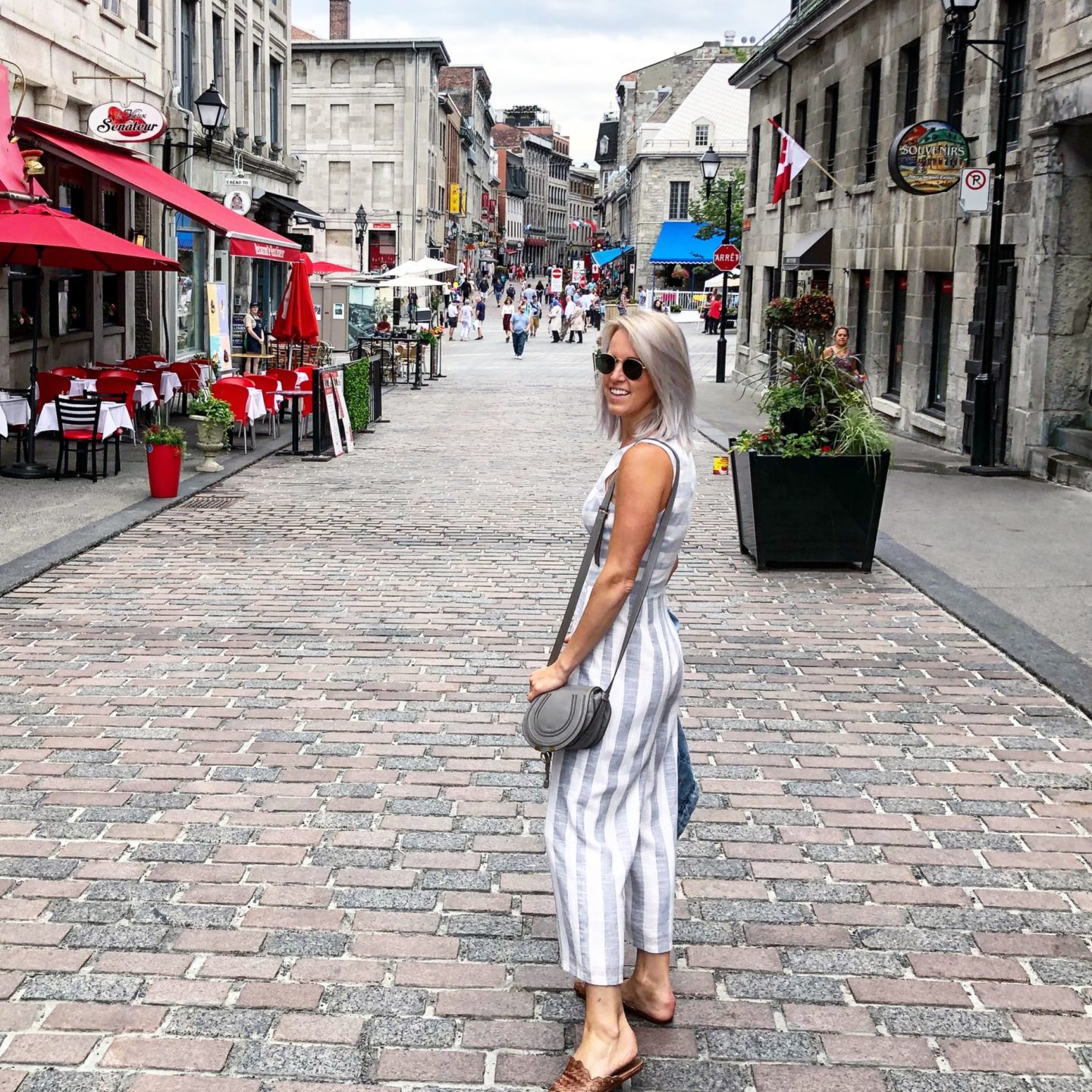 So here's how this trip came about…
Last month it was my birthday. And God forbid it happened to fall on a boring weekday and it was a total bummer and the city didn't throw me a parade so naturally I was being a total birthday diva. Also, Chris didn't respond to my text messages on MY BIRTHDAY. Never mind that he was busy at work, I was fuming.
When he came home I was in A MOOD. Harlow and I were sitting on the rooftop, angrily drinking birthday cocktails, whispering to each other like the two catty girls we can be.
"You didn't text me back," I snarled at him when he joined us. "On MY birthday." (Just in case he'd forgotten what day it was.)
"I know, I'm sorry. It was a really busy day," he responded as he handed me a bulky card.
"Uh huh," Harlow and I both said, not having it.
"Open the card!" He said cheerfully.
I was like, ugh fine. *I can be quite awful on my birthday sometimes.* I'm not making an excuse for this behavior, however I'm not dismissing it, either.
When I opened the card I saw that he had printed off two flight reservations to Montreal, Quebec. In my state of irrational anger, I was pretty confused at first and just stared at it.
"What is this? A flight reservation?"
"Yeah! To Canada! Because you've never been and you keep saying you want to go."
A surprise vacay? Just for me?! (And also because Chris knew I was having a crappy day and that he better have a nice trick up his sleeve. Nice move, Chris.)
And just like that my birthday attitude disappeared completely. Chris was forgiven for doing nothing wrong, we had a great night talking about what a little shit I can be, and then we started planning our trip to Montreal!
And now I present to you: 48 Hours In Montreal!
"It feels like we're in Europe!" – we said numerous times on this fun little getaway. So if you want to go to Europe, but can't commit to that long flight, (or the costs), save yourself the trouble and just go to Montreal for the weekend.
Where we stayed: Hotel Place D'Armes.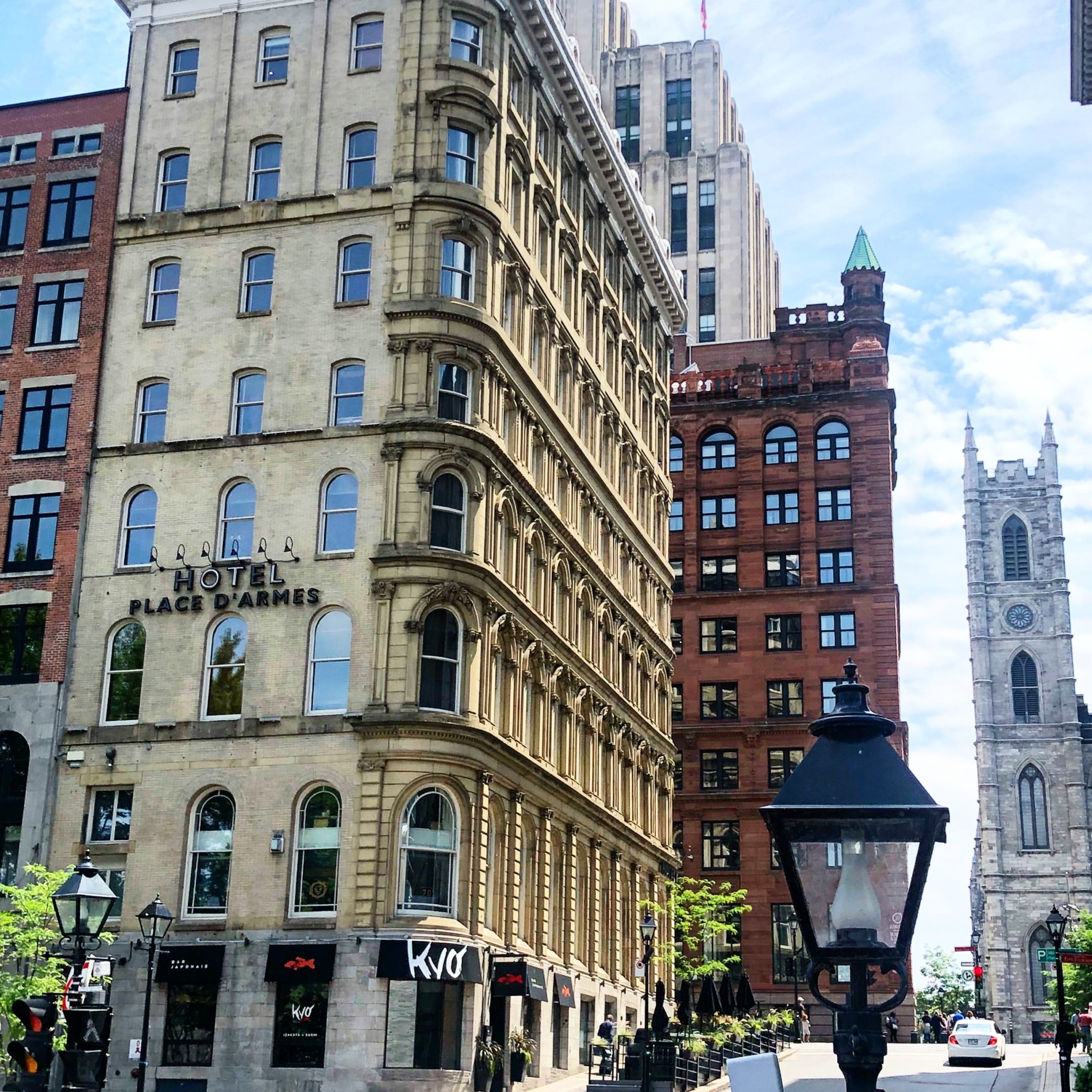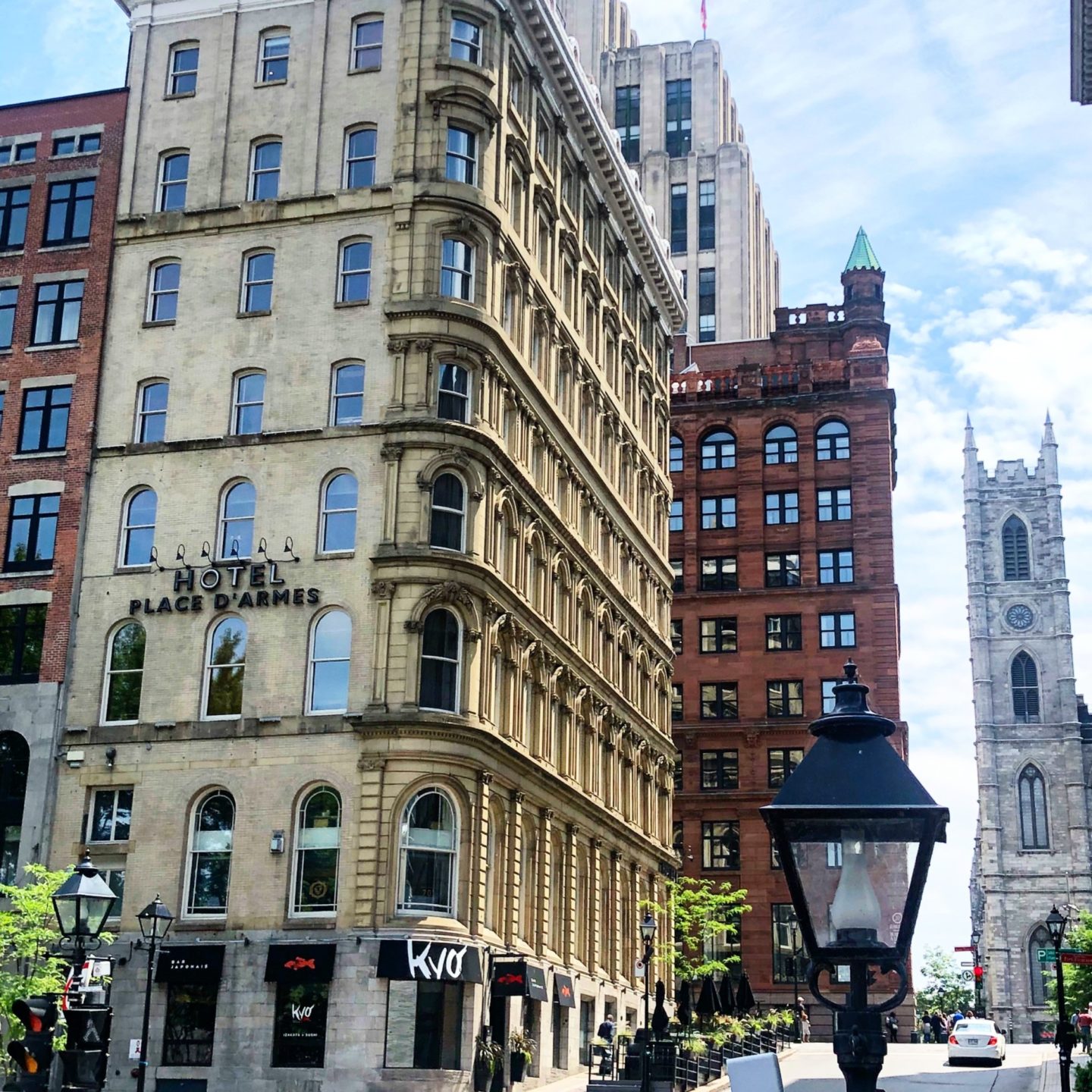 We wanted to stay close to Old Montreal so this was a perfect location. The rooms were nice and the rooftop bar was even nicer 🙂 We would definitely stay here again.
What we did: We ate a lot and walked around a lot. (Which is basically what we do on every vacation.)
Day 1: We got to our hotel around noon and immediately made our way toward the beautiful streets in Old Town. We sat at the first patio we could find and went all in with the French cuisine- French onion soup, crepes, and French fries.  Really embracing that French flavor 😉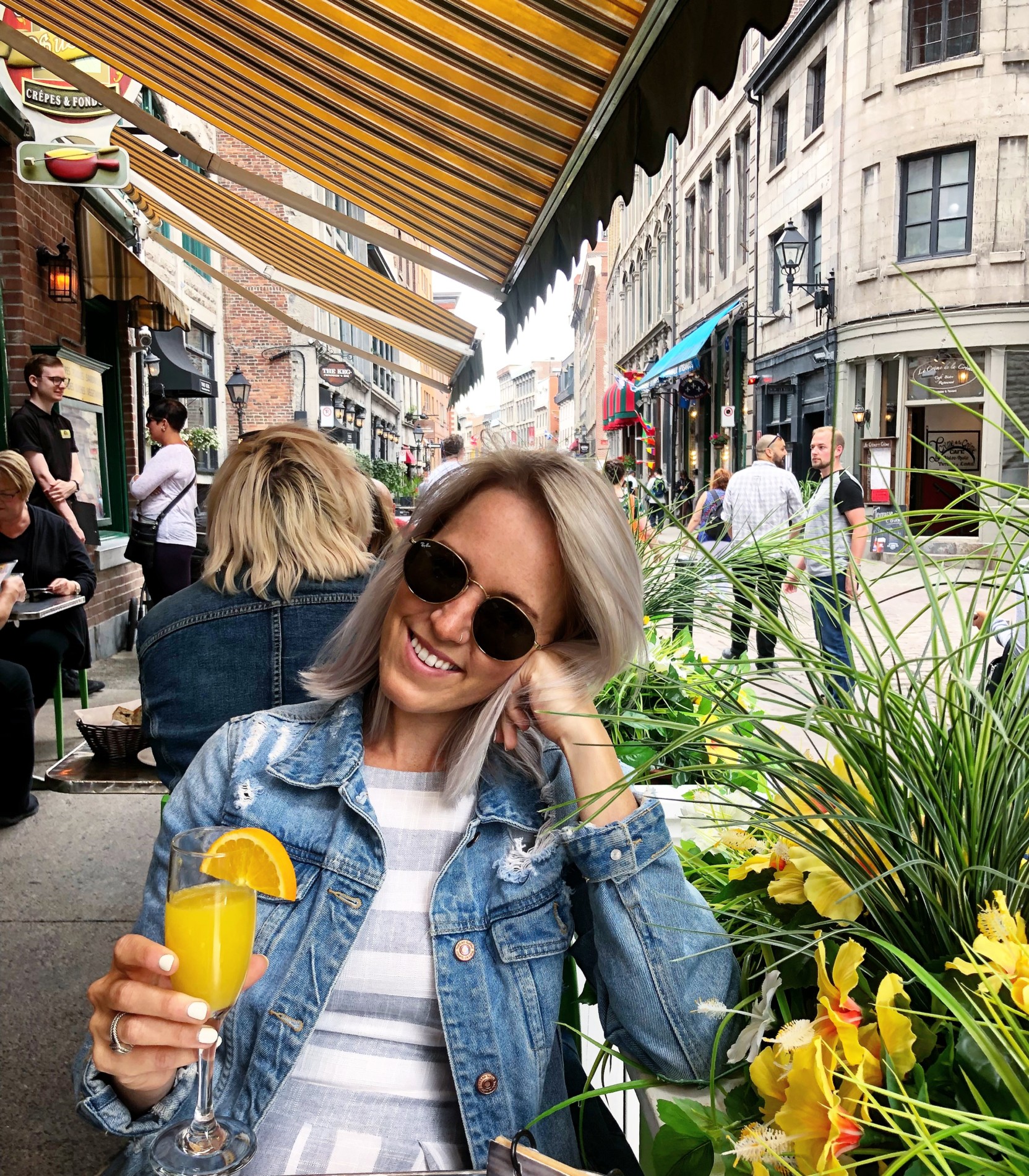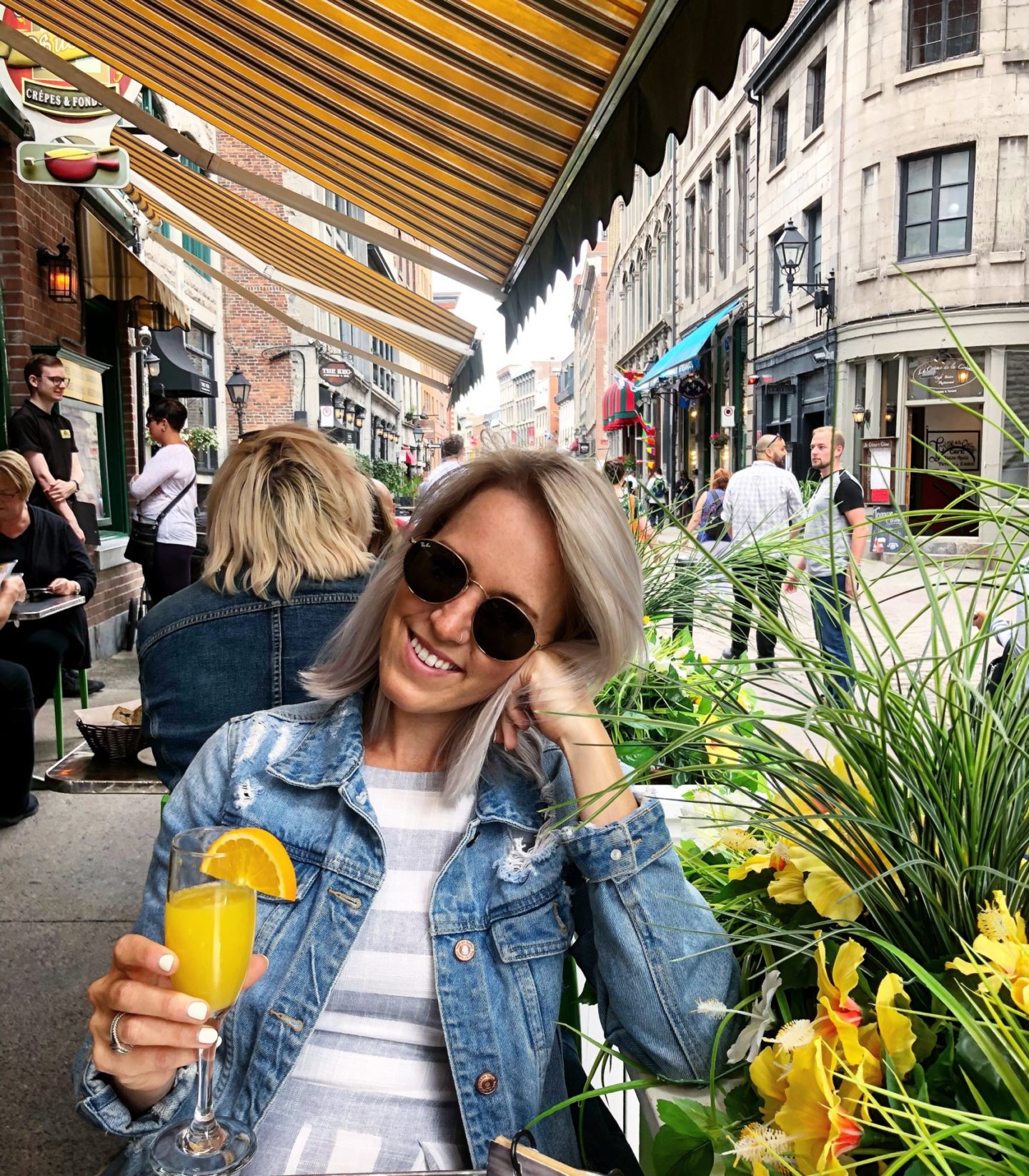 After we were tired from flying and eating, Chris suggested we make the 40 minute walk to Mount Royal, so we could then hike 40 more minutes to the top to get views of the entire city. And I was like, lol for real? Because I knew another place we could get great views of the city and that was at the rooftop bar right at our hotel…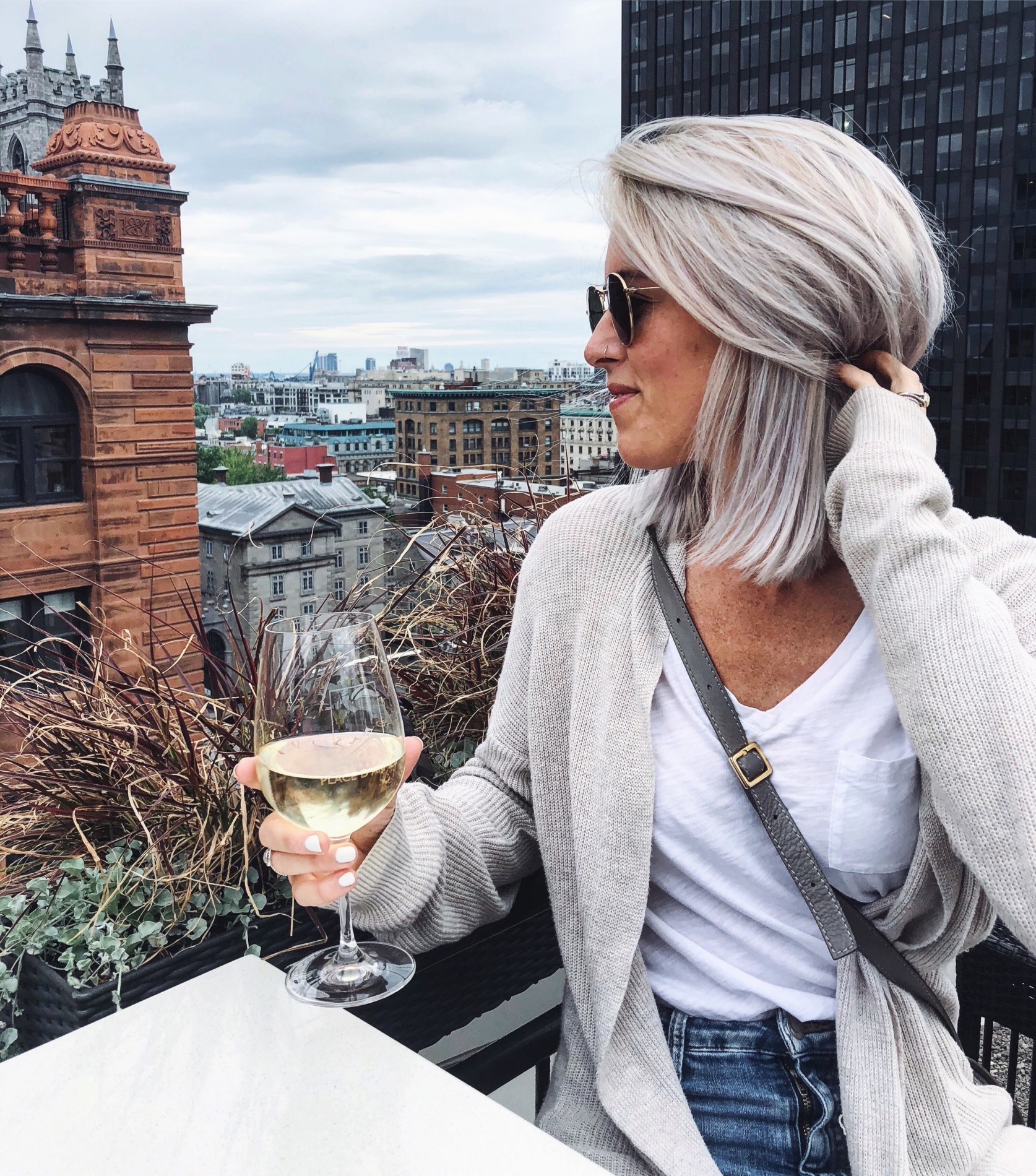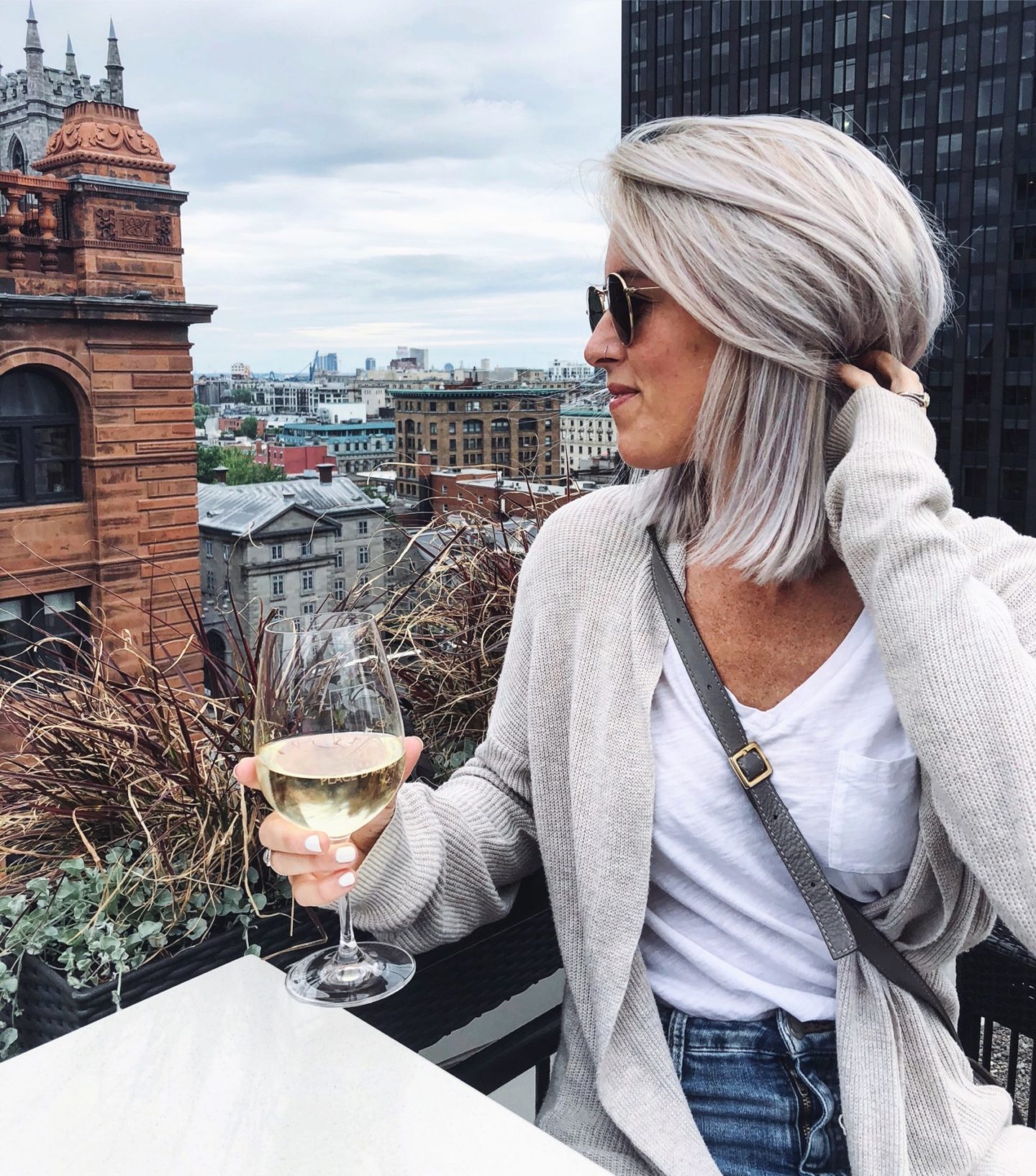 But he was not joking, so that's what we did. It took us about 35 minutes to walk there, then 40 minutes to get to the top, then about 55 minutes to get down because we took "our own path." But we HAD FUN and saw a lot of the city in the process.
So yes, I would suggest the Mount Royal hike 🙂
That evening we stumbled into a basement restaurant called L'Orignal for apps and drinks. The oysters and salmon were phenomenal. We heard Montreal was a foodie city and we were not let down. We're quite spoiled with our choices in Chicago, so when we go on vacation we're never sure what to expect. But I can easily say Montreal has some of the best food I've ever eaten.
Top places we ate-
Barroco: We waited four hours to eat here but it was worth it. The restaurant is tiny and cozy and boasts an impressive drink menu that looks like a bible. We sat at the bar and had more oysters, chatted with the bartenders and ate pasta and seafood.
Garde Manger: Another amazing intimate little seafood spot where we sat at the bar and had one too many drinks and let the bartender order for us.
For brunch…
Le Cartet: a restaurant/market with amazing croissants, lattes, and benedicts.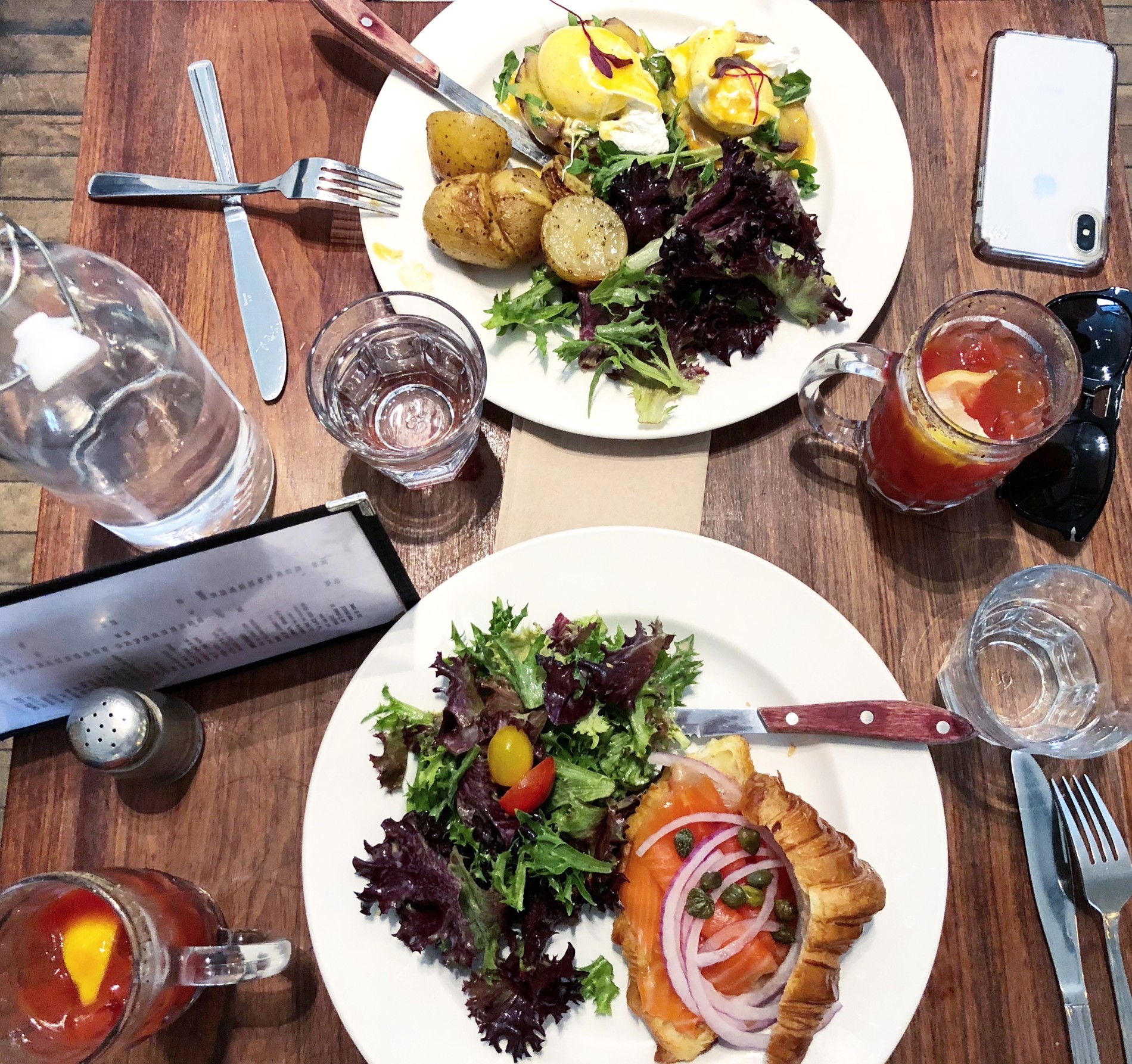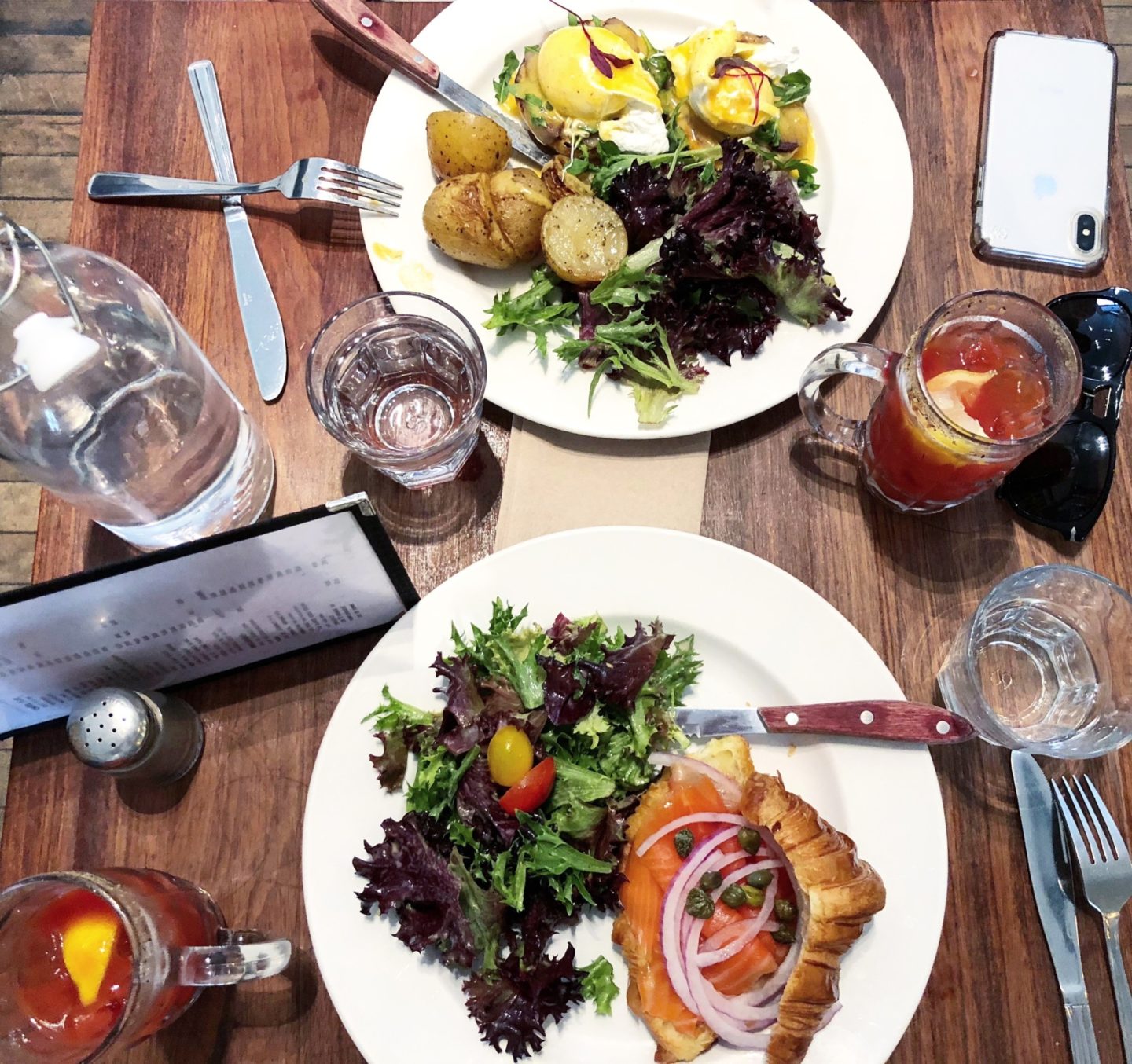 We didn't make it to Olive et Gourmando for brunch because it was an hour wait, but we will next time!
And for drinks and poutine to escape the rain we settled into Taverne Gaspar and cozied up for a beer or two. Or three.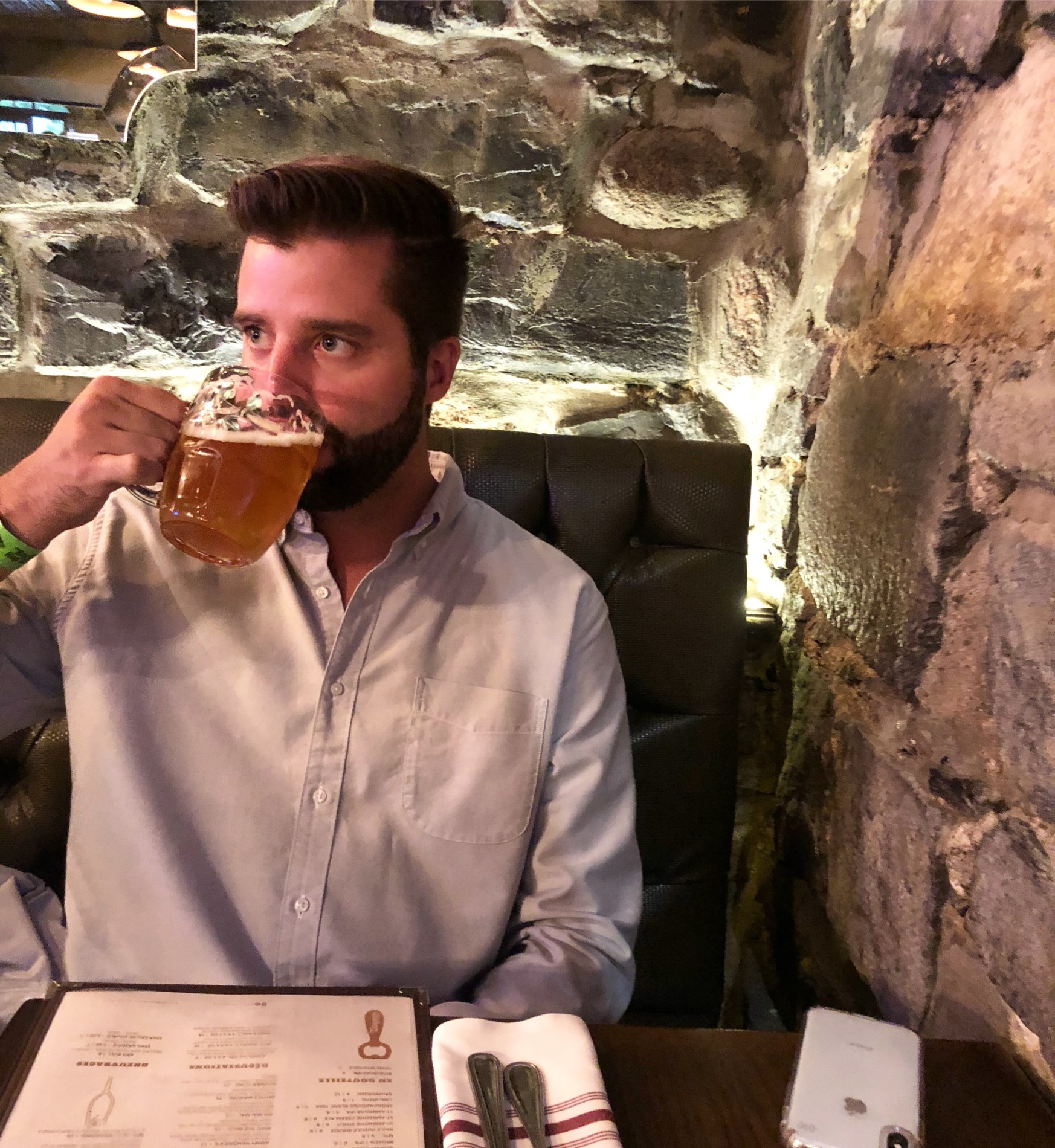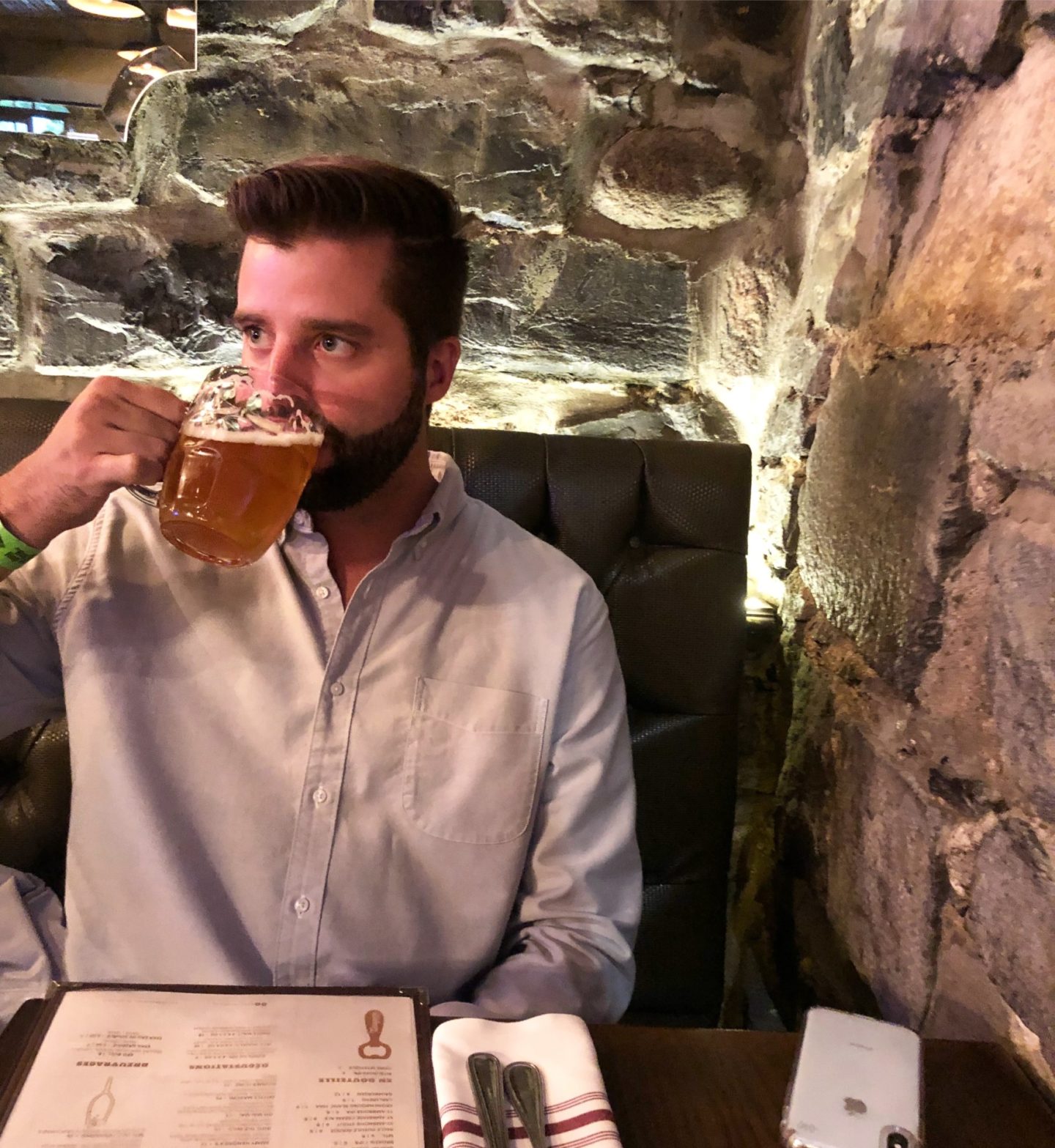 And now for a few more photos just to ensure you really get to see how awesome this city is 🙂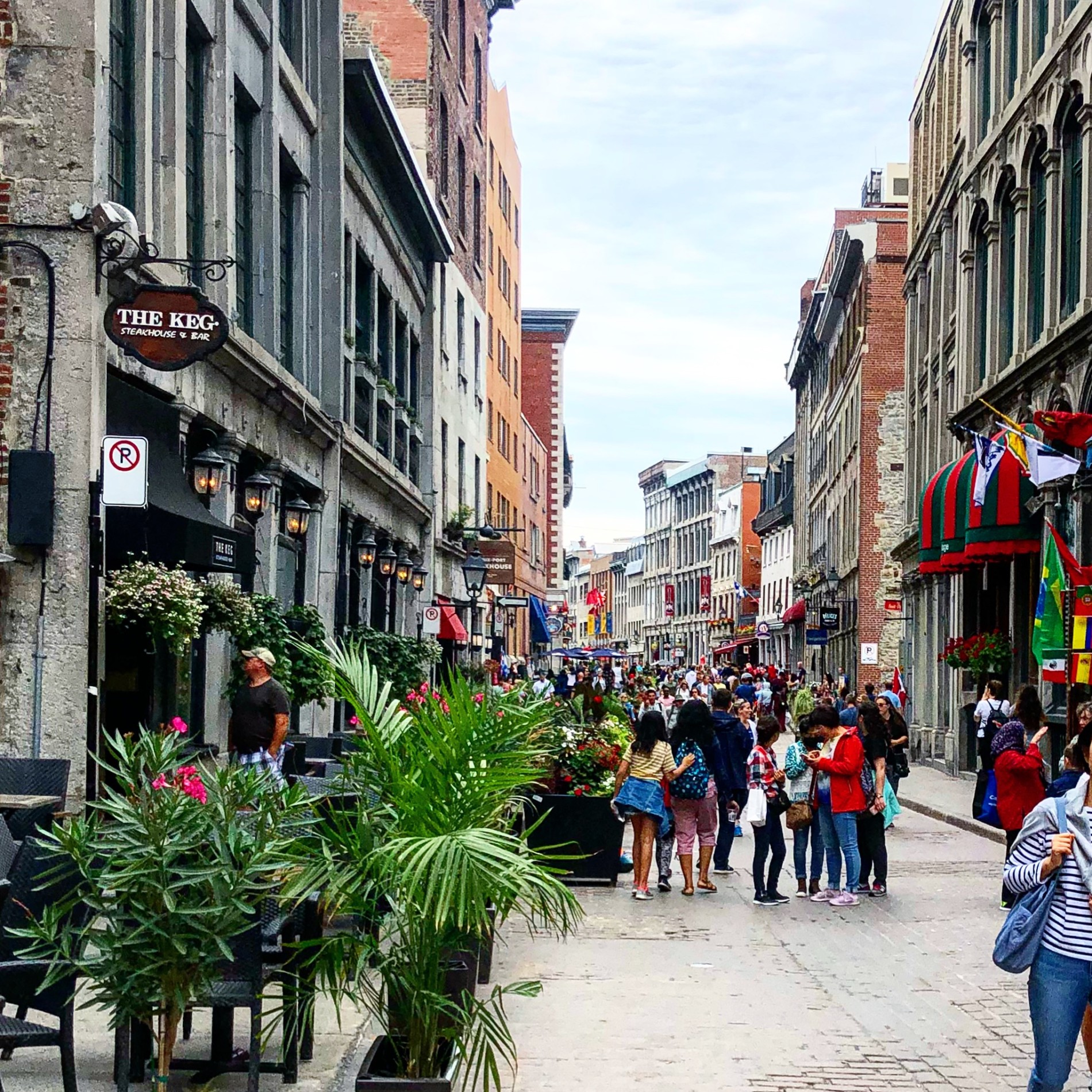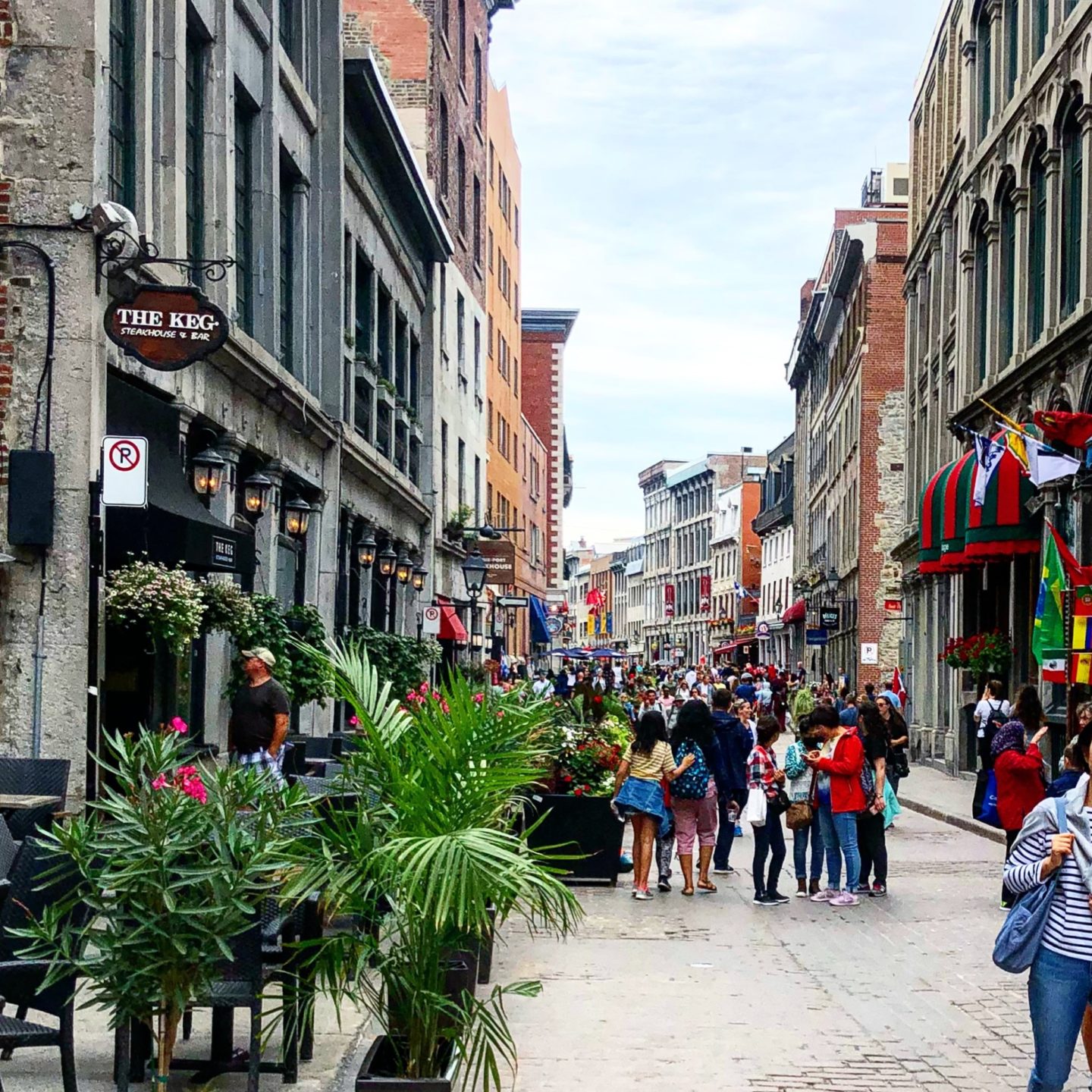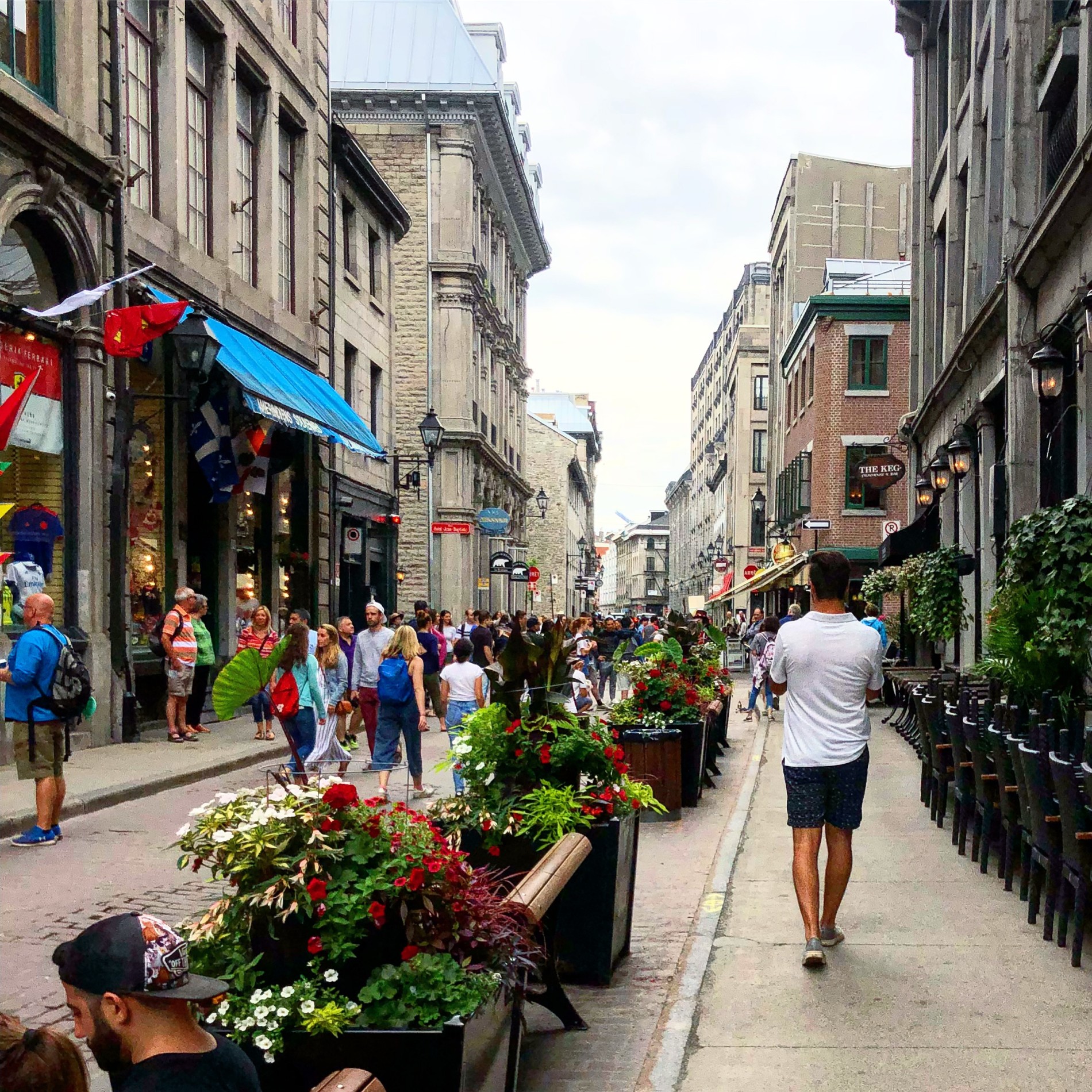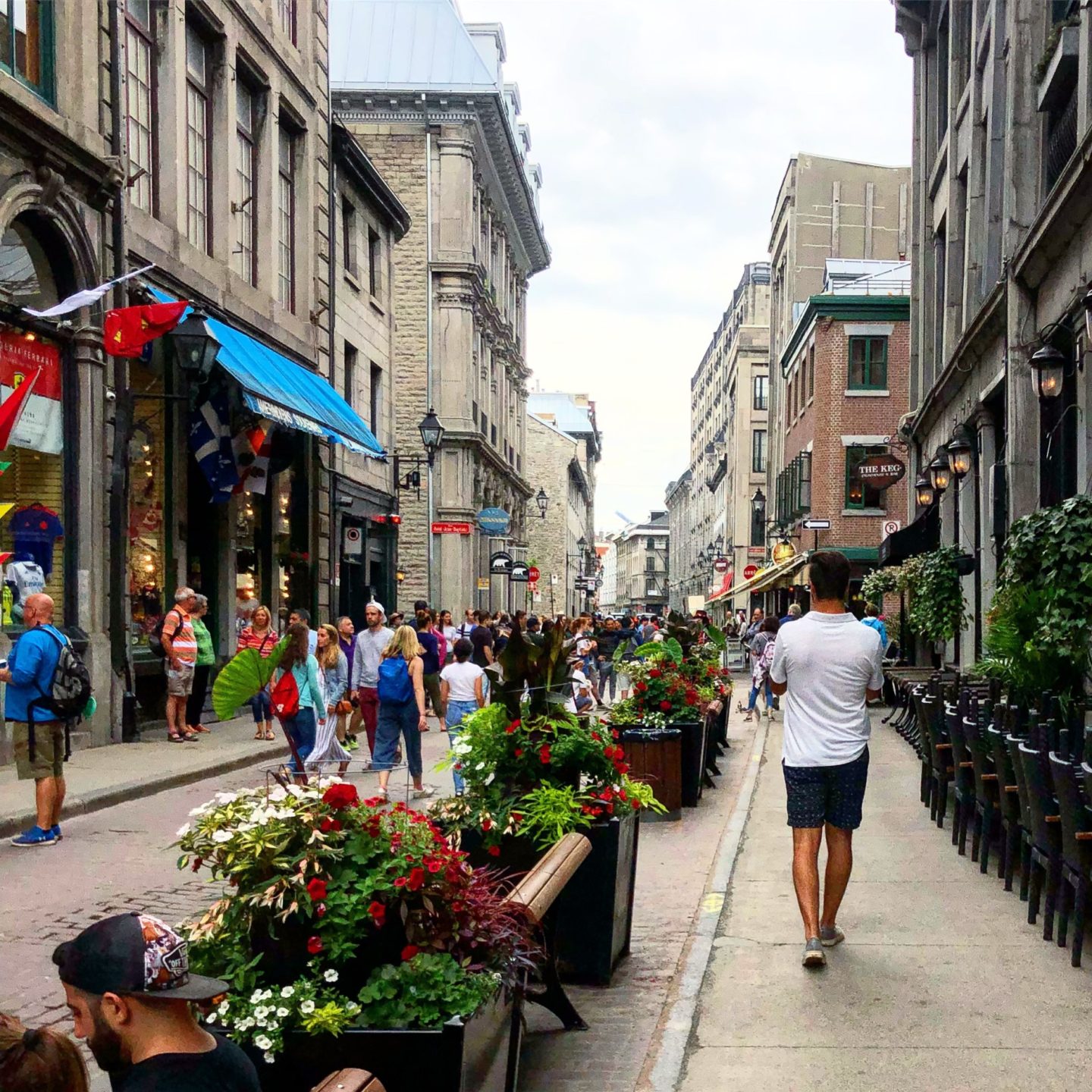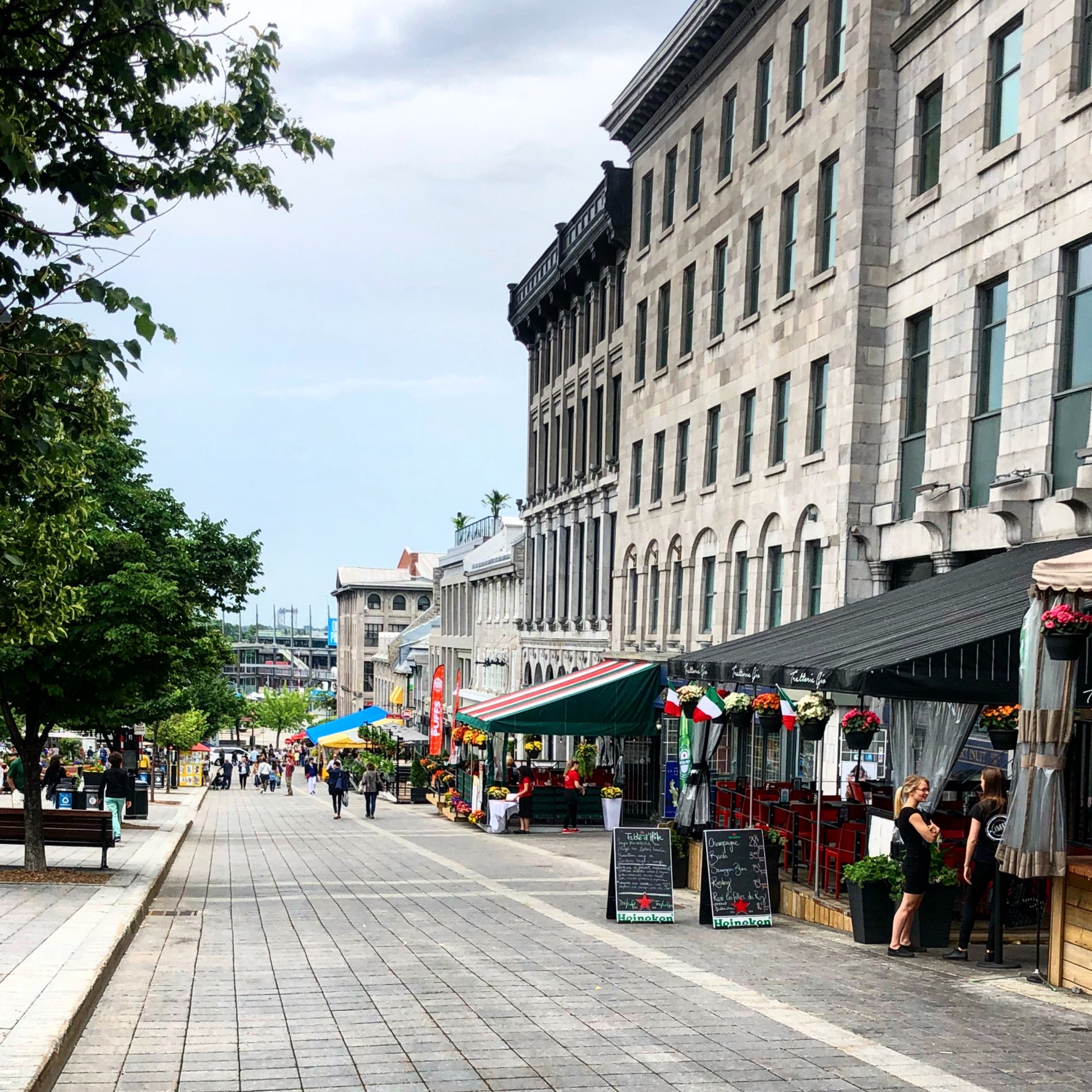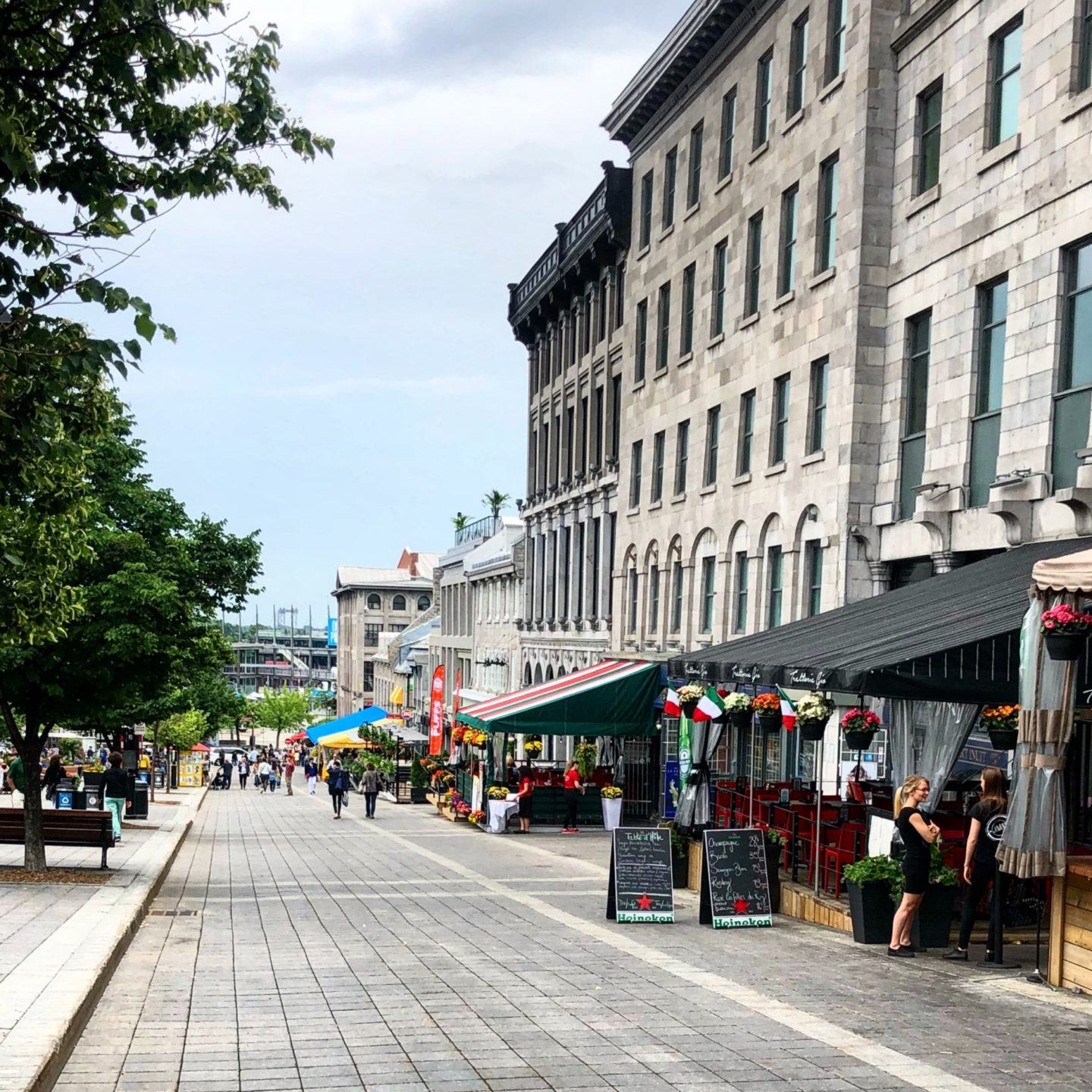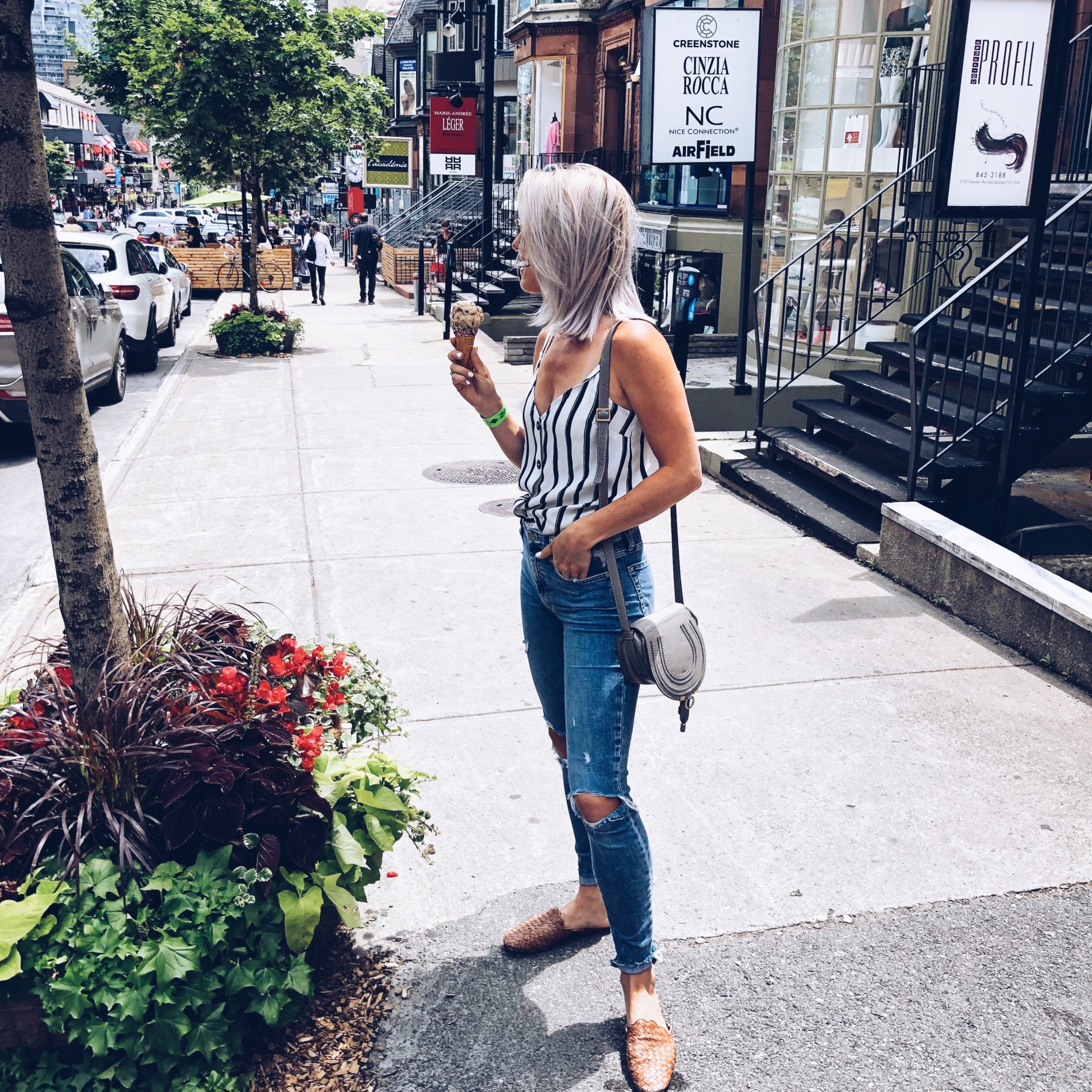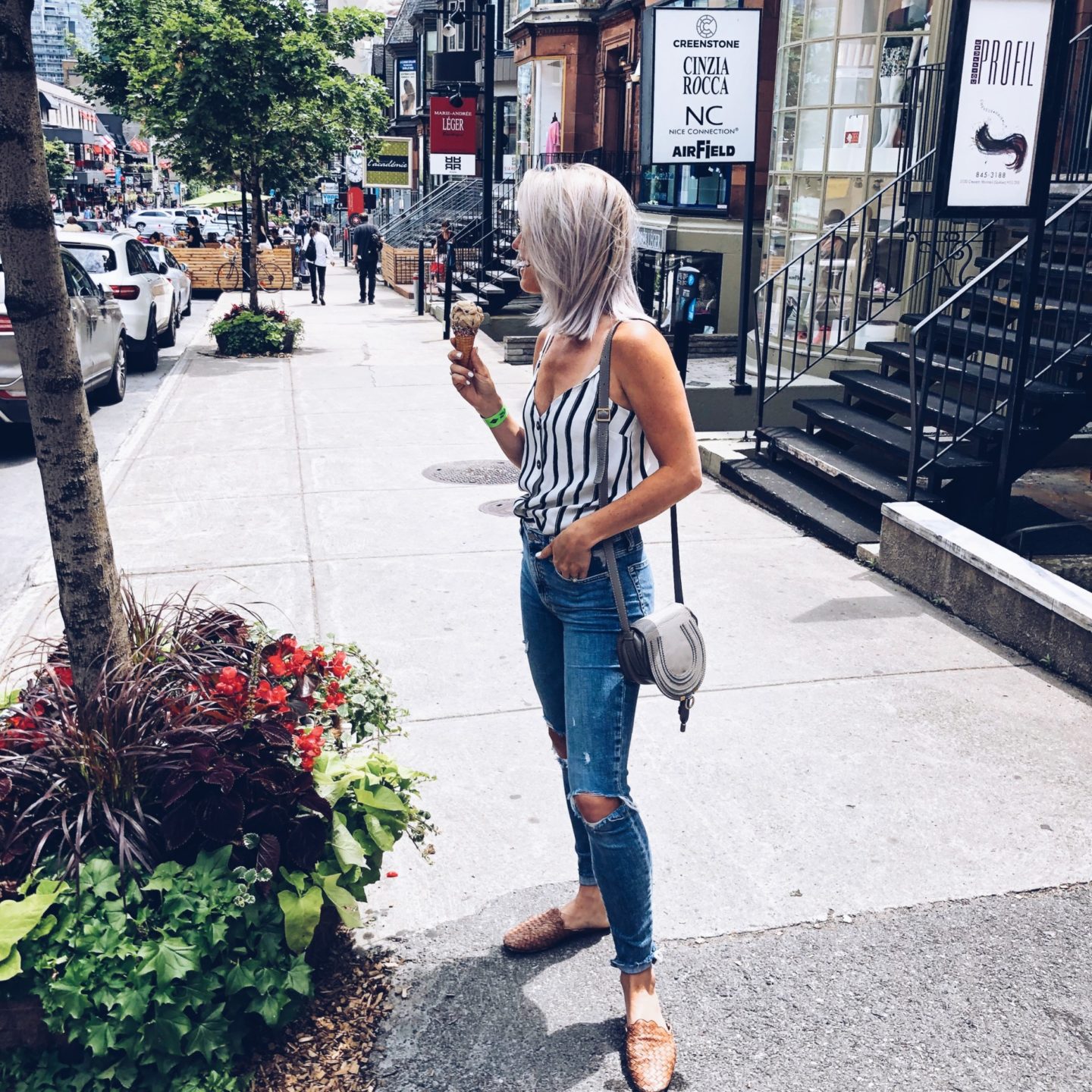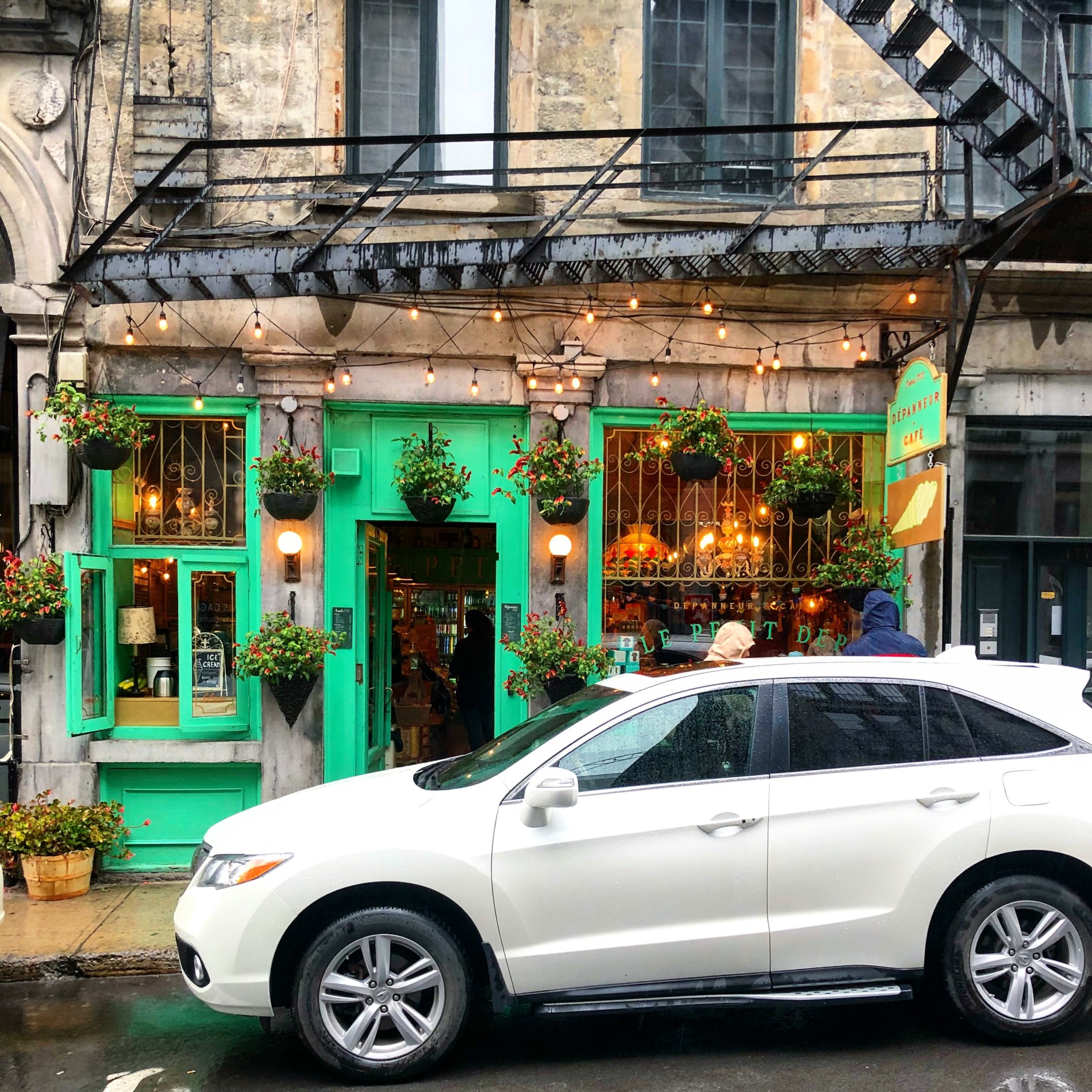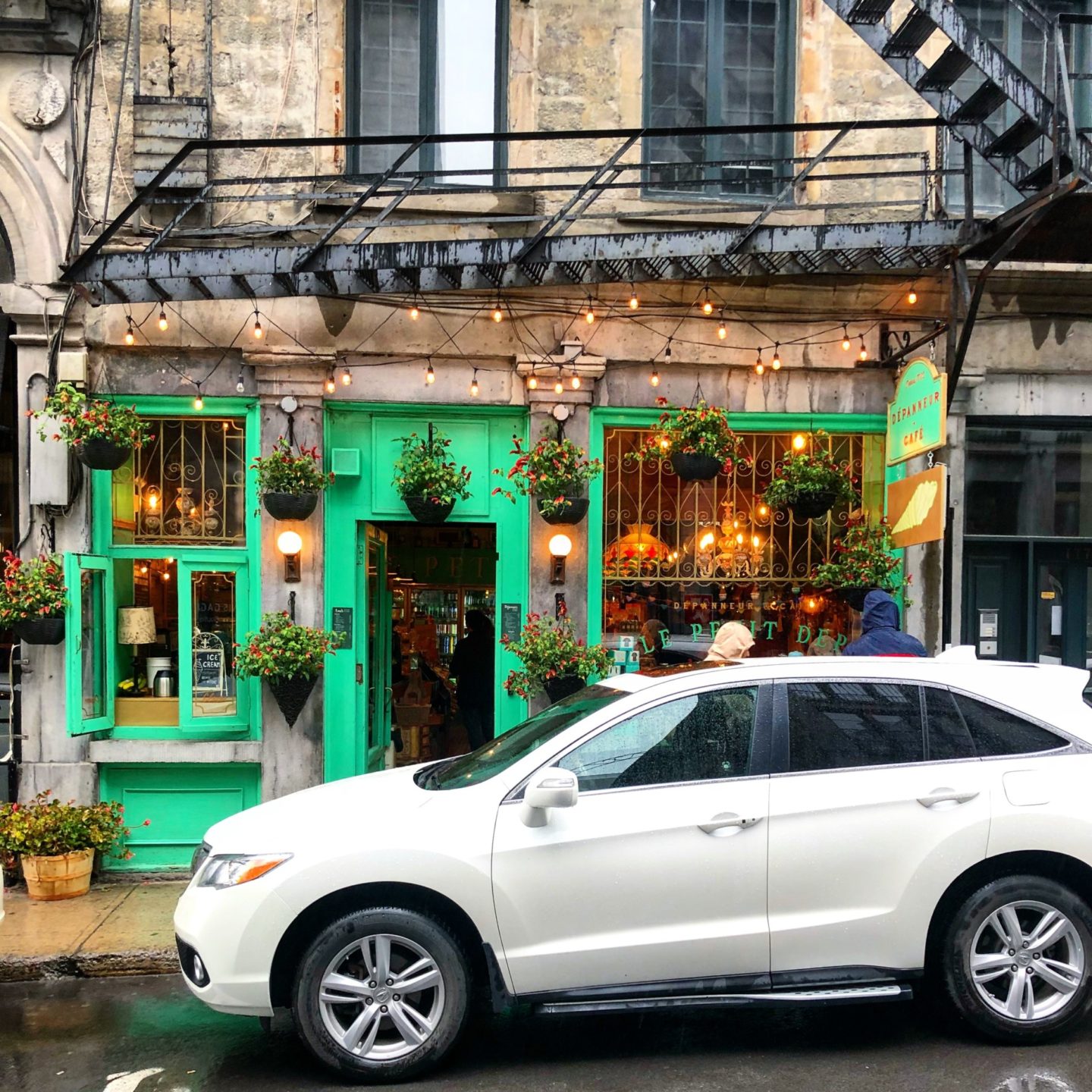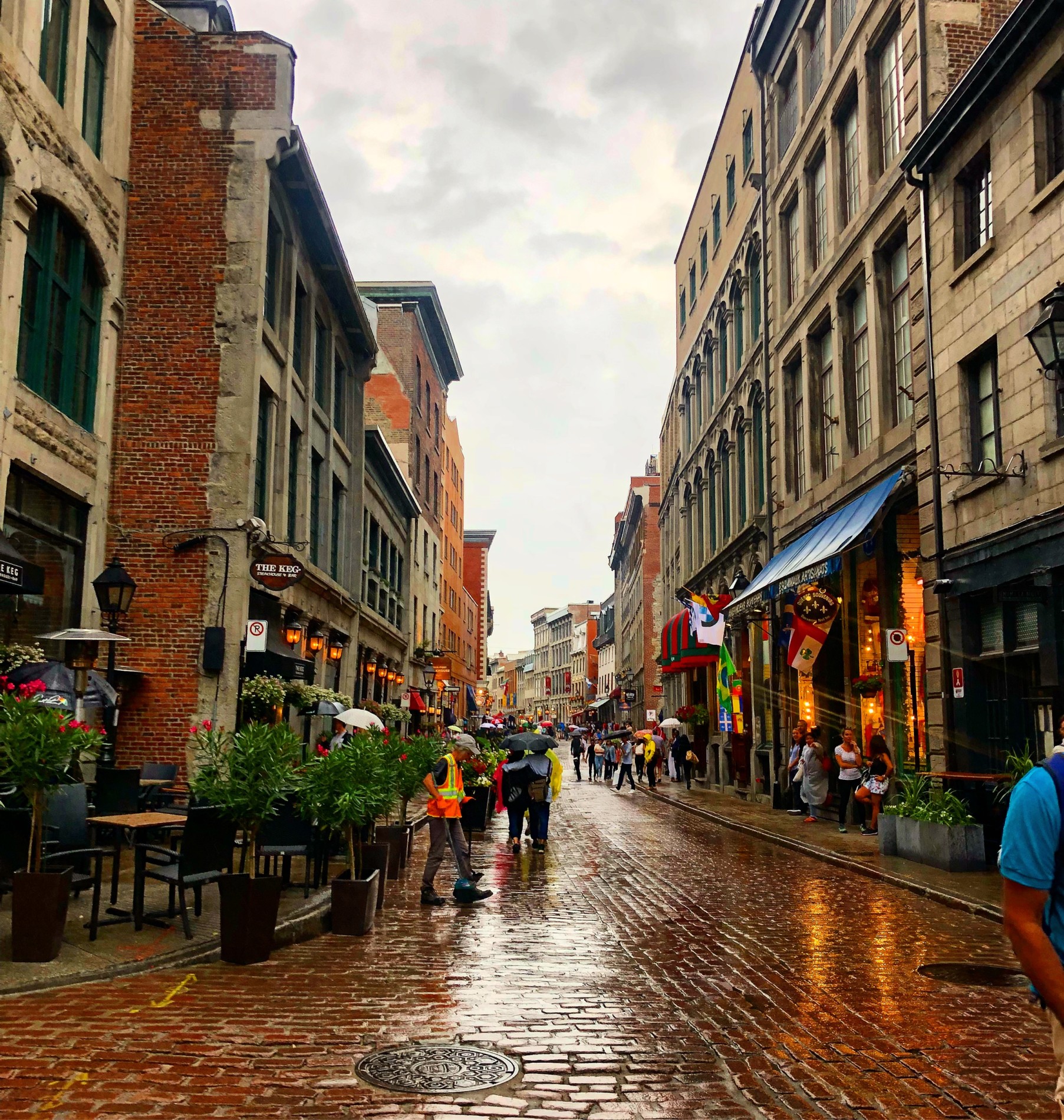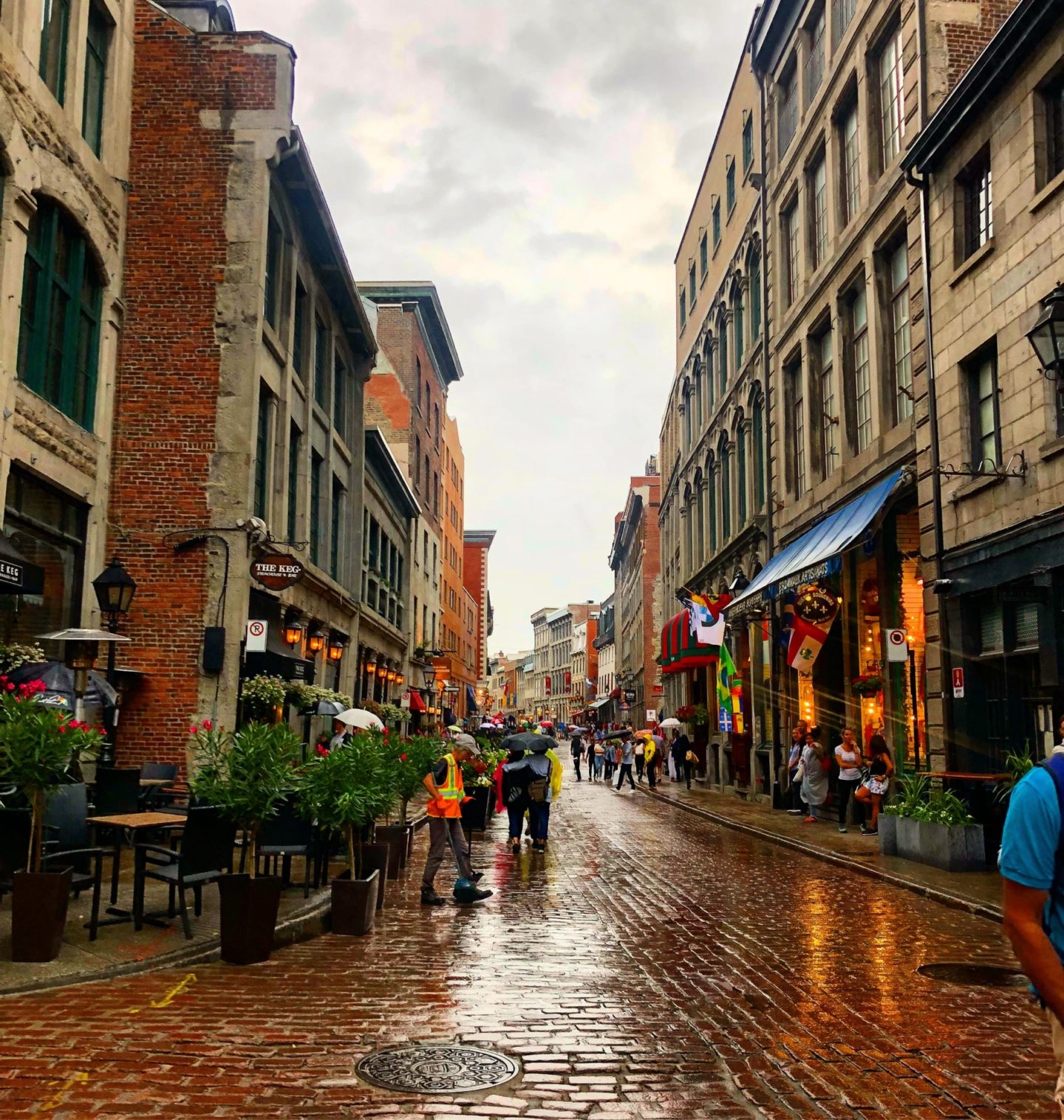 All in all, it was a really great birthday trip. I would publicly thank Chris here, but he most likely won't read this post for a year so it doesn't matter anyway. (He reads my blog "in bulk" you guys, it's fine.)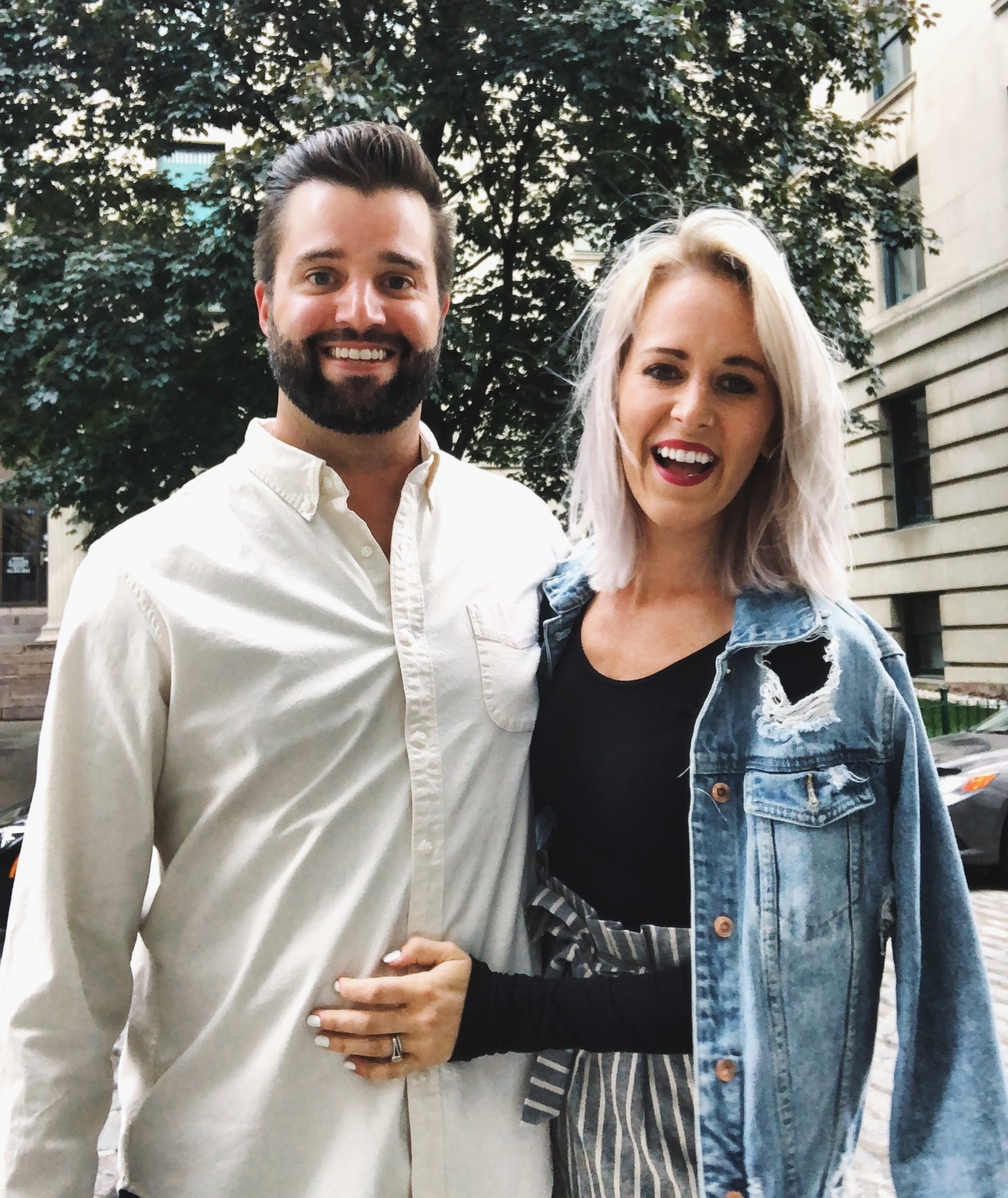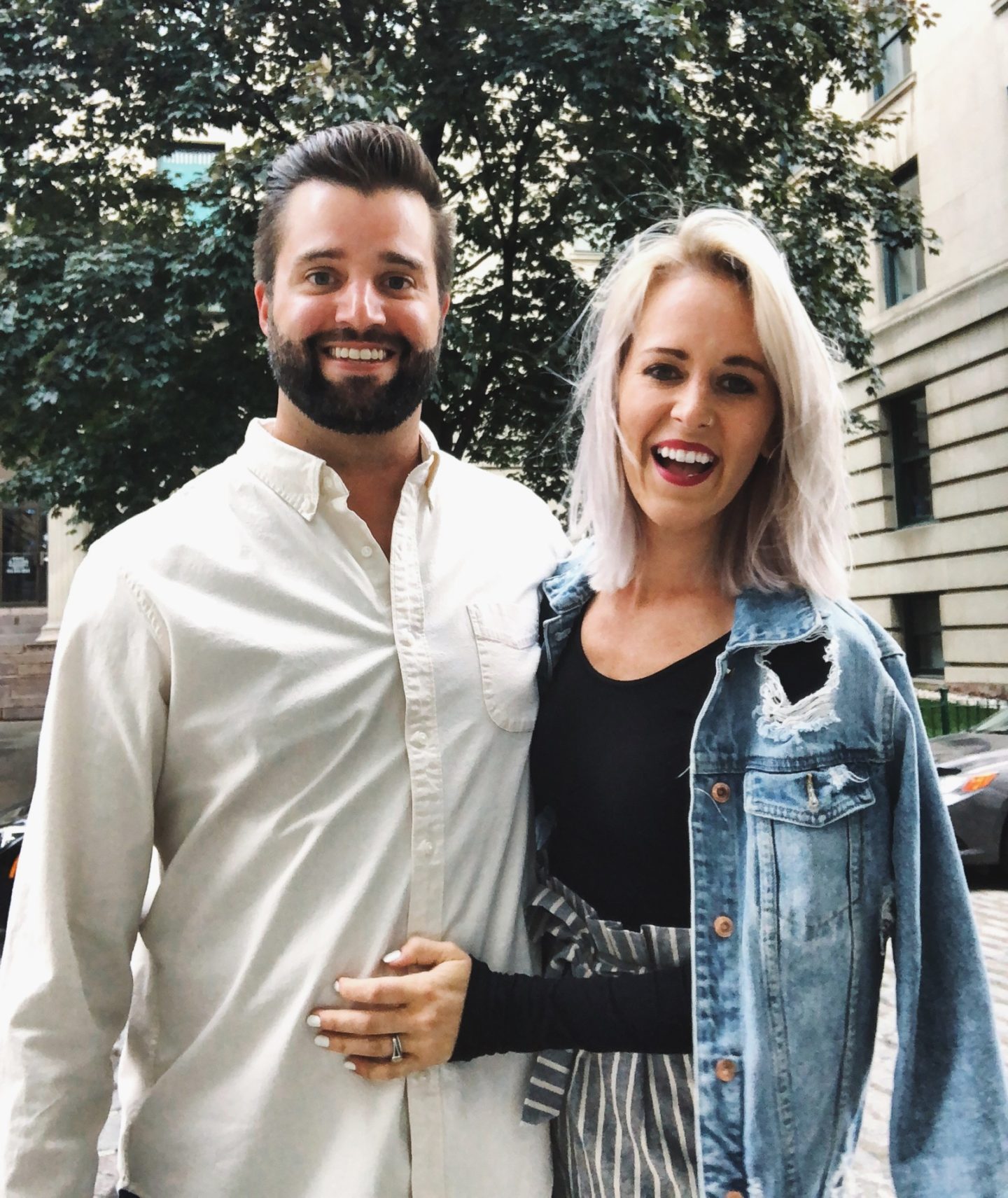 Lastly, don't believe everything you hear about Montreal people being rude. We were so scared of this and once we got there we couldn't have found it to be more opposite. Everyone we met was incredibly kind and no one judged us for not speaking French (at least not to our knowledge.) As one person told me, "there's no such thing as a rude Canadian."
So cheers to Canada, you lovely country, you! Thank you for welcoming us with open Canadian arms.
Now for some outfit/affiliate links 🙂
Striped Jumpsuit.   Striped camisole.   And one non-striped cardigan.