*affiliate links used.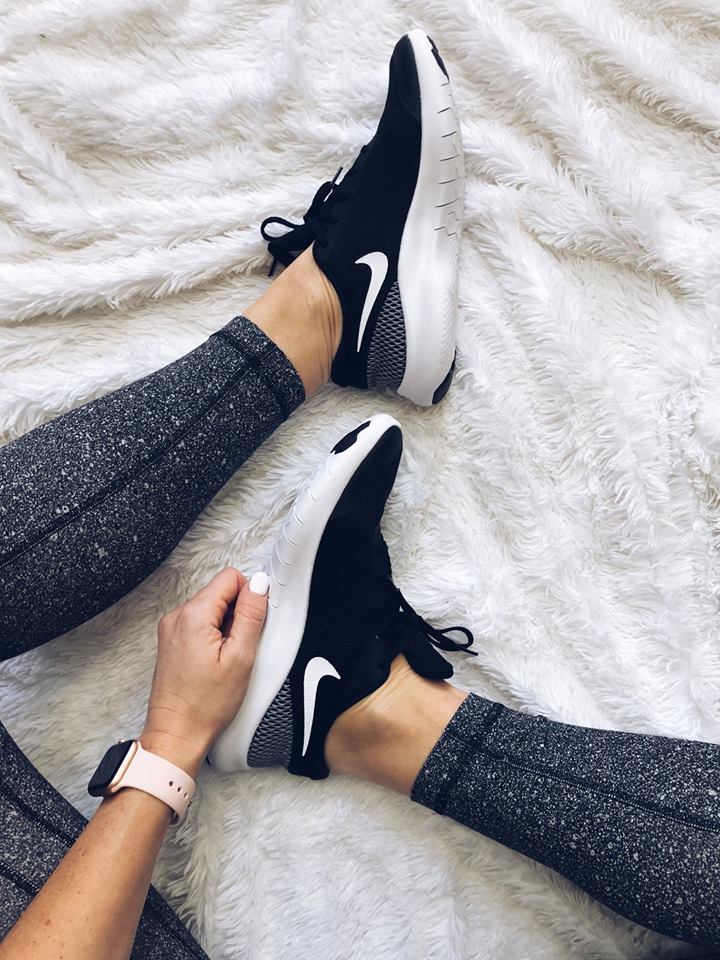 My two month pilates hiatus ends tomorrow. TOMORROW, I SAY!
*was supposed to end today but I got lazy*  However, after preparing this post I am really regretting it, because now I have ALL the motivation in the world thanks to your tips.
It all started when I asked this question on Instagram, "How do you motivate yourself to workout?"  Tips, suggestions, mind tricks, I asked for it all. And guess what? You gave it all! I got hundreds of responses in less than 24 hours. Some very helpful, some very comical, and some a little strange. ALL appreciated!
For time purposes (both on my end and yours) I'll share the tips I saw mentioned the most frequently.
First things first, the number one way I personally get myself to work out is…MONEY! I am far too cheap to pay for a class and then not show up. Pilates is PRICEY. So when I buy a package, I'm going to use it. The studio where I belong also charges a "late cancel fee," so you better believe I never cancel. So yes, paying to exercise keeps me accountable!
My second tip: technology. I have a very bossy apple watch who can be quite condescending and rude when I'm not being very active, "Hey Tay! We noticed you're sitting on your ass today. What's going on? You okay? We just feel bad is all." (Not the exact words my apple watch says to me, but it's close.)
Lastly, (and probably the most important,) exercising gets me outside of my head. Whether it's pilates, or walking Har, I have to get moving and do something active when my mind starts throwing a hundred different fake problems my way or I am doomed.
Now let's check out YOUR tips!
Accountability: 
Getting to know class instructors has really helped hold me accountable. @thebasics_blog
Sharing your activity on an Apple watch is huge motivation! @jennawittler
Join a group challenge with people way more motivated. @lindseykeller14
Join a social sports team. Then you HAVE to show up or your team is screwed. @rosiejholland
Have a buddy system! Keep each other motivated!  (several people)
Make it fun:
Workout with friends! Exercise= social hour. @lhelmbacher
I pick a show/audiobook that I'm ONLY allowed to listen to at the gym. @sincerelybrittanyharris
Make my husband go with me. @jaimeeeeg
Make a friend sign up. Slightly more fun and you feel like shit if you skip! @jessicasprinkles
Running with my dog! It's a win-win! @amandafailia
Find "non workout" workouts, like hiking or indoor rock climbing. @jenny.moulds
Podcasts!! (several people)
Mind. Body. Soul.
I feel strong and energized. @jennalk2
Reminding myself how much better I feel after. Plus it helps clear mental crud. @colleenws
Knowing that I never regret it after, but I do regret NOT going. @jamie.turner04
Knowing that I'll be in a better mood after makes me do it! @janemarieagnew
Just remember you're not cheating anyone but yourself by not working out. @big_homie_t
Break from life:
A break from my child. Yay for gym daycare! @megseverydayindulgence
I need to escape my satanic puppy for at least a half hour daily to maintain sanity. @kelsswarthout
If I'm stressing too much about something out of my control, I go to the gym. @kpkoenig
It's my only escape from my kids. (several people.)
Set goals/Make it happen.
Mel Robbins's five second rule. You count to five and then you just do it. @bkhaveityourway2
I work out first thing in the morning (or it doesn't happen.) @lexie_greer
I lie to myself and pretend it's a part of my workday by scheduling class RIGHT after work. @alliegee319
I like structure and routine, so making it happen around the same time each day works for me. @usingfoodwell
Wanting to close the exercise ring on my apple watch. @mrsdianamathias
Write it in your calendar so you gotta do it. @juliayod
I get a weird thrill when I can see the Fitbit data after. @kellyalysia
I just tell myself I only have to do it for five minutes. Once I get started, it always seems silly to stop. @simplycassandrajane
Plan a vacation so you want to work out! (several people)
Take selfies (me.)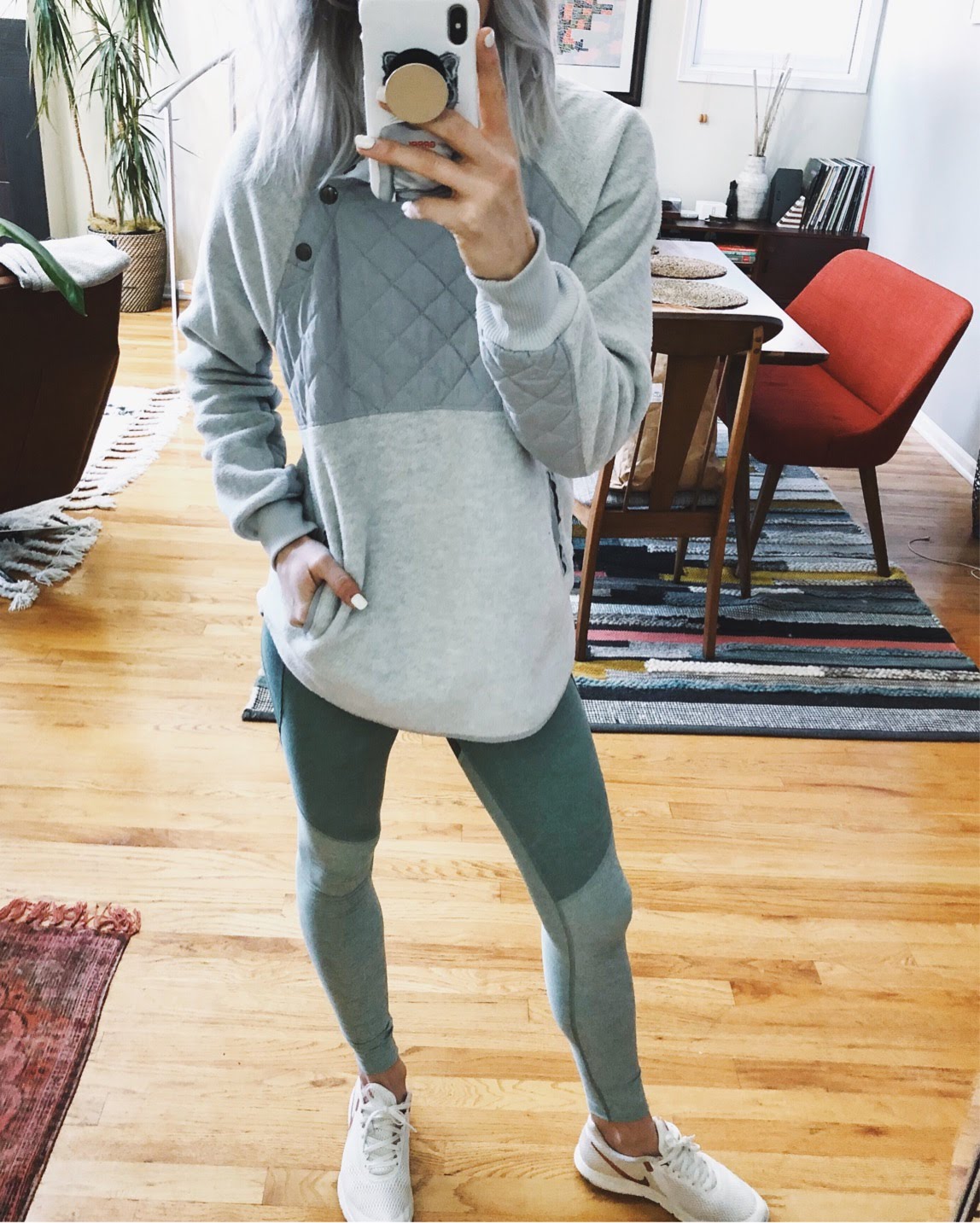 Yoga Pants// Fleece// Similar Nikes
Treat yourself:
Have dessert waiting at home. @carolinecoxx
Reward myself with wine after. @ruffykruff
I think about all the beer I want to drink. @ieatallthechips
I want tacos! I want yoga pants! I go to barre. @bryanne1212
If I do cardio I get to eat mac n cheese for dinner. @arielkb123
Buy cute workout gear! (several people)
PIZZA! (even more people.)
Lol:
Tell the yoga teacher that I'm low energy and hope she lets me lay down more. @lexi___gee
Bad genes. @joannabrolsma
Pretend I'm prepping for the Olympics and coaches keep saying, "watch your form!" @mariellecollette
I think about it a lot and then I sit down and have a glass of wine. @jennik239
I look at myself naked. (at least 20 + people said this one.)
AND THAT'S IT! Have another suggestion? Tell me below! January's here and we're doing it. We're really doing it.