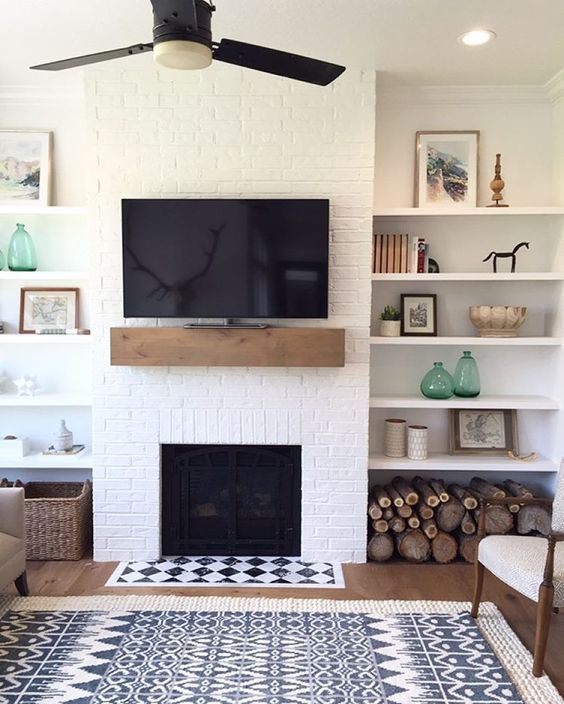 You know when you move into a new home and you have grand plans to "redo this room immediately! It will be the first project, for real." And then three years later that "first project" hasn't happened yet because you've grown a little complacent and maybe the fireplace isn't that bad, anyway?
That's Chris and I. Our two, "must do immediately" projects were changing the fireplace from dark to light and upgrading the kitchen. We haven't done either. But in our defense finding a contractor in Chicago is IMPOSSIBLE. (If you have a good one, please share with me! I'll be forever thankful.)
Luckily we found someone who's good at the smaller jobs (hi, powder room) and he's finally tearing down our early 2000s dark fireplace and giving us our dream white 70s fireplace.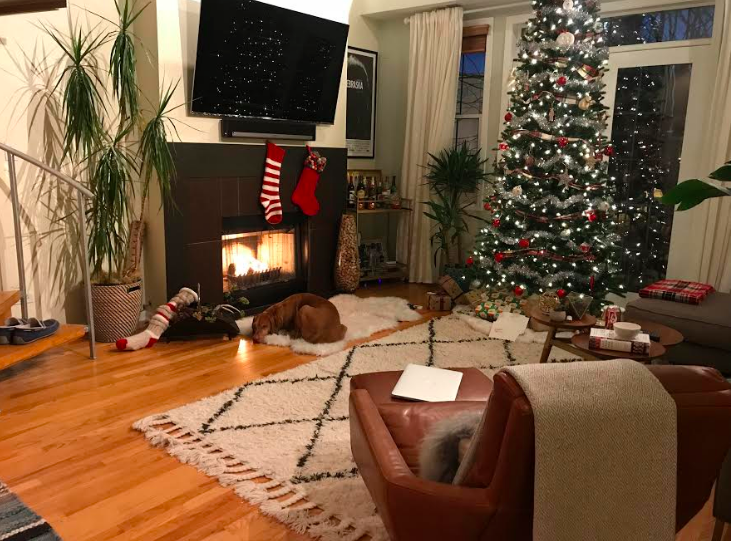 This is what it looks like now (sans the Christmas decor) and the top image is what we're going for. So this requires: removing dark tile, adding brick, adding a mantle, painting the brick, painting the wall, and adding tile to the hearth area. In the past 48 hours I've been to Home Depot no less than eight times trying to choose the tile for the small floor space and suddenly I think I'm Joanna Gaines.
I never thought I'd be the kind of person who wanders the tile section pondering aloud, "what kind of statement do we want our hearth area to make?" But here I am! It's addicting, really. And it makes me want to learn how to do this kind of stuff on our own. My only downfall is that I don't see detail. I was that kid who's art projects always looked like a dog had chewed on them. It's just not my strong suit. I know what I want, I simply don't know how to achieve it.
If you ever want to make your head explode and realize nothing is at it seems go to the paint section and try to find the perfect white. Everything is a lie to me now after last night's 8:00 p.m. run to Home Depot to choose the white for our walls. "Wind Whisper" and "Cotton Dreams" and a "A Fox's Breath" were all front runners and also who gets to name paint colors because I think they smoke a lot of good pot.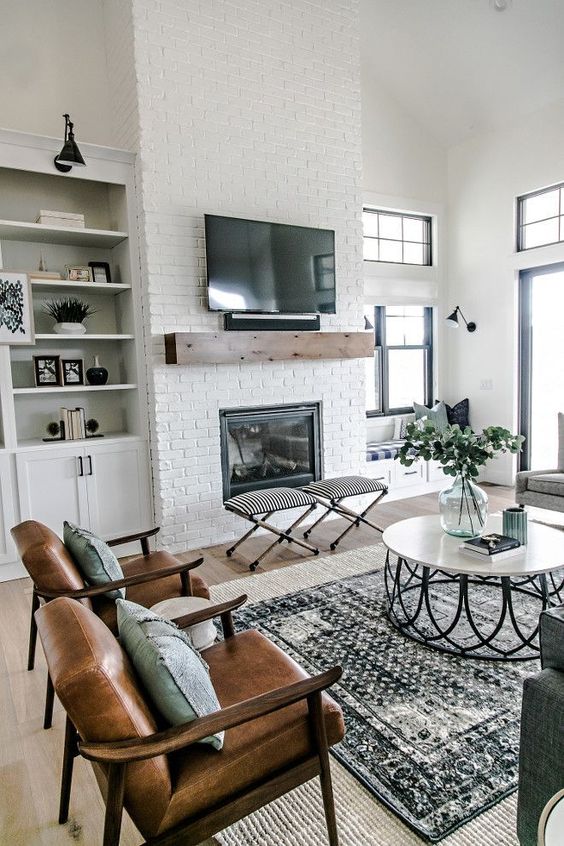 We're also adding some built-in shelves as seen in both images which has me very excited. Oh the possibilities! We'd love to brick the entire way up, but we're going to settle on just painting above the TV because sadly going all the way up would cost a million dollars and it's just not in the budget at the moment. Do what you can, with what you have!
That's all I've got for today. If you have any home decor tips, or white paint tips, let me know! Lots of home sites are running great sales this weekend, like Wayfair up to 70% off, Overstock up to 70% off as well, and Crate & Barrel up to 40% off. Get on it! Okay, bye!
affiliate links used.