We're going to keep things short and sweet again today because it's hot, sunny, and the first street festival of the summer is hitting our neighborhood tonight so my mind is elsewhere!
Today's post is a little before and after of our rooftop update. We made some minor changes that feel like they made a huge difference (to us, anyway.) We got a new firepit (which we went to hell and back to get) more plants, more string lights, a new rug, blankets and pillows, and some ivy holders to disguise our less than attractive cement wall. 🙂
Affiliate links will be used because my last Invisalign bill just came and wooooweee it's not cheap to get straighter teeth.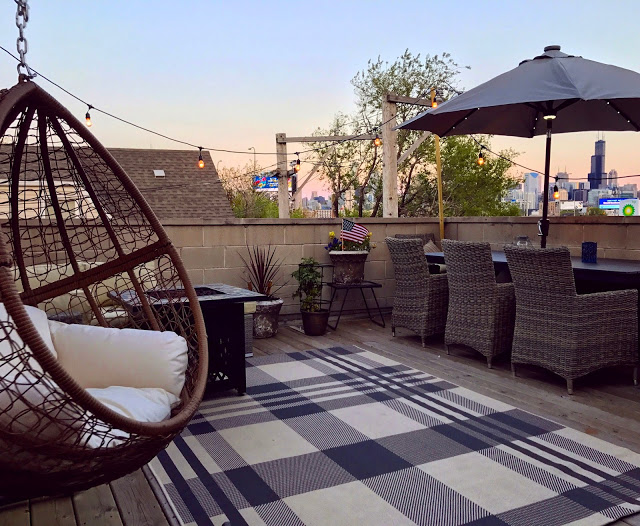 Above is the before. Below is the after. Same table and chairs, just rearranged a bit. We had the egg chair in the wrong place for two years. What were we thinking?!
We get the majority of our plants from Home Depot and local nurseries around Chicago. We take very good care of them because Chris is slightly obsessed. 🙂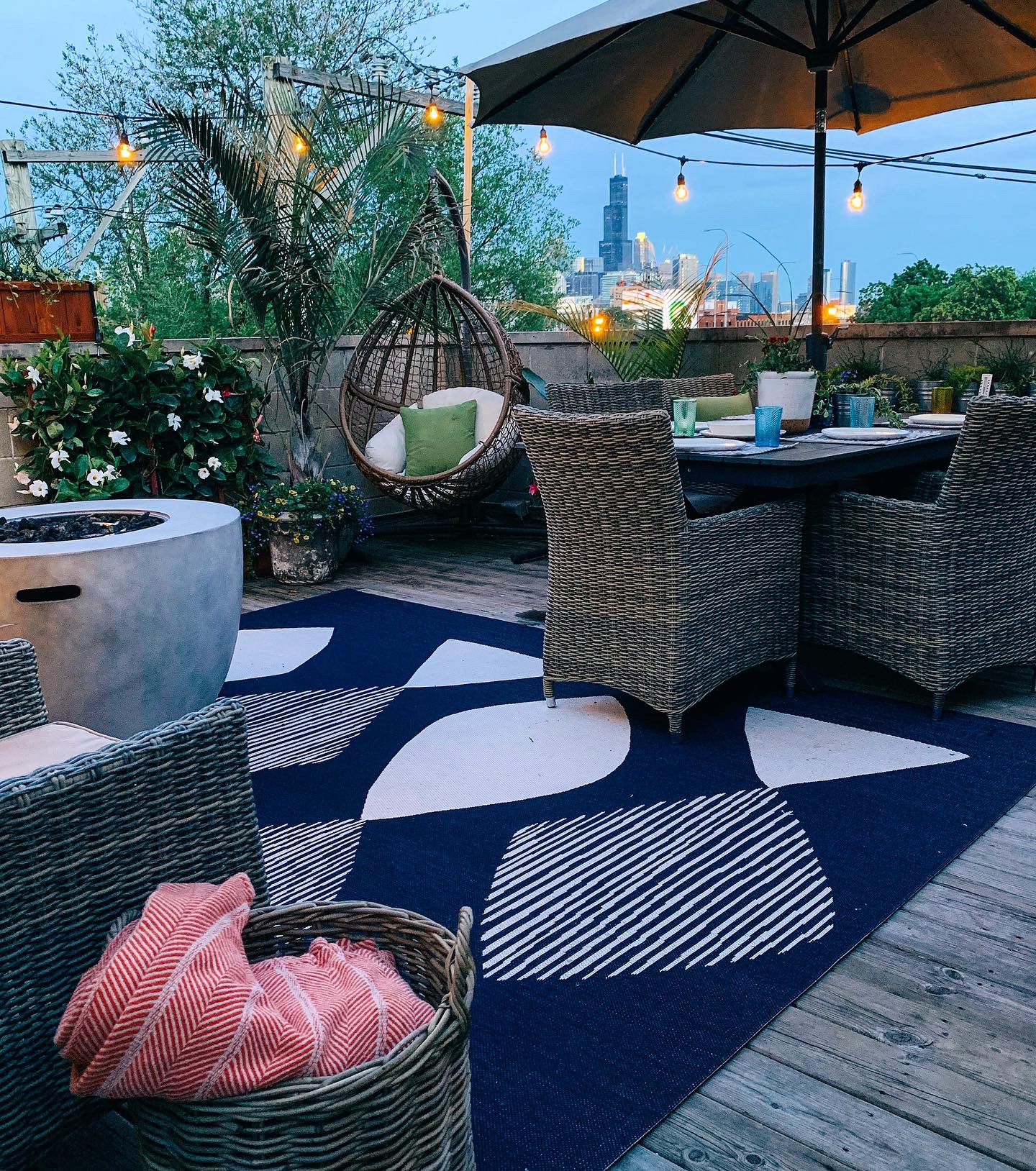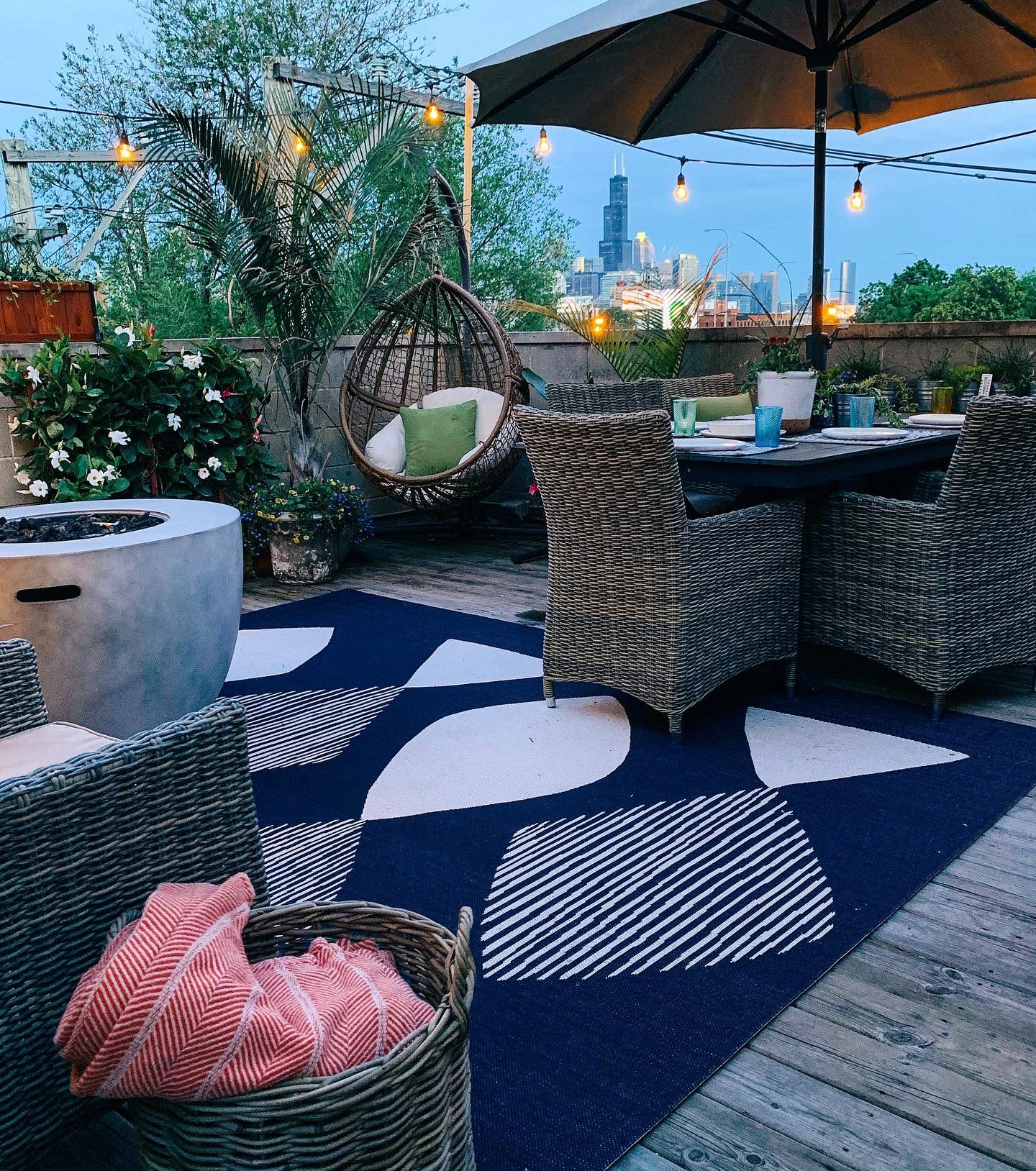 All of the outdoor plates and table settings are from World Market. (They have up to 50% off outdoor right now.) For ease of carrying things back and forth, we keep a big tray in our kitchen island full of grilling tools, plates, utensils, etc, and just bring that up whenever we eat on the rooftop.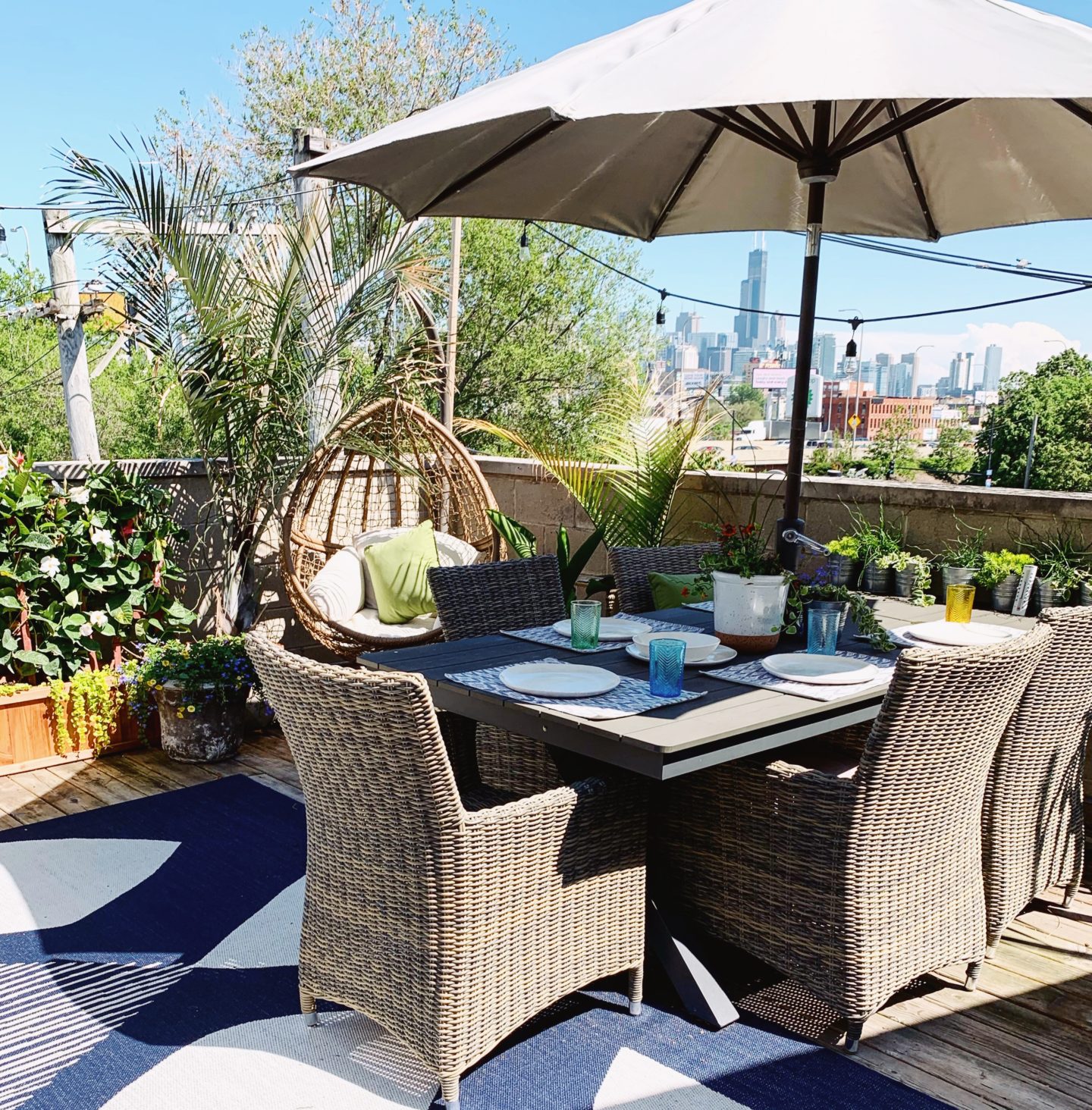 Pillows, baskets, and table top planters are found here. To prevent the pillows and blankets from getting weathered too quick, I keep them in baskets that I bring inside and out, every single day… It's slightly annoying, but it's also only five steps from our bedroom to the rooftop, so I can suck it up to make sure they last.
These wall planters are a great way to hide a wall you don't love. 🙂 And these string lights are BRIGHT. At night they make the space feel quite warm and cozy! Our other black Edison string lights can be found here.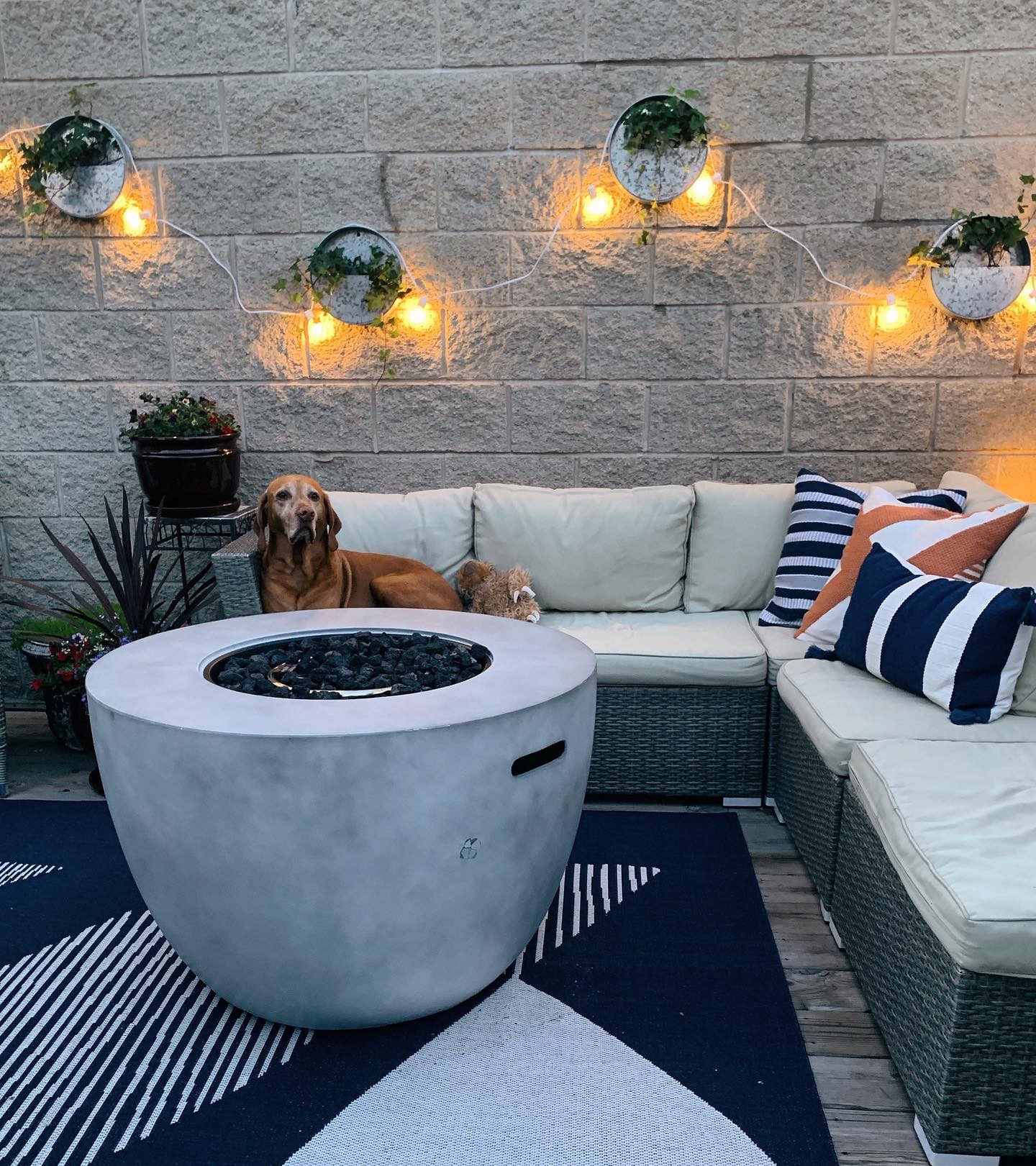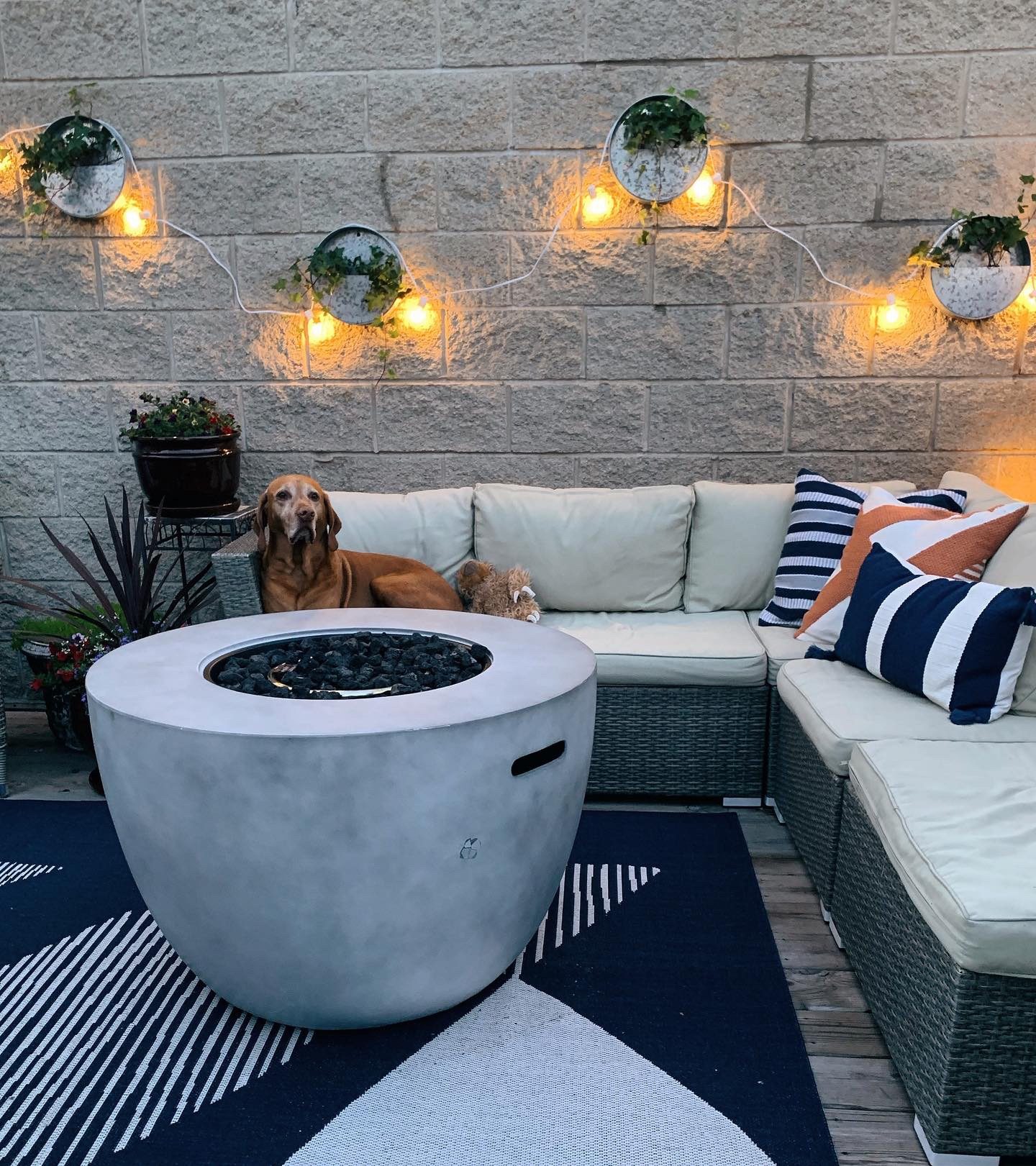 And the firepit… Where do I even start with this beast. It is sold out online and in every store in Chicago (we went to them all because we were told otherwise.) But our last firepit was dying and this is the one we wanted. We begged to buy the display at a few stores but were consistently told no, even though over the phone we were told yes.
But never the less, we persisted. And we finally found a store who had no problem selling us their display. VICTORY! Until we got home and realized we had to lug this thing up seven flights of stairs… it was then that I realized that most people who buy this firepit probably get to pull into a driveway, open their trunk, then leisurely walk to their backyard. You lucky, devils you.
So Chris and I put on our moving faces (scowls) and started up the back flight of stairs to the rooftop.
PIVOT! He yelled. I am! I shouted back. Slow down! Go faster! My toe! You hit my toe! Are you trying to kill me? This could kill me! I give up. Screw this damn thing. I'm stopping. Forget it! I hate this. Move! You move. Squat! Grab here. No, you grab here! This was the worst idea ever. My back! I can't breath! Are you even lifting? Yes, you asshole.
And right when we reached our breaking point we made it! Did we take a small chunk out of the pit it in the process? I don't know, doesn't matter. (Once you see it, you can't un-see it.) It's barely visible at dark, so whatever.
But was it worth it, you might be wondering? Yes. We actually love it and the way it fits into our space. Our previous one (shown below) did the job just fine for a few years, but like I said, it was dying and it was time to move on.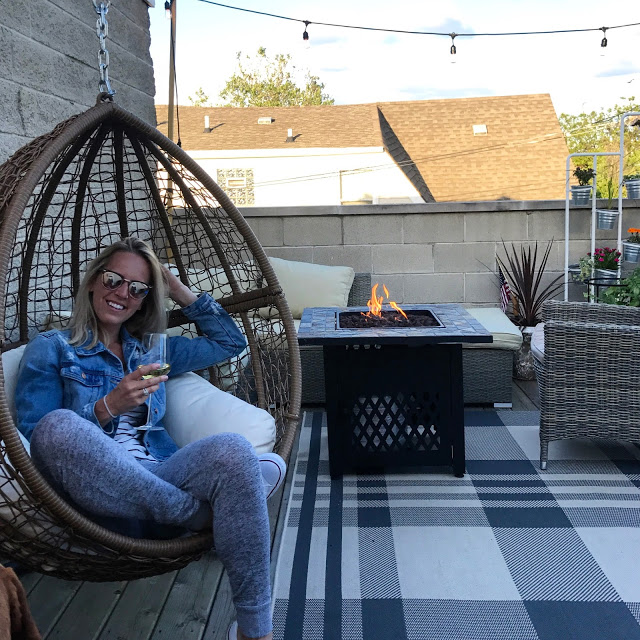 The grey Target firepit is sold out, but Wayfair has some similar ones. If you find one for cheaper, don't tell me. I couldn't handle it.
And that's all I've got for now. Happy Friday, friends! Summer is here! It always goes too fast so SOAK IT UP! Live like Harlow. 😉