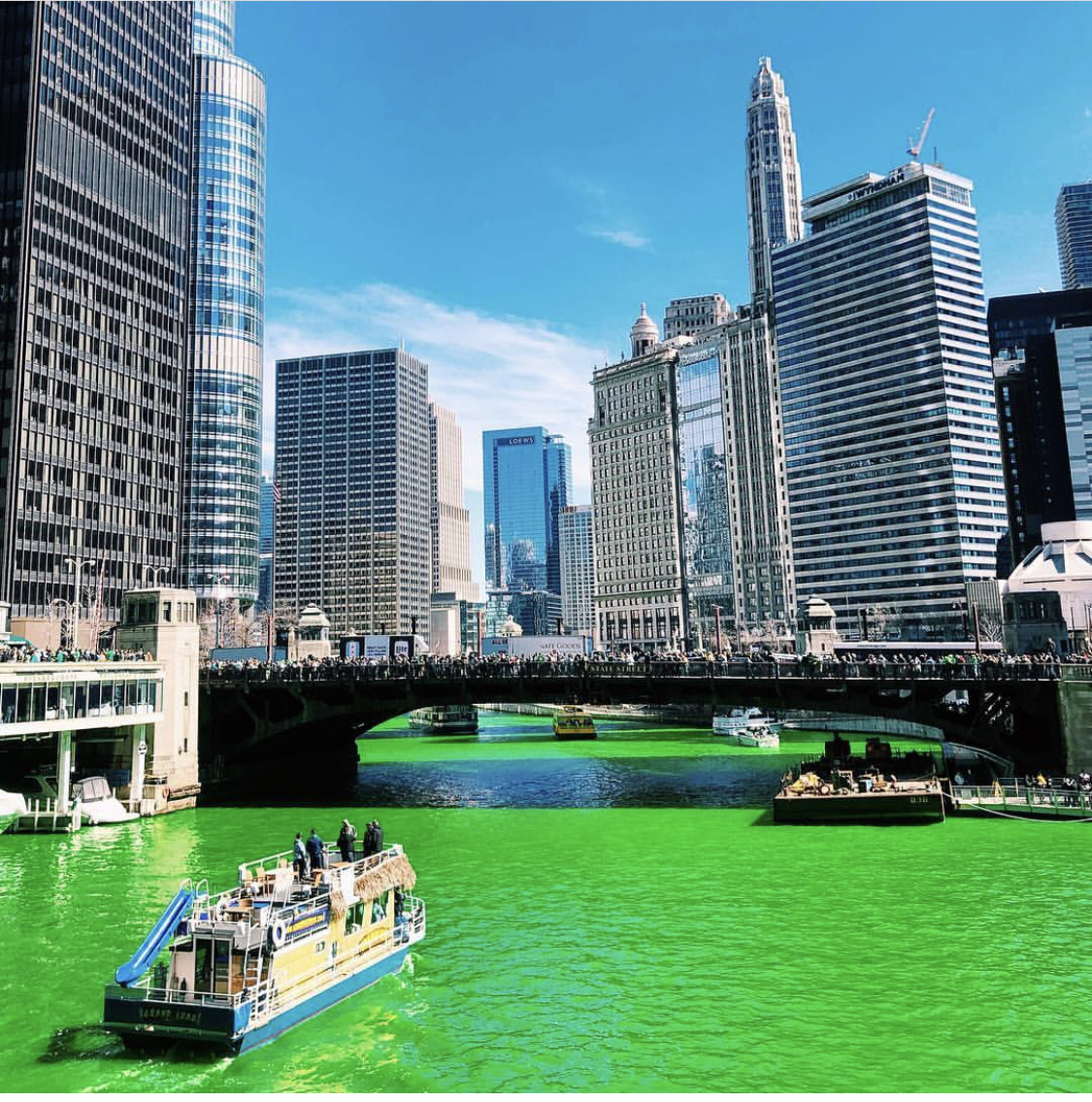 For those that don't know, Chicago gets a little nutty for St. Patrick's Day weekend.
The city dyes the river green, bars open at 7 a.m. (probably even earlier) and parades will run through the streets (along with drunk people dressed in all sorts of interesting costumes) all over the city.
It never ceases to amaze me when I take Har for his morning park walk (usually around 7:30 or 8:00 a.m.) and there's already hoards of people waiting to get into bars, or waiting for their Ubers to get to a house party. That said, if you're visiting Chicago for the weekend here's what you need to know.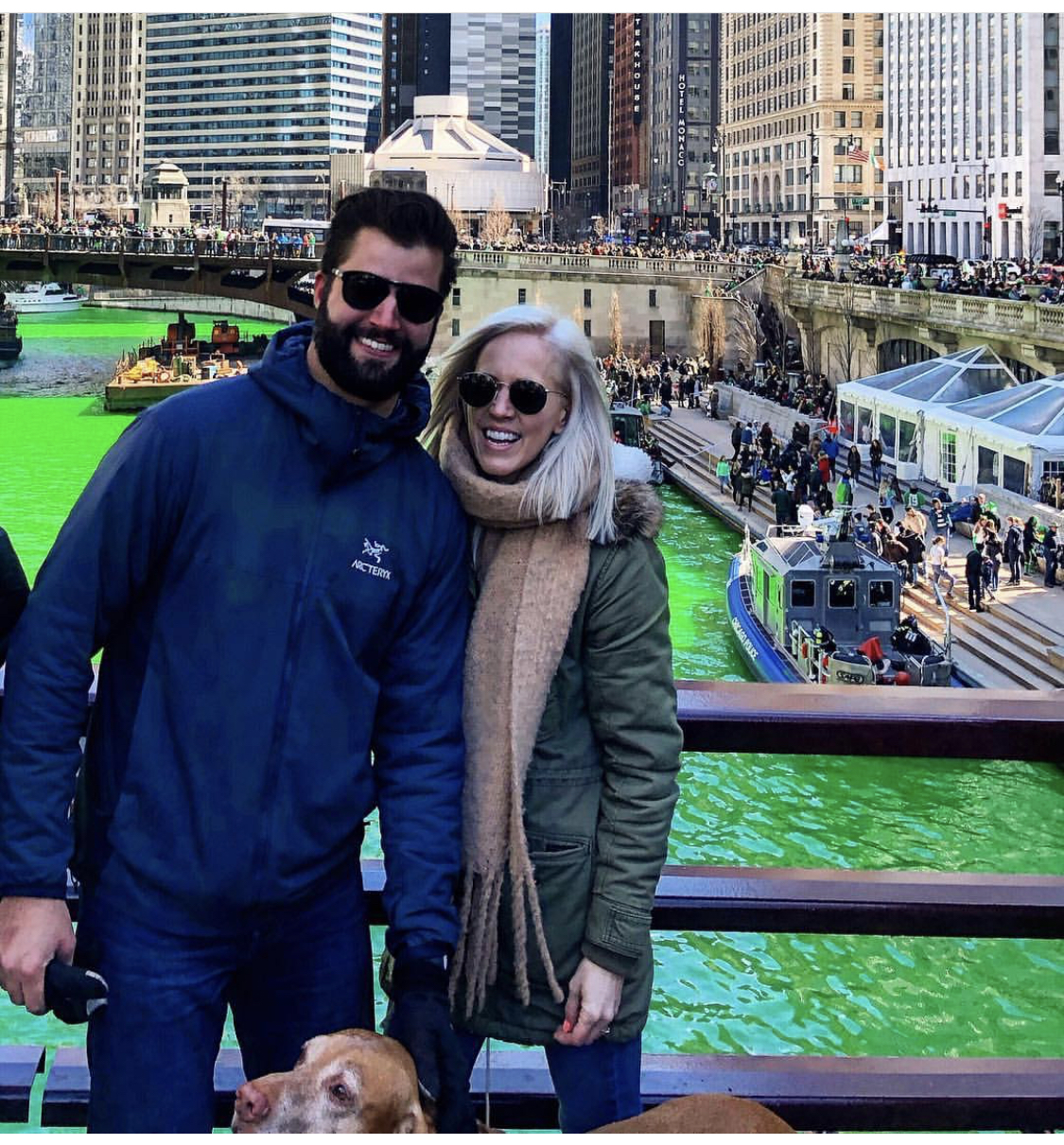 *The river will be dyed at 9:00 a.m. on Saturday, March 14th. One parade will start shortly after near Grant Park.
*Streets will be closed and traffic will be bad, so if you can take a train to get where you need to be, take a train!
*Plan on being cold. I could be wrong, but I'm probably not.
*If you're downtown near the lake it will be even colder. Bundle up! Chicago is always colder than you expect.
*Bars. Will. Be. Packed.*
Plan to wait in line. Don't wear nice shoes, they'll get covered in beer and cocktails and who knows what else.
What to wear: one of these sweatshirts, obviously. 😉 For more cute St. Patrick's Day tops click here.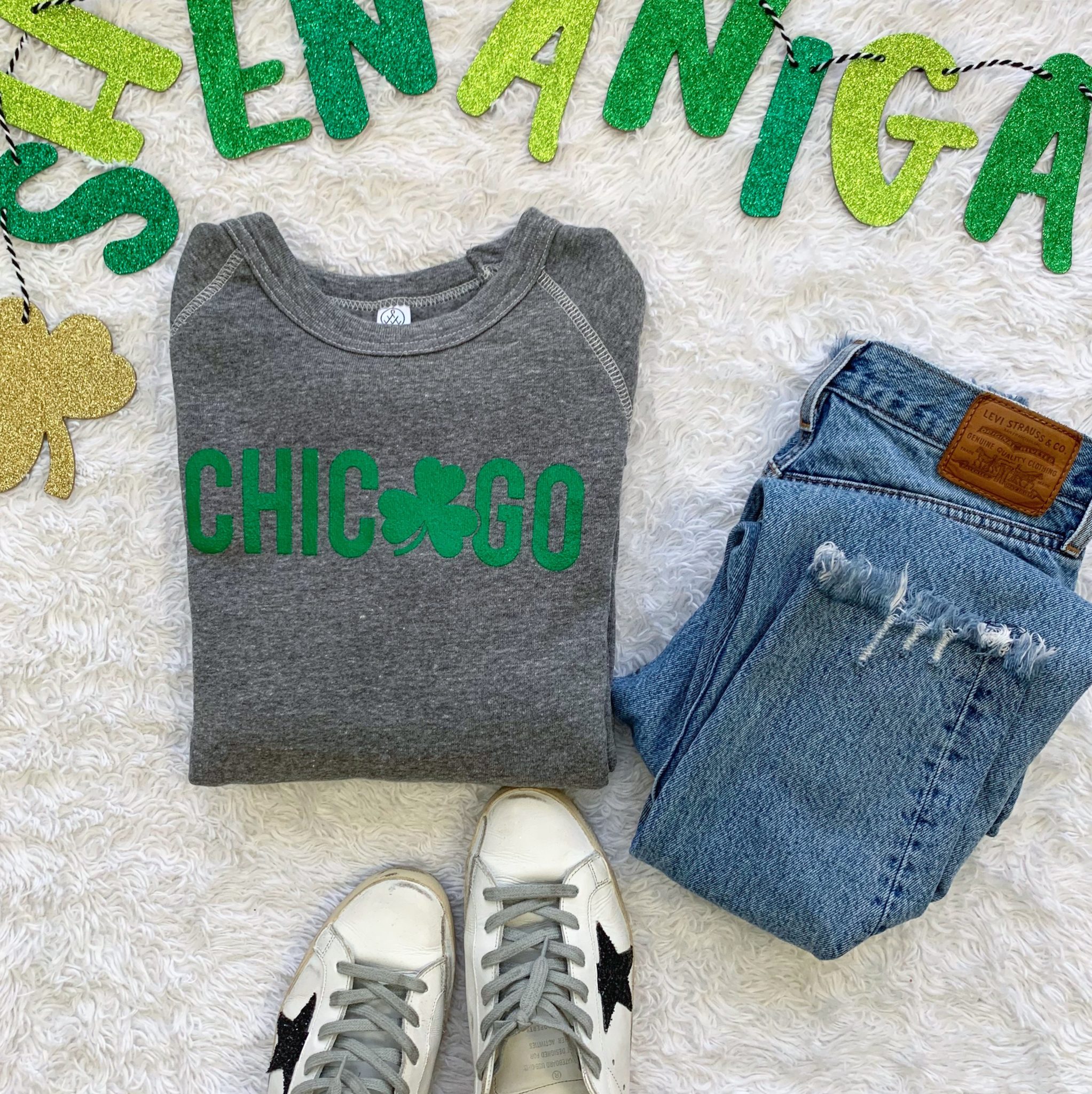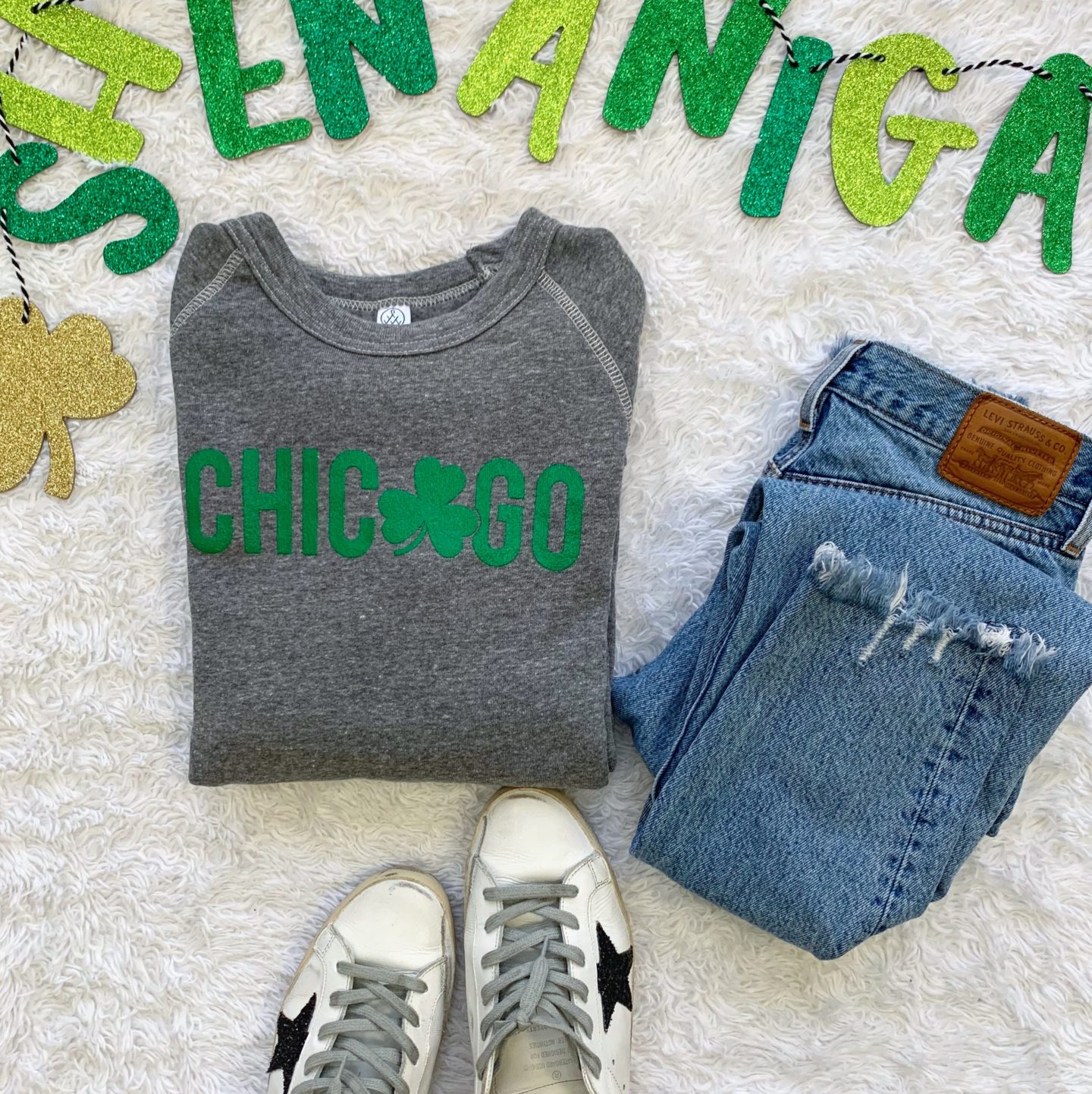 WHERE SHOULD I GO?
I'm going to assume you're staying downtown, so in that case I suggest Hubbard Street or West Loop. It's where all the party kids hang out. (I think… as I write this I'm realizing it may have changed since I was a "party kid.")
If you want to do something swanky check out the morning party at London House and you'll have great views of the green river.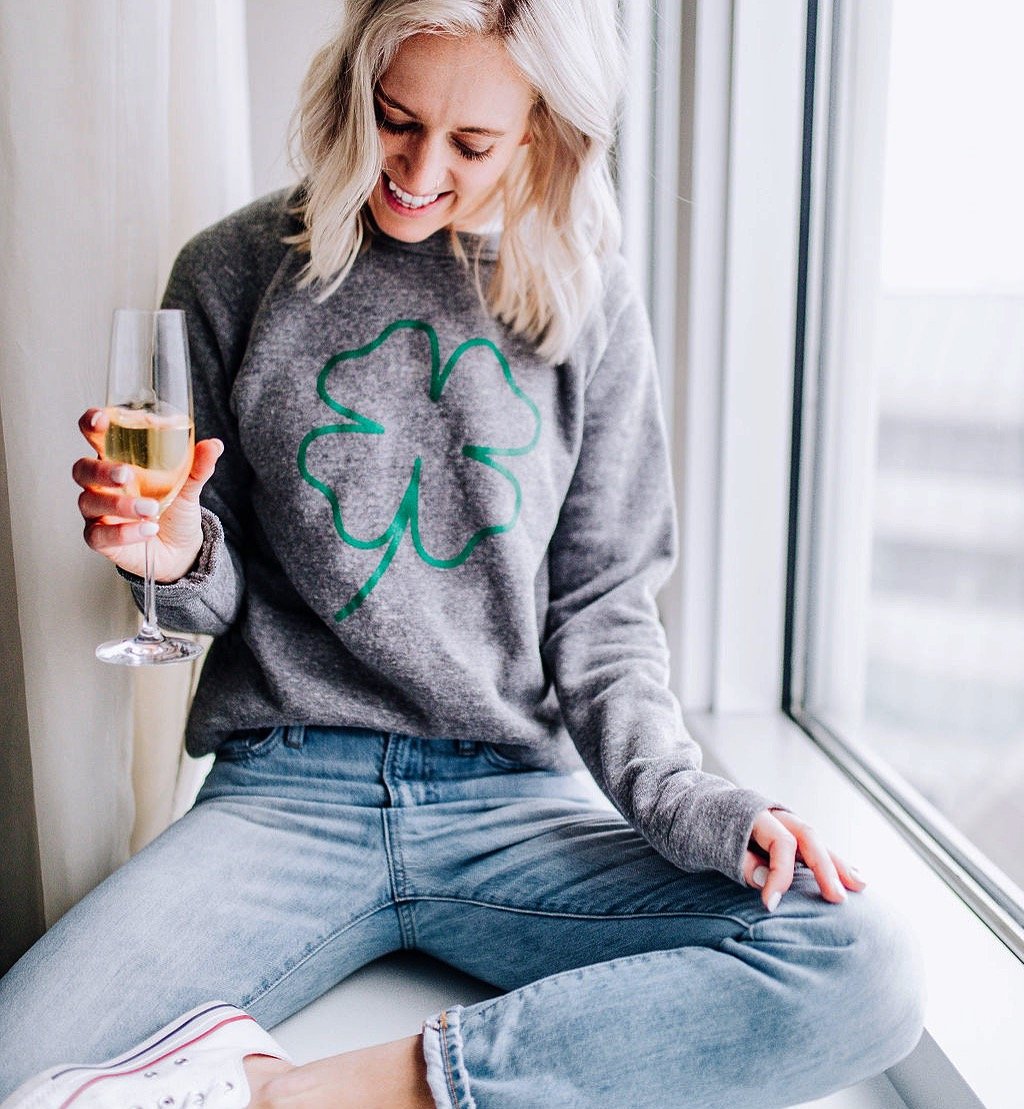 If you're into the Wrigleyville stuff go up there, if that's what you're after it won't let you down. Just take the red line from downtown and get off at Addison (download a quick CTA app.) Charm'd is a pop up bar going on right now that looks super obnoxious and perfect for Wrigleyville.
Irish Bars
Fado Irish Pub, Shamrock Club, O'Callaghans, Declans Irish Pub, Galway Arms.
There's several others, but I believe these are the closest to downtown.
Personal favorite dive bars near downtown:
The Lodge, Snickers, Rossis, Pippens. (Go to one of these and you wont be disappointed. Unless you hate dive bars, then don't go.)
Want to get out of downtown? Head to:
Old Town, Lincoln Park, Wicker Park, or West Town.
Old Town -> go to Wells Street.
Lincoln Park –> go to Webster street and you'll stumble into somewhere fun.
Wicker Park –> walk down Division Street or Milwaukee.
My favorite bars are the neighborhood spots not located downtown, but tomorrow everything will be packed.
Where to eat:
West Loop! You might as well grab a nice meal while you're here and this spot has a ton of great restaurants.
Best deep dish? Pequods.
Best greasy fast food: Portillo's.
Best Bloody Mary: Twisted Spoke in West Town.
Best vegan and vegetarian food: Handlebar .
Best burger: Au Cheval.
Where to go if it's freezing: Eataly!
And that's all I've got. Don't forget that Yelp and Google are always there to help.
If you have a specific question, just message me!