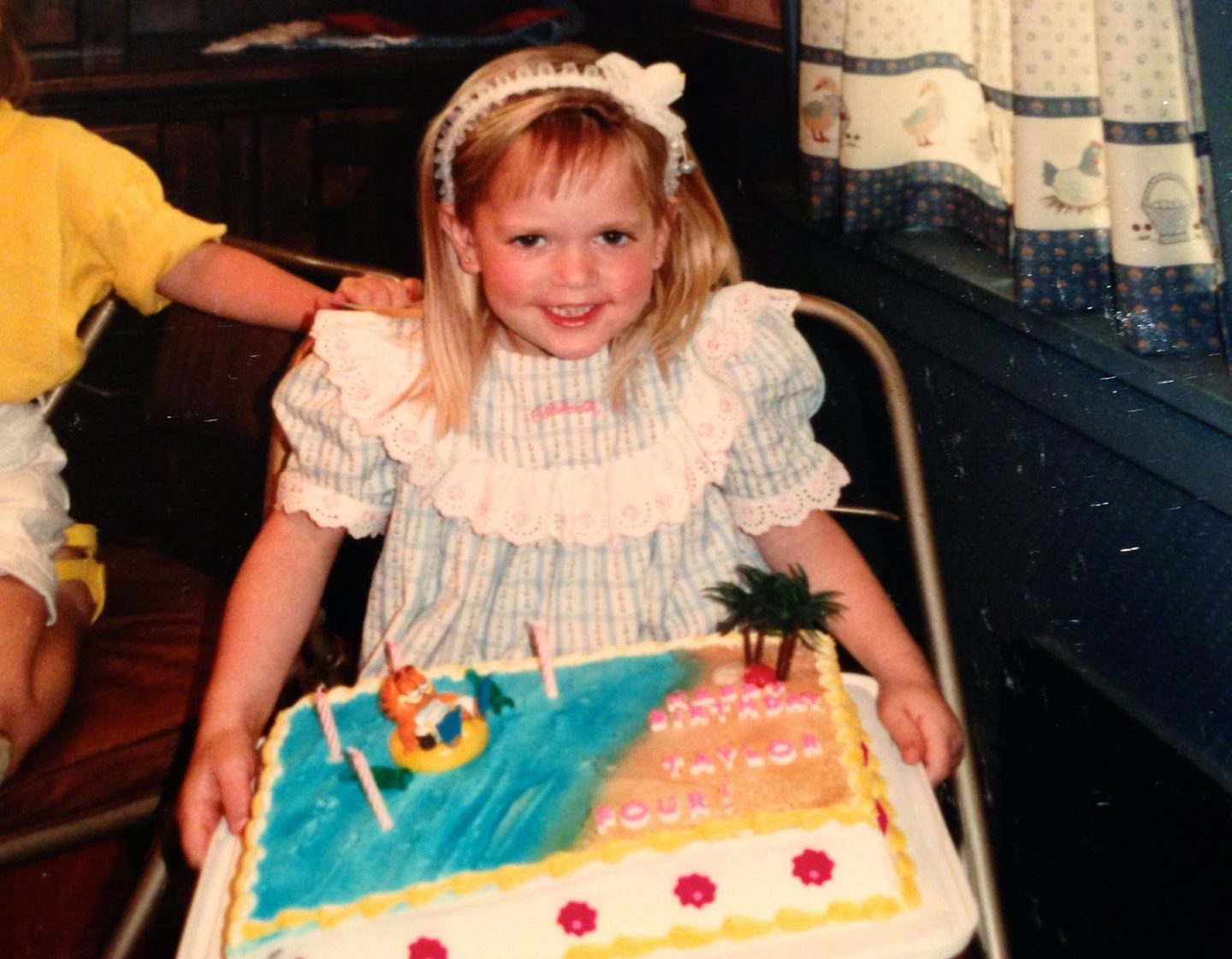 Guys, my birthday is officially one month from today.
I'm old fashioned in that I believe getting older truly is a blessing because not everyone gets to do it, yet I'm also a little superficial and can't help but freak the hell out a bit as well. Let's just say living in a van down by the river isn't exactly where I thought I'd be at this point in my life. Okay, so I'm not technically living in a van (yet) but I'm not living in the life sized Polly Pocket mansion I thought I'd be in by now, either.
I look at that smiling face of the little girl in the photo with her bangs cut way too short and kool-aid stained on her lips and I can't help but feel like I've let her down a bit. Kind of like the idiot who must have made that birthday cake of mine, "Happy Birthday Taylor Four!" Uh, come again? And why is there a Garfield in scuba gear just hanging out? I'm assuming this was a year my mom was pinching pennies and gave cake duty to my older sister. But I digress.
Little-me had such big plans for my twenties and I feel like I'm not living up to my full potential. I'm supposed to have a corner office in a tall building downtown somewhere, wear power suits to work, and say things like "I've got a huge meeting in five minutes with the Zander account, can this wait?" or "No problem, I'll just use petty cash for lunch." Because everything I thought life in my mid twenties would be like was fully inspired by two movies- Working Girl and Don't Tell Mom The Babysitter's Dead.
And so per the usual, when faced with a deadline I'm desperately going to try and pull everything together at the last minute. I've got one month to get my life in gear. Here's my plan of attack-


1. Get up earlier. I feel like no one told me that getting up in the morning would never ever ever get any easier.
2. Drink more water. I don't know why, that's just what everyone else is doing so I figure I should follow suit.
3. Write more. More blog posts. More stand up material. More sketches. More chapters in my book. More articles for the site I'm now contributing to called The Whiskey Journal. Just more writing in general.
4. Less Facebook & Instagram life comparing. Everyone I know has bought their first home, well good for them. I'm hoping to buy my first bike this summer. Because I'm a twelve year old.
5. Actively make more positive decisions that will shape my future. I'm not sure what this one means yet, but Tony Robbins said it will make a huge impact on my life so it's worth figuring out.
And this last one is the most important of all.
6. DYE HAIR SUMMER BLONDE. Once I get my platinum thinking cap back on all will be right in the world again.
I've got thirty days to change my life, it's time to make some moves.
*Ps I've also got this ad sale going on if you're interested!