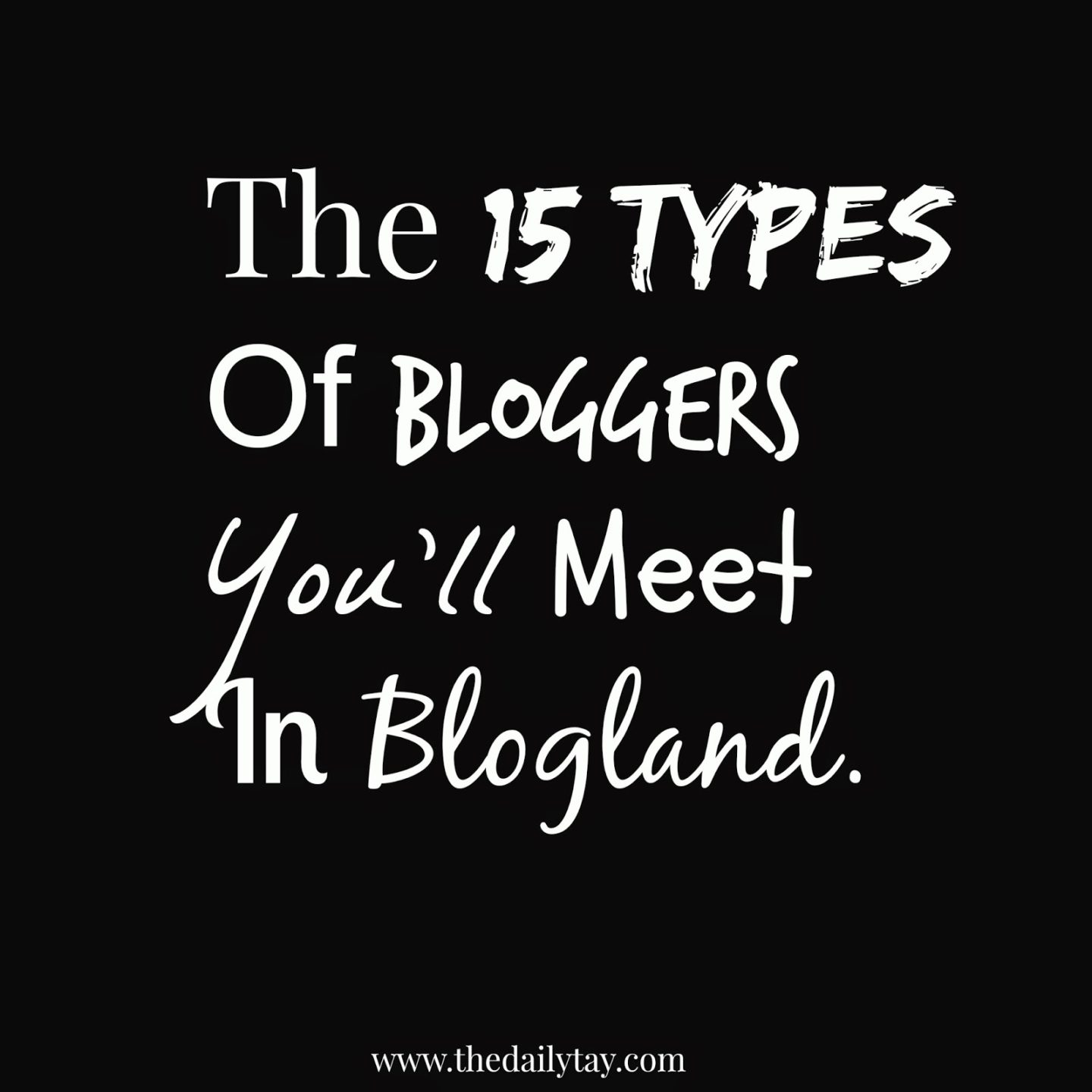 The I'm Going To Change The World Via Blogging Blogger
Because she really is. She's organized, she's smart, and she's always one strategic step ahead of everyone else. And she's probably donating all of the money she makes from her blog to an orphanage in Africa.


The I'm Just Here To Have A Good Time Blogger
She hasn't discovered the politics of blogging yet, or if she has she just doesn't care. She's going to write what she wants, when she wants, and she doesn't seem to mind whether anyone is reading or not.
The Trainwreck Blogger
Everything about this blog is like a bad car accident. You know it's wrong and that you shouldn't enjoy looking at it because clearly the poor girl just needs some help. And yet you just can't click away…
The This Just Comes Easy To Me Blogger
We all know this one. She just started her blog a day ago and it already looks better than yours. Her photos are amazing, her posts are full of great content, and she responds to your comment before you even leave it. Blogging is just second nature to her.
The TMI Blogger
Gross, did she really just say that? Yes, she did. And even though we've all been guilty of it a time or two that doesn't mean we're ready to put it out there for the world to see. But hell, if she is more power to her.
The Humble Bragger Blogger
Her life is perfect and she (humbly) want you to acknowledge it. The hubs, the kids, the house, the Range Rover, the weekday mimosas. Yes, "life is good!" #blessed
The Prom Queen Blogger
You want to hate her but you can't. She's nice and pretty and even though you're hoping it's all a front you can just tell she's probably a really good person after all. Damn her.


The OCD Blogger
BLOG OR DIE. Chances are she just started about six months ago and feels like she's suddenly entered a new world she had no idea existed, but is now totally obsessed. Her face is on every side bar, her guest posts are popping up on every blog and she's coordinating about ten different big giveaways per day.
The I'm A Writer Not A Blogger- Blogger
We know this simply because she reminds us of it in every post. And because she's writing a book. Probably five books.
The I'm Going To Get Rich Blogger
She's in blogging for one reason and one reason alone. To make all of the money that us bloggers are just rolling in! She usually lasts about a month. Tops.
The I Have A Big Chip On My Shoulder
She's out there and chances are she's mad at you right you. Why? Because blogging is just like high school and it's all your fault. There's cliques and cool kids and mean girls and everyone is against her. As usual. She's written emails to "big bloggers" and they never responded so that means all bloggers are evil.
The Let's Be Best Friends Because I Think Your Blog Is Getting Popular Blogger
You don't have to find her, she finds you. And you're probably going to be besties for a few weeks. But as soon as your sparkle wears off she's going to disappear as fast as she appeared.
The You Copied Me Blogger
Because you did. You know that photo you posted of your dog? Well she posted a photo of her dog last week and now YOU copied her. You also stole her link-up idea, her layout design, and her hair color. Everyone is copying her because she invented blogging.
The MIA Blogger
But wait, where did she go? Nobody knows. Nobody ever knows.
The Real Person Blogger- Blogger
The bloggers you find who are just like you, real people. Real people with real problems and even though they may choose to focus on the good in their blog, they don't sugar coat the bad either. These are my favorites and I'd be lying if I didn't say I've met more of these people in blogland than any other. There's a lot of you out there, so thank you for that!
And now I'm going to provide you with a list of bloggers that I think fit into each category…
Jk. But wouldn't that be kind of fun?