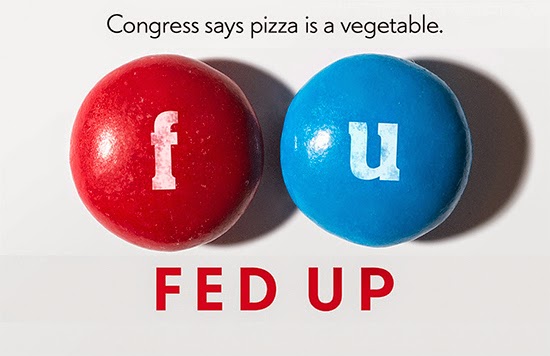 Last night I watched the documentary FED UP on Netflix. And now I'm terrified to eat anything.
We all know child obesity is a problem, but I don't think a lot of us realize just how big of a problem it is. And we're pointing our fingers in the wrong direction, or at least I was.
Prior to watching this documentary I was kind of an asshole in regards to the idea of our country's children getting so large. My thought was pretty simple (and ignorant.) These kids need to get off their ipads and video games and go outside! Go run, go play, go climb a tree! When I was a kid I spent my days playing every sport imaginable, and when there weren't any more sports to play or any other kids to play with me, I would run my own obstacle courses and time myself. Sure, I might have been on the extreme spectrum of active children, but kids today are just lazy and that's the problem. Right? Wrong. Well kind of wrong, anyway.
Yes, lack of physical activity is clearly an issue here. But there's a much bigger issue at play.
Sugar. So. Much. Sugar.
This documentary was downright heartbreaking as you watched these extremely overweight children in tears talking about their weight struggle. They are trying to be active and lose weight, but it's not working. They're eating the "diet food" like Special K chips and Lean Pockets and all of that other shit marked "fat free" but they continue to gain weight. Their waists get bigger and their self worth gets smaller.
When food companies started to take out the fat they added the sugar. And now our sugar consumption in the U.S. is out of this world. The generation of children today are the first generation expected to have a shorter life expectancy than their parents. This one really hit me.
I know I seem like the last person who should be ranting about this given my food choices I often post on here and Instagram… but you're just seeing the weekend eats. During the week I try to eat healthy. And after watching this documentary and seeing all of the over processed crap I've been consuming, I'm going to try even harder.
Although if I'm being honest I am slightly mad I just watched this before a road trip because I still really want my road trip snacks… Combos. Jerky. Apple-Os… They're my three best friends, and it's just not a road trip without them. But I will resist.
The food industry is terrifying to me. If you haven't watched FED UP, I suggest you do. And then you'll probably never pick up a soda again in your life.
What a great post right before Memorial Weekend… Sorry, I'm sure we're all going to be okay in the end. It's only food, right?