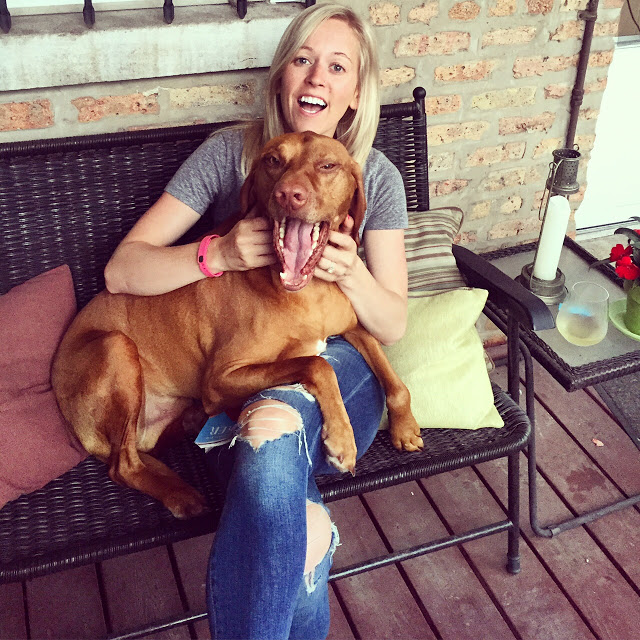 I have been extra obsessed with this guy lately, like more so than usual. Which probably isn't a good thing because my relationship with my dog might already be borderline unhealthy.
The other day Chris said he wants to secretly record what Harlow and I do all day just to see how much I talk to him. I told him he probably shouldn't because it might freak him out. I carry on full conversations with Harlow for hours at a time.
Chris got just a little taste of this last week when I accidentally sent him a 14 second voice text that went something like this,
"Should we eat lunch? Yea? Okay good, I'm hungry too. Then we'll go to the park? Well first I'll do some work, then park? Yea, good idea. Oh Harvey Charvey. You're so smart… So so smart."
The convo went on longer. Thankfully the unintentional voice text did not. Speaking of voice texts, bad idea, Apple. Very bad idea. Those can really get someone into a pickle.
I swear I'm getting at something here- besides the fact Harlow is my best friend and I just don't understand how some people can treat their animals like they do when they're such great creatures full of love and loyalty… Anyway.
What I'm getting at is the reason I've been extra clingy lately with Har is probably because of this video. I'd seen it circulating for a few days but was too scared to watch. But then I did.
Oh man. Have you seen it yet? It's a doozy. But a good kind of doozy. The kind that has you crying and smiling and laughing, but mostly crying.
The film makes you want to hug your dogs a little longer. Maybe not get so mad at them when they jump on you when you come home because they're just that excited to see your face. Put your phone down and spend a little more time actually being with them.
It makes me sad to think about the dogs who want this bond but are never given the chance because they're left outside all day. Or in a cage. Or just completely on their own. It's not the life they're meant to have.
But it's not my intention to go down that road today. Must not get dark on a Monday. Instead let me leave you with a ridiculous photo of Harlow smiling like an idiot. What you can't see is that he's actually sitting on Chris's lap. Because Harlow prefers laps to anything. What 70lb pound dog doesn't?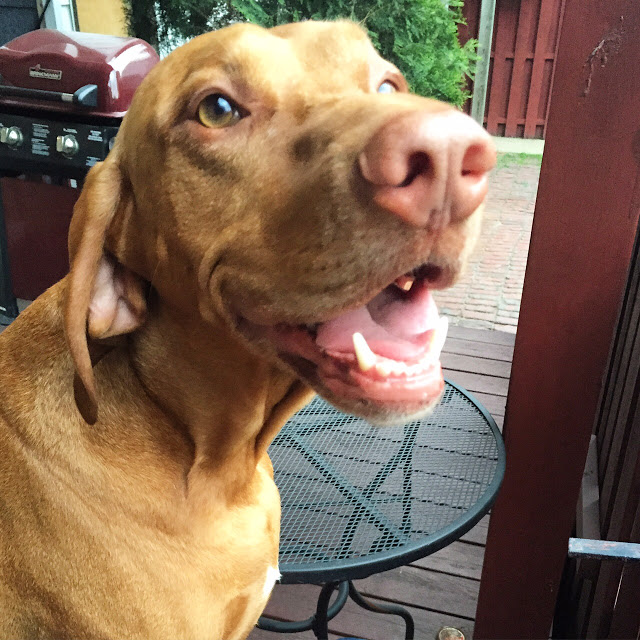 Last PSA and then we can all get on with our week. It's getting hot outside. Too hot for animals to be left out all day long in the scorching heat. If you see this going on, report it.
When it comes to animal neglect, I most definitely poke my nose in others people business. Call me a busy body, I don't really care. If it's going to help a dog not die of heat exhaustion I'm okay with being annoying.
Damn, this post turned preachy. Monday mornings, man. They'll get you. That being said, have a good week!