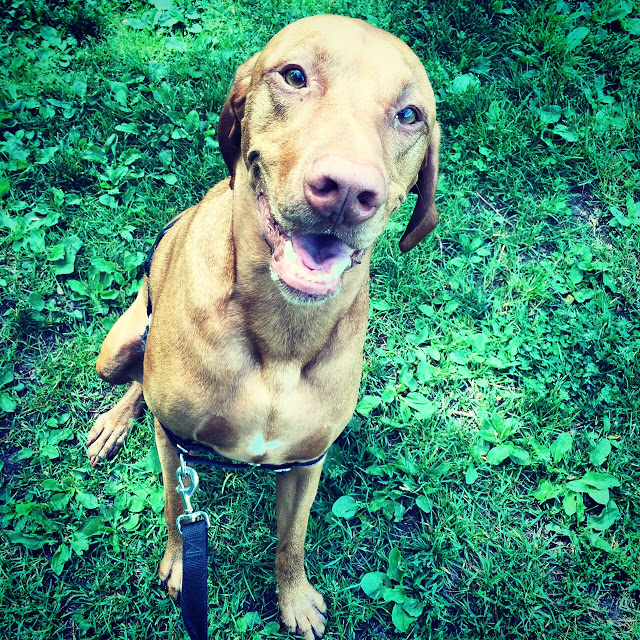 Dog walks into a park.
He says, "hey mind if I go for a quick run?"
Sure, Harlow. Go ahead. But stay close, okay?
Of course, he says with a wink.
He takes off like a maniac. Such is the usual, so I'm not worried.
Three seconds later he returns with a peanut butter and jelly sandwich. Crusts cut off.
Hey Harlow, I don't recall packing you a lunch. Where'd you get that?


From my friend. He says with a smile.


Your friends don't bring sandwiches to the park. WHERE'D you get it?


This one did.


Harlow, drop it! (He doesn't "get" drop it. Never has.)
He swallows the last of the sandwich with zero remorse.
Sonofa… tell me right now where you found that. I look around nervously, it's a situation to which I'm all too familiar.
I don't remember. A crying toddler can be heard in the background.
Does that crying kid have anything to do with this?


Maybe.


Damn it, Harlow.


The kid keeps crying. Now the mom is looking around, wondering what hoodlum just stole her child's lunch. And Harlow is laying in the sunshine with jelly on his nose, still happily licking the peanut butter stuck to his mouth.
Because I'm an adult, I know what I have to do. WE RUN.
It's Lincoln Park, the kid can afford another sandwich.


But I can't. I'm not paying for yet another meal Harlow stole. Last week at the dog beach he ate a man's Chinese food and I had to pay him $20 to get him to calm down. I know what you're thinking, who brings Chinese food to a dog beach?
It wasn't Harlow's fault… Nothing is ever Harlow's fault. Nothing.