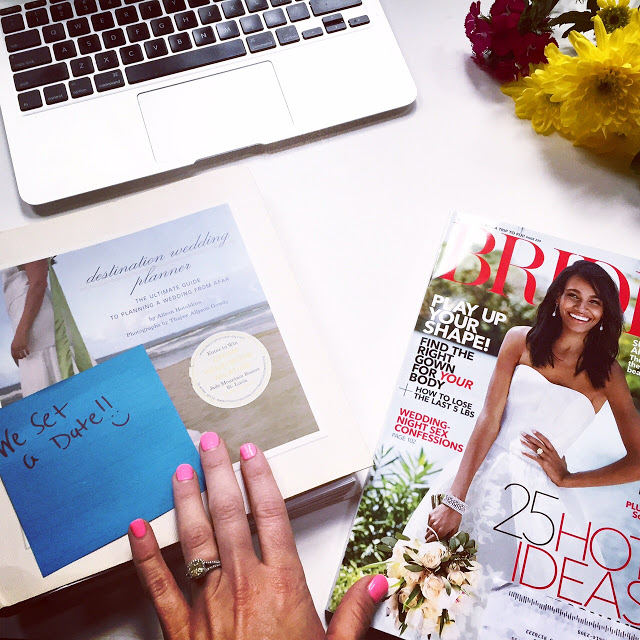 Wedding nightmares are a real thing. The two that I like to have are always the same.
1. Nobody comes to my wedding because it turns out I forgot to invite anyone. So at the last minute I start calling and texting people frantically asking if they'll swing by.
2. I don't have a dress. Forgetful-me doesn't buy one and doesn't seem to realize this until I'm about to walk down the aisle. And then I panic and quickly ask to borrow one from someone and when I do it's always hideous and red.
Am I nervous about getting married? Not at all. I'm nervous about planning a wedding. I missed the boat in middle school when most girls started planning their dream wedding.
Then I missed it again in college. And out of college. And I still haven't gotten on that damn boat.
Although my resume claims I am, I am not at all detail oriented. I don't know what I want for this "once in a lifetime" event, but yet I know what I don't want… If that makes any sense…
Everyone keeps asking me if I've "found the dress yet!?!" Their sweet eyes light up with this question as they stare at me expectantly, giddy to hear my response.
"Nope. Haven't even looked." It's never the response the people want. My answer is like a pin prick deflating an excited pink balloon.
Just like with the wedding itself, when it comes to my dress I don't know exactly what I want. But I do know what I don't want.
I don't want:
Strapless.
Closed back.
No tulle.
Nothing that resembles a tutu.
No stark white.
No pink.
Nothing frilly.
Nothing big.
I refuse to wear a dress that will require me to ask assistance when I need to go to the bathroom. No, thank you.
I think I'm going to be a joy to try on dresses with, what do you think?
The two things I am concerned with are finding the perfect rehearsal dinner dress and my wedding shoes. My sister wore the beautiful blue Manolos from Sex and the City on her wedding day. But I don't think my monster basketball feet are meant for designer footwear. Such is life.
The day of actually trying on dresses is getting closer and closer… Any suggestions how to survive it? The best I've heard yet is "wear nice underwear." Noted.