It's here. Summer has arrived.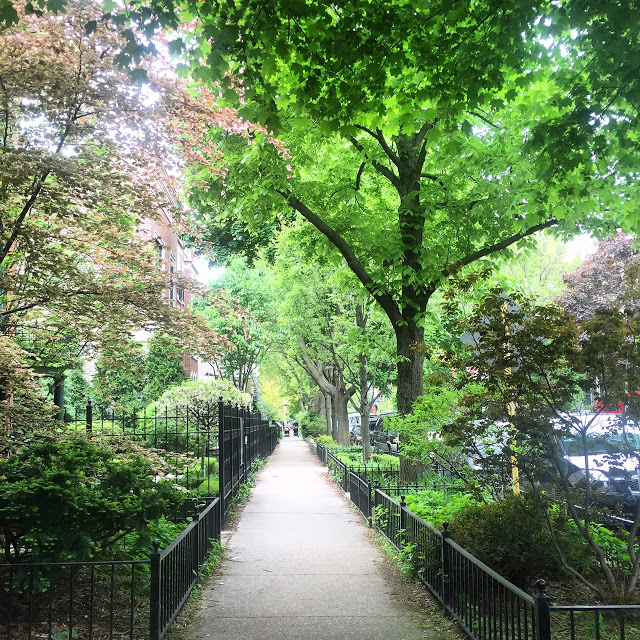 This is my street right now and I can't get enough of the green. It makes everything feel so alive.
As Chris and I walked to dinner last night I had a stupid ass grin on my face the entire way because Chicago been gorgeous all week and I love it. The only thing better than a hot Chicago summer day is a hot Chicago summer night. The brownstones are all lit up and everyone is sitting on their stoops enjoying a glass of wine while their children ride their scooters up and down the sidewalk. I never knew I could love a city as much as I do.
If you ever visit Chicago and want to venture outside of downtown (and you should) take a stroll through a neighborhood. I may be bias, but I prefer the neighborhoods over downtown any day. But now I'm getting distracted because this isn't supposed to by my love letter to Chicago (that's coming next week) today is a post about summer.
It feels like it has finally arrived. This weekend always reminds me to take a breath and soak it in because it will go by too fast if I don't. It does every year. It's like we've spent the last six months climbing to the top of a very tall slide and we just took the final step to the top.
And once we start the slide down, we can't stop. Everything will just go faster and faster until we hit the bottom. So today friends, today I'm reminding you (and myself) to enjoy the start of summer. To enjoy the days at the lake, the first jump into the pool, the bonfires with friends, the cookouts, the hotdogs, the lemonade, enjoy it all!
We're heading back to Nebraska this weekend for a wedding, a couple shower for Chris and I, and lake time. So on that note, I better start packing since we're leaving in just a few hours. So now the question remains- what do I wear to a couple shower? I'll probably do something crazy and wear a white summer dress… #risktaker.
HAVE A GREAT WEEKEND! Take a moment to remember those who died in active military service for our Country so people like you and I can have the freedoms we do.