Dear Bloglovin,
Your site tells me that it's time for the 2015 Bloglovin' Awards again. How exciting.
Much to my disappointment, I didn't make the cut for nominees. This makes nine years in a row now. Oh well, what can do you. But let's take a look at a few who did make the cut.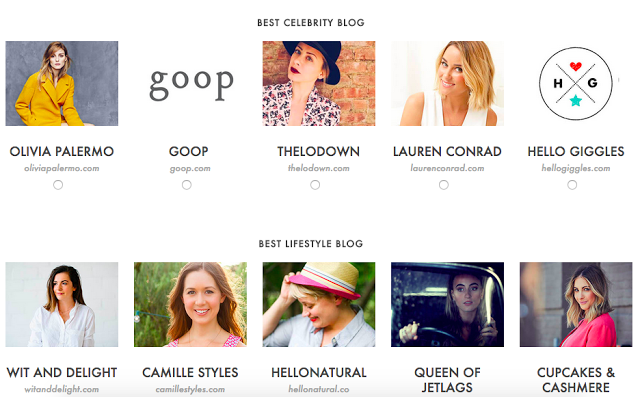 Wow. What a diverse group of women. Is that a brunette I even see? Making strides.
Fedoras are fun, aren't they?
I think it's great you have a celebrity blog award. I really do. Because I bet someone like Lauren Conrad or Gwenny Paltrow is siting at the computer at this very moment thinking, man I hope a win a blog award. It would probably make their year. Maybe it would even encourage them to actually write a post or two of their own on their blog. Jk jk, now I'm just getting carried away.
And I love that you have a "best sewing blog" category.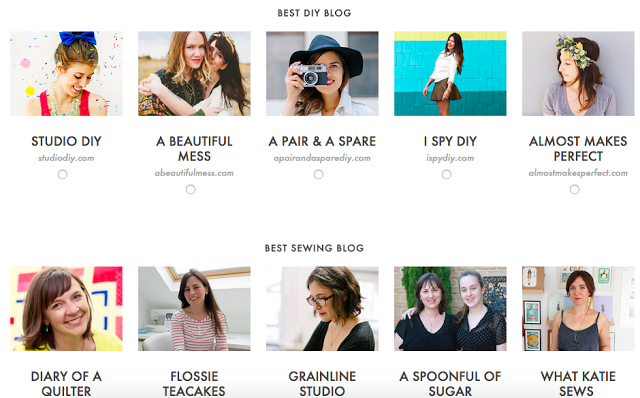 Very neat.
In fact, let's take a look at all of the categories you have, shall we?
-Best Street Style
-Breakthrough Fashion Blogger
-Best Beauty Blog
-Best Beauty Vlogger
–Beauty Influencer
-Best Personal Style
-Best Mens Fashion Blog
-Best Celebrity Blog
-Best Lifestyle Blog
-Best Written Content
-Best Brand
-Best Photography
-Best Blogger Business
-Best DIY Blog
-Best Sewing Blog
-Best Food Blog
-Best Travel Blog
-Best Fitness Blog
-Best Family Blog
-Best Wedding Blog
-Best Life Improvement Blog
Whoa. That's a lot of categories.
Clearly you have to draw the line somewhere, or you could end up with 1000 categories.
But what if you had a humor /comedy category? Wouldn't that be fun? I know a lot of comedians who have great blogs. They might not have the "prettiest blogs" necessarily, but damn they can tell a good joke.
Or what about a "best humanitarian" catergory? Someone who maybe doesn't put on lipstick every day but is trying to save the world?
Or… now hear me out on this one because it gets really crazy, best feminist blog? Eh? Too much? Yeah, probably.
I like ya Bloglovin', I really do. You send a lot of readers my way and I even signed up to win your "new blogger contest." Can I still be new if I've been doing this longer than anyone? Apparently yes because I'm still a little blog. Lols. But really, VOTE FOR ME HERE: just click follow.
So I like you, but I kinda think you're missing some categories. I feel like we as women are more than just beauty tips and sewing blogs. And I'm not discrediting the sewing blogs, those women are magicians with a needle and deserve all the credit.
It's just that when I look at the list all together, I think it could use a little more empowerment.
Let's just say if this was a list primarily of men, I can't help but think we'd see a lot more words like smart, strong, powerful… it wouldn't be centered around beauty and making things look pretty.
But maybe I'm way off here, let's open the polls. What does the list say to you? Am I just being Sensitive Sally today?